A Former Golf Pro and a Doctor Have Some Serious Rhythm Going at 60 Fulton Street
Scott Aaron and Steven Brauser are the developers behind Exhibit, the new rental at 60 Fulton Street
---
---
Renters looking at space in the new 23-story luxury high-rise Exhibit at 60 Fulton Street will be greeted by sights not normally associated with luxury rental apartment buildings in the Financial District: namely, a young Keith Richards and Mick Jagger casually hanging out with their band, or Debbie Harry taking in the New York nightlife, circa 1979.
In developing the new property, Scott Aaron and Steven Brauser sought a different vibe than the usual upscale fare. They found it in rock 'n' roll.
"I was walking around galleries, on a Friday afternoon, trying to get some ideas," said Aaron, a principal at Socius Development Group. "I saw some great photographs at the Morrison Hotel Gallery of groups like The Doors and the Rolling Stones, and I thought these would be great pictures to put above a bar or something like that."
The photos of classic New York figures from the worlds of music and art will adorn the lobby, hallways and other public areas at Exhibit, including The Parlor, a private club-type space featuring billiards and poker tables and wine storage, and The Lounge, which features 24-foot floor-to-ceiling windows and a fireplace.
"What I liked about the photos was that these pictures were black and white. They weren't overproduced, they weren't perfect digital pictures," Aaron said. "They felt real, like the way Downtown New York feels when you're walking around."
Aaron, 48, who lives in Katonah, N.Y., with his wife Shira, a makeup artist for NBC shows, and their daughters, Drew, 14, and Remi, 10, had an instinctive feel for business from a young age.
His father, Richard, a South Fallsburg, N.Y., native, was a golf pro at the nearby Granit Hotel in Kerhonkson, N.Y. As a child, Aaron was a regular at hotels throughout the Catskills, even earning money as early as 8 years old by driving golfers from the hotel to its golf course (in a cart) for a quarter a ride.
This exposure to his father's job gave him a strong work ethic early on.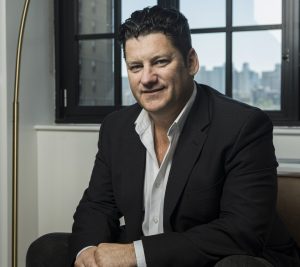 "Everything from a young age was about working and making money—hustling for tips, being around all sorts of people and catering to the public."
He attended Jacksonville University on a golf scholarship and later transferred to Fairleigh Dickinson, earning a degree in international business.
Instead of heading in that direction, Aaron spent 1992 to 1996 as a golf pro himself, traveling the world playing tournaments, and teaching as well. By 1996, tired of traveling 40 weeks a year for meager earnings, he thought about his background in hotels and began leaning toward real estate.
He joined the Continuum Company in New York that year, starting off as an assistant project manager. It was there that he received his education in the finer points of real estate development.
"All the subcontractors we worked with allowed me to go to their shops and learn about why the plumbing does this, or the HVAC does that," Aaron said. "So I was able to learn a lot about construction from the actual subcontractors."
In 2005, around the time he was considering his next career move, he received a call from a friend who was working with parking lot magnate Gerry Brauser, Steven Brauser's father. The elder Brauser was looking for guidance on converting several garages he owned into condominiums.
Aaron spoke with Gerry Brauser for an hour and a half. By the end of the conversation, Brauser said, "Why don't you just build it?"
"I slept on it, then the next day I met with him, and we shook hands. We made a deal for that particular building," said Aaron, referring to 100 West 18th Street. "I literally built a building on a handshake. We didn't have a contract."
The $85 million project, developing a 43-unit condominium with 25,000 square feet of retail, was completed in 2008.   
"We closed all the units in the summer of '08, before the market turned and Lehman crashed," Aaron said. "It was a very successful project. We ended up achieving the highest dollars per square foot in that neighborhood."
Aaron then spent several years developing projects again with Continuum before reconnecting with Brauser to discuss development of his garage site at 60 Fulton Street. By this point, Brauser was in his mid-80s and had persuaded his anesthesiologist son, Steven, to join the business—the other half of this Downtown development duo.
Steven Brauser, 61, a principal of The Parkland Group, grew up in Woodbury, Long Island. He graduated from Harvard College before earning a medical degree at Columbia University, then spent 25 years at medical facilities in Castro Valley, Calif. As he became more involved in real estate in the early 2000s, the elder Brauser asked him to review various details and transactions and to become more involved in managing his assets.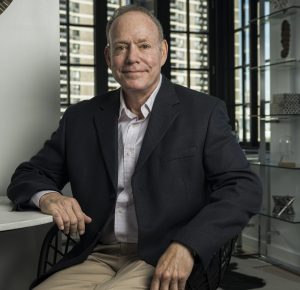 The younger Brauser had been asked to join the project on West 18th Street but elected to remain where he was. By the time of the Fulton Street project, however, his father had undergone bypass surgery and sought to take a step back from his company. Steven Brauser made the difficult decision to leave anesthesiology and moved to New York in 2010 to take on real estate development full time. He now lives near Columbus Circle.
"I was thinking I had the option [of doing this] part time, but my line of work [as a doctor] was collaborative," he said. "It's not like I just hang out a shingle because I work in surgery centers and operating rooms. [Real estate development] was all so new to me, and I didn't want to be distracted. So I made a clean break with [the medical profession]."
For the parking garage at 60 Fulton Street, the project came about largely because the elevators had become too expensive to maintain, leading to the elder Brauser's decision to turn the property into something new.
"This was a parking garage my father had since the early 80s," said Steven Brauser. "It was a garage where you drive in the elevator, and it can go up or it can go sideways so it deposited you where you needed to put the car. It was running on vacuum tubes or transistors, and it was getting to the point where, to keep the elevators going, we would have to do a major investment. So we decided that probably the smartest thing to do would be to redevelop the property."
Aaron ran pro formas on the site, and given the Brauser family's desire to develop and build a property they could hold long term, they determined that rentals would be the best way to go.
"The land basis gave the option of doing a rental," Steven Brauser said, "and a few years ago, in this part of New York, condos were a little bit of a risk, because the market could be hot, it could be cool, you don't know how it's going to come out. So rentals seemed like the safe bet."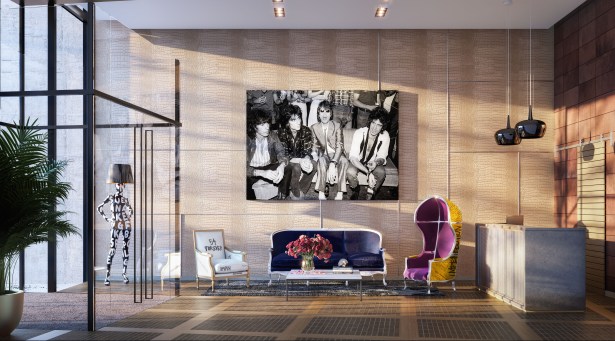 The building's exterior aesthetic stems from a desire on the part of the developers to combine an old New York feel, the historic South Street Seaport neighborhood, and some of the location's inherent advantages, including low-lying buildings surrounding the property that led to incredible views.
"We had an opportunity to create something that wasn't down here," Aaron said. "I wanted to keep the base of the building, for six stories, pretty contextual and also reflect on the historic nature of the seaport neighborhood and Downtown New York in terms of the industrial feel of it. That's why we have a masonry base and big multi-pane windows that are reminiscent of old New York."
Above the sixth floor, the expansive, three-sided views lead to a glass tower with floor-to-ceiling windows, lending the building a more modern affect.
Design of the 120-unit, approximately 140,000-square-foot residential building, which offers studios (starting at $2,800 monthly) and one- and two-bedrooms (starting at $3,600 and $5,000 per month, respectively) and was built for around $100 million, began in 2014, with construction commencing the following year. The residences should be complete in a few weeks with move-ins to begin within the next month. The retail portion at grade—approximately 6,000 square feet—should be completed by November.
For the building's interior design, Aaron sought a unique concept. After finding it at the Morrison Hotel Gallery, he contacted designer Andres Escobar, the principle at Escobar Design, and shared his idea to use photos of 1970s and 1980s New York. Based on this, Escobar designed mood boards for the property's interior public spaces that left Aaron enamored. 
"Andres came back to me with textures and colors and design ideas, and included in that were these gigantic photographs, these big black and white photographs of different musicians and artists from back then," Aaron said. "I thought it was great."
"Scott is a good friend. We've been trying to do business together for a long time," Escobar said. "After he saw the photos of vintage New York artists, we started talking about this direction and started saying it should feel like Soho House but with more of a hotel feeling."
Based on this, it was determined that the building itself would serve as a "rotating art gallery" with art being periodically rotated between different spaces throughout the building. (The timing of the rotation is still to be determined.)
They worked with Jody Britt at Britt Fine Art Consulting, who presented them with over 1,000 photos to choose from. They settled on around 120 photos, from notable photographers including Mark Weiss, Richard Corman, Ricky Powell and Allan Tannenbaum, for final placement.
The result is a design aesthetic that conveys the feel of 1970s and 1980s New York.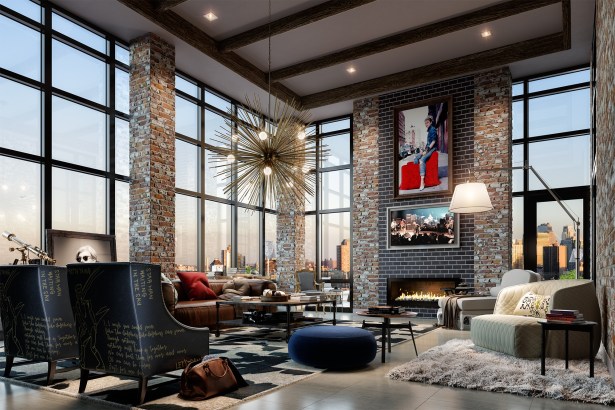 "We came out with a lot of great shots," Aaron said. "Backstage at CBGBs, pictures of Warhol and Basquiat in their studios and just really cool shots of a New York that doesn't exist anymore."
The developers believe the building's unique offerings make Exhibit a more attractive project than comparable buildings. In addition to outdoor terrace space available in around 70 percent of the units, around one-third also feature alcoves that could be used as home offices, an attractive amenity at a time when more and more people are working from home.
"Most of the buildings down here, because they were previously office space, they have no outdoor space," said Adam Heller, the president and CEO of the Heller Organization, which is marketing the residential and retail space for the property. "We're one of the only buildings down here that can offer that to tenants. That, plus the office areas—a lot of people these days are working from home at least a few days a week—have [made the apartments that include them] the biggest renters so far."
As for the building's 6,000 square feet of retail, Heller said the leasing of the space is "pretty much imminent," though he couldn't say how many stores may ultimately be in place, or what type of retail they'll constitute.
"We're seeing a lot of interest from food uses," Heller said. "We designed it so you can install a flue for a restaurant. We have 20-foot ceilings and a major presence on Fulton Street, because we're on the corner. So the storefront should be in place within the next couple of weeks, and you'll have floor-to-ceiling glass encompassing the entire corner."
With Exhibit approaching its final stages, Brauser and Aaron are considering additional projects together. While still in the early stage, Brauser does casually mention that, "We have two other garages that don't necessarily have to stay garages."
For Exhibit, the pair believes the combination of solid fundamentals and a creative design aesthetic will make it one of New York's more distinctive options for luxury living.
"[The photos] add to the personality of the building, but I don't think somebody will rent here or not because of it," Aaron said.
"New Yorkers are looking for great layouts. They're looking for lighting and air, outdoor space, great amenity space, and really nice kitchens and bathrooms," he said. "The photos are part of the character of the building, but ultimately, we spent our time on layouts and construction materials and quality kitchens and things like that. That was more important."
100 West 18th Street
,
60 Fulton Street
,
Andres Escobar
,
Britt Fine Art Consulting
,
Continuum Company
,
Exhibit
,
Gerry Brauser
,
Jody Britt
,
Scott Aaron
,
Socius Development Group
,
Steven Brauser
,
The Parkland Group