With Retail Writhing, What's the Secret of a Successful Mall?
---
---
Acadia Realty Trust and Washington Square Partners would prefer not to call their new Brooklyn development City Point a "mall."
But, respectfully, it has all the trappings: There's the large department store anchor—Century 21—which opened last fall. There are the nationally recognized retailers like Target and Trader Joe's, both opened this year.
But two things set City Point aside from the shopping arcades of middle America that seem to be reeling right now.
First, there's its food hall, DeKalb Market, which opened earlier this month. It's not hawking Panda Express and Chipotle; Katz's Delicatessen, which has stayed put on the Lower East Side since 1888 and never felt the need to venture beyond the neighborhood, launched its first-ever satellite at DeKalb Market. Likewise, the Arepa Lady of Jackson Heights, Queens whose praises were lovingly sung by New York's food press for decades, has a stall. There's the Vietnamese restaurant Bunker. And Ample Hills, the ice cream maker. And on and on. People who care about food will no doubt care about DeKalb Market.
Plus, there's Brooklyn's first Alamo Drafthouse movie theater, featuring the House of Wax bar, and there are spaces for events, such as last December's "A LEGO Holiday Experience" that featured a Star Wars mosaic of nearly 60,000 of the famous plastic brick pieces. 
"When we first started this project, our leasing guy took us to a bunch of really great malls and I was bored out of my mind," Washington Square Founder Paul Travis told assembled people at a party at City Point last week. "First of all, it's the same tenants at every mall, and they all look the same, and they all have the same merchandize, and then there is nothing to do." So, Washington Square and Acadia decided to mix it up.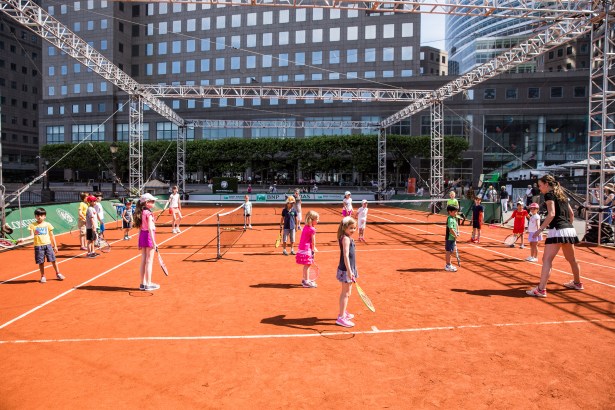 By now though, just about everyone has read it: Malls are dying. Bill Maher opined on the topic on his Real Time HBO show a couple of weeks ago. "Americans no longer shop till they drop," Maher said. "They click till they're sick." And, it's largely true. The idea of the mall—a large-scale enclosed shopping center with one or more department store anchors and loads of smaller apparel, convenience and electronic retailers—is fading fast thanks in large part to Amazon and e-commerce.
Fading, but not dead. The experts Commercial Observer spoke to don't expect the entire concept of a mall to be simply whisked away. Instead, they believe the successful malls will shift away from a reliance on fashion and more toward becoming full-fledged event venues, entertainment platforms and mixed-use complexes. But since this transition isn't going to happen overnight, we are left with a mix of the good, the bad—and in some cases the ugly—mall.
"I don't think a mall with just shopping is going to survive," Travis told CO.
The times have shifted dramatically since Victor Gruen, an Austrian refugee and architect, designed the Northland Center in Detroit in the early 1950s. Gruen's idea was the build for suburbia and a society of drivers. The model took off, and today there are more than 1,100 malls nationwide, primarily in suburban areas.
But aside from falling to e-commerce, the mall is also a victim of the urban revival of the last few years. Many of the middle-class people who would have moved to the suburbs a generation ago have begun moving closer to work, which, in turn, has started to have an effect on the glut of malls around the country.
"A good mall is in a location that has got strong household income around it, positive demographic trends and it has limited competition," said Lea Overby, a managing director of Morningstar Credit Ratings, a subsidiary of Morningstar. "I think it is dangerous to put all malls in the same bucket. Some malls are dead, and some malls are alive. This story has been playing out for a while now. A lot of malls around the country will be okay."
But the bad malls are certainly sucking up a lot of attention. Roughly $2.8 billion in commercial mortgage-backed securities backed by malls are in special servicing, totaling about 50 different malls, according to data provided by Trepp. Within the year that ended in June, about $660 million of those loans on about 15 properties were transferred to special servicing.
According to Overby, a mall should still be profitable even if it may need a new mix of tenants and an owner willing to give it some TLC.
The Financial District's Brookfield (BN) Place, which opened in 2015, is an example of a mall that has tried to make itself an entertainment venue as much as a shopping experience. It features a large number of eateries and a French market—Le District—but the owner, Brookfield Property Partners, also curates a constant stream of events in its Winter Garden atrium. There are boat races in the marina, and it recently built a clay tennis court outside in honor of the French Open (which was, of course, in Paris). The outdoor space features an ice skating rink in the winter.
"People care less about 'I need to have the newest, coolest whatever the hot item is,' " said Brookfield's Michael Goldban, the senior vice president of retail and leasing. "People are spending money, but they are spending money on experience—travel, concerts and foods. Not shirts and belts."
By way of example, Goldban pointed to the rope course at the Palisades Center mall in West Nyack, N.Y., which he recently experienced.
"It's fun," Goldban said. "It was the kind of thing that you would do on vacation. I was up there with my three kids."
He added, "These elements just improve the shopping experience."
The Garden State Plaza in Paramus, N.J.—one of the country's largest malls—makes about $1 billion a year in sales, according to Michael McNaughton, a senior vice president at Westfield, but the mall's owner is pumping more than $100 million into its renovation.
"It's already successful, but we are spending money on a major interior renovation," McNaughton said. "Why are we doing that? Because in retail you can never stop. You can never stand still."
One of Westfield's newest properties, Westfield World Trade Center, has a more traditional collection of shops, but a large space for events.
Over the past decade Westfield has shrunk its globally portfolio to about 35 malls from nearly 125 to focus on flagship assets. The value of its holdings is about $31 billion, and it is spending $9.5 billion for retail development projects that it hopes will increase its portfolio's value to between $45 billion and $50 billion.
Westfield was shrewd in its choice of malls to shed, such as the 1.3-million-square-foot Chesterfield Mall in Chesterfield, Mo., which Westfield sold to CBL Associates & Properties in 2007. And by April 2016, the $140 million loan on the property was transferred to special servicing, and the property is currently undergoing foreclosure proceedings. CBL defaulted on the loan on its maturity date of Sept. 9, 2016.
"Nothing went wrong with the property, and it's a really well-located asset," CBL's Chief Investment Officer Katie Reinsmidt explained. "You had two outlet centers open up [nearby]. The market became saturated."
She added, "We don't see that in a lot of markets. Our whole company's strategy was to own the dominant or the only regional shopping mall in the area market. In most instances we are insulated against that kind of competition."
A lot of pressure has also been placed on the mall thanks to the closing of big-box department stores that often serve as anchor tenants—with large loans attached. Macy's, J.C. Penney and Sears Holdings all reported losses in sales for the first quarter of the year.
Macy's announced the closure of 100 stores and cuts of more than 10,000 jobs, and Sears is cutting about 180 Sears and Kmart locations and 400 corporate jobs. J.C. Penney also announced it will close about 140 stores, and last week, Sears Canada filed for bankruptcy and said it will shutter 44 of its 200 stores.
But losing some of these stores isn't such a bad thing for malls in general. For decades anchor tenants got sweetheart deals, paying little to no base rent (literally $5 or even $0 per square foot) under the presumption they would attract shoppers to the mall and in essence more than pay their way. The landlords could then bring in smaller stores, which would pay higher rents.
"The trophy malls will love to get the space back…because they can just turn that into space for a much higher price point," said Garrick Brown, a vice president of retail research of the Americas at Cushman & Wakefield (CWK).
At Northwoods Mall in Charleston, S.C., another CBL Properties-owned shopping center, its Sears is closing. However Seritage Growth Properties, which owns the section that Sears occupies, is chopping up the space for a Burlington Coat Factory and a Carrabba's Italian Grill. (Sears occupies 136,000 square feet of the mall's total 752,000 square footage, according to CBL's website.)
At another CBL property, Layton Hills Mall in Layton, Utah, CBL opted to put entertainment instead of another retailer. It opened a 20,000-square-foot aquarium called SeaQuest Interactive Aquarium, which boasts 300 species and 1,500 animals, according to its website.
But food remains the dominant attraction to mall owners.
Another large mall operator and owner, O'Connor Capital Partners, is adding a new food hall to its 250,000-square-foot New Orleans mall, The Shops at Canal Place, which it purchased last year. It is also committed to sprucing up the ground-floor retail to better expose stores to the streets.
"It's right in the middle of downtown, and right now all of the storefronts are interior facing, so we are planning to have them open out to the exterior of the street," said John O'Connor, a senior vice president and head of acquisitions, at the company.
Some malls, however, aren't good enough to be malls anymore. Chances are they are in an area with newer, more attractive shopping centers that give it tough competition. And the demand may shift to housing or another type of usage. So those facilities will cease to exist in their current forms, according to Brown. He estimated that in five to seven years about 300 malls around the country will close, but many will change to other uses.
"The landlords may not have money, so some of these properties will go back to lenders, and the lenders will sell them [for] dimes on the dollar," Brown said. "I think three-fourths of those will be radically renovated and turned into something else with a retail component" under a new landlord.  
This has already happened in Sacramento at the city's failing Downtown Plaza shopping mall. The city agreed to work with the local basketball team in 2014, the Sacramento Kings, to tear down the mall and build a basketball stadium and a retail complex called Downtown Commons. There is also a 45-unit residential and hotel building in the project called Residences at The Sawyer and The Sawyer, A Kimpton Hotel. The project helped Sacramento quash rumors of the basketball team leaving the city as well as attract a variety of retailers, such as clothiers Getta Clue and Urban Outfitters as well as Häagen-Dazs.
"It was a perfect thing, because we had the arena in the suburbs, and now it is in the Downtown. Now it's a hot night-life, bar area," said Brown, who is a native of Sacramento. "I felt bad for San Diego when they couldn't keep the Chargers."
And in Columbus, Ohio, in 2007, the nonprofit Columbus Downtown Development Corporation (CDDC) acquired the land for the City Center mall. At one time it was a sprawling 1.25-million-square-foot retail center when it opened in 1989 that attracted 5 million visitors in its first three months of existence. However, as the metro area of Columbus grew to nearly 2 million people from 1.4 million over 20 years, three other malls opened in neighboring areas, sapping away customers. City Center lost many stores as sales declined and, at one point, had just 5,000 square feet of tenants remaining, according to Guy Worley, the president of CDDC.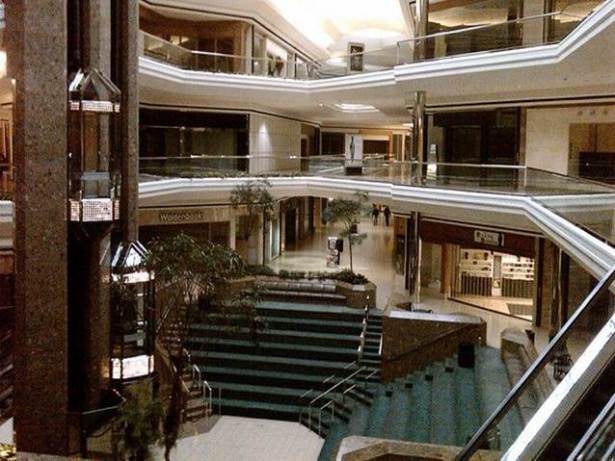 Worley said CDDC explored a number of potential concepts for the mall, including transforming it into a hotel or office building. But as it is situated on top of a 1,000-spot parking garage, on which the area office buildings heavily rely, heavy construction to transform the building threatened to stop the operation of the garage and severely limit parking in the area. So those ideas were abandoned.
But after visiting New York and seeing the effect Bryant Park had on Midtown, CDDC decided to make a nine-acre park with events all year round. The executives hoped that would also attract developers to build housing and office complexes around the park. After a $25 million job to carefully demolish the mall and build a green space, the new park—christened John F. Wolfe Columbus Commons—opened in 2011. Today it is visited by about 1 million people a year attending the mall's 200 events, including concerts, fitness expos and children's activities. Every Thursday there is a procession of food trucks, which is very popular with office workers. And the park has spurred $400 million in development around it, including 1,500 residential units under construction or in the planning phases.
"This has been a huge catalyst for development of a great neighborhood which was 10 years ago a gray field," Worley said. "It was empty parking lots and boarded-up stores."
Of course, there are still plenty of people who are still high on the traditional mall. O'Connor Capital Partners entered a joint partnership with Washington Prime Group to acquire a group of seven malls valued at $600 million, according to an announcement last month. The malls, which include The Arboretum in Austin, Texas, and Classen Curve in Oklahoma City comprise a total of 2 million square feet.
And Time Equities has been hot on malls recently as prices are down and cap rates exceed 10 percent in many cases.
In just a couple of months Time Equities has more than doubled its ownership of malls to seven, after picking up four malls around the country in less than a year.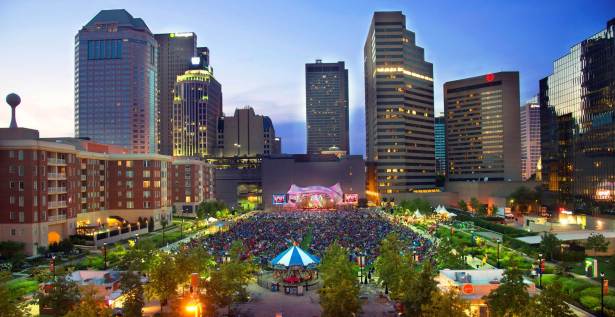 For the New York-based developer, it favors malls that are town centers—essentially, the main attraction of an area.
It purchased the 715,035-square-foot Newgate Mall in Odgen, Utah, from General Growth Properties for $69.5 million in August 2016. In January, they picked up Colony Square in Ohio for $31.5 million. And this May, Time Equities bought a pair of malls in Tennessee from CBL called College Square and Foothills Malls, a combined 700,000 square feet, for $53.5 million.
Before acquiring College Square, J.C. Penney had vacated its lease and within three months had been replaced by a Dick's Sporting Goods. College Square is now 96 percent occupied, and Foothills is 90 percent occupied.
"That doesn't feel dead. That feels like the opposite of dead," said Ami Ziff, the director of national retail at Time Equities. "Good real estate in a market, whether it's a secondary or tertiary market, will lease. It's not all doom and gloom."
Acadia Realty Trust
,
Alamo Drafthouse
,
Ami Ziff
,
Ample Hills
,
Brookfield Place
,
Bryant Park
,
Bunker
,
Burlington Coat Factory
,
CBL Associates & Properties
,
Century 21
,
Chipotle
,
City Point
,
College Square
,
Columbus Downtown Development Corporation
,
DeKalb Market Hall
,
Foothills Mall
,
Garrick Brown
,
General Growth Properties
,
Guy Worley
,
Häagen-Dazs
,
John F. Wolfe Columbus Commons
,
Katie Reinsmidt
,
Katz's Delicatessen
,
Layton Hills Mall
,
Lea Overby
,
Macy's
,
Michael Goldban
,
Michael McNaughton
,
Morningstar Credit Ratings
,
Newgate mall
,
Northwoods Mall
,
O'Connor Capital Partners
,
Palisades Center
,
Panda Express
,
Paul Travis
,
Sacramento Kings
,
Sears Holdings
,
Seritage Growth Properties
,
Target
,
The Shops at Canal Place
,
Time Equities
,
Trader Joe's
,
Urban Outfitters
,
Victor Gruen
,
Washington Prime Group
,
Washington Square Partners
,
Brookfield
,
Cushman & Wakefield