Stat of the Week: 21.5 Percent Decline
---
---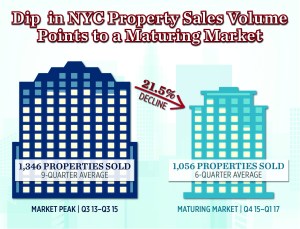 From the third quarter of 2013 through the third quarter of 2015, the New York City investment market underwent a nine-quarter market peak and averaged 1,346 property sales per quarter. During that time, an average of $15.4 billion was invested into all New York City property types per quarter, as investment was driven by historically low interest rates along with an undervalued and opportunity-rich market. In Manhattan, an average of 257 properties traded during that time period, while the outer boroughs accounted for an average of 1,089 sales. 
During the last six quarters, the New York City investment market showed signs of a maturing market, with an average of only 1,056 properties sold per quarter. The 21.5 percent decline in property sales volume was exacerbated by the fourth quarter of 2016 and first quarter of 2017. Over the past two quarters, only 882 and 846 properties sold, respectively, marking the first time in over three years that New York City posted consecutive quarters of less than 1,100 properties sold.
With less transaction velocity, the dollar volume is down 7.2 percent, partially due to the first quarter of 2017 being the first time in 13 quarters that less than $10 billion were transacted. The decline in property sales has been steeper for Manhattan during the last six quarters, down 24.1 percent, compared with the outer boroughs, which posted a 20.9 percent decline. From a product-type standpoint, the largest dip in demand was for office product, which had a 31.1 percent drop in properties sold during this time compared with the nine-quarter market peak.
Regardless of these corrections in the market, property values remain at all-time highs, as New York City properties averaged $533 per square foot over the past six quarters, compared to only $456 during the nine-quarter market peak. Despite a recently weakening investment market, there are signs that point to a stronger second half of 2017. Major policy proposals—corporate tax reforms, infrastructure spending and deregulation—bode well for the New York City investment market. In addition, the U.S. as a whole, and specifically New York City, remain a premier destination for commercial investment and a safeguard for capital appreciation of assets and yields.