The Plan: Law Firm Morgan & Morgan's Funky Brooklyn Office
---
---
Law firms have been slow to adapt to modern workplace trends, but that doesn't appear to be the case for the national personal injury firm Morgan & Morgan (at least for its marketing and tech divisions) in a former warehouse building in Sunset Park, Brooklyn.
The offices at Salmar Properties' 850 Third Avenue (also known as the Liberty View Industrial Plaza) looks like a children's playroom with bright primary colors for furniture and carpeting. The colors were used to highlight the industrial features of the warehouse, according to MKDA Creative Director Edin Rudic.
"In order to expose the industrial, we need something to oppose it," Rudic, who designed the space, said about the colors. "If you have industrial next to industrial, it won't be revealed."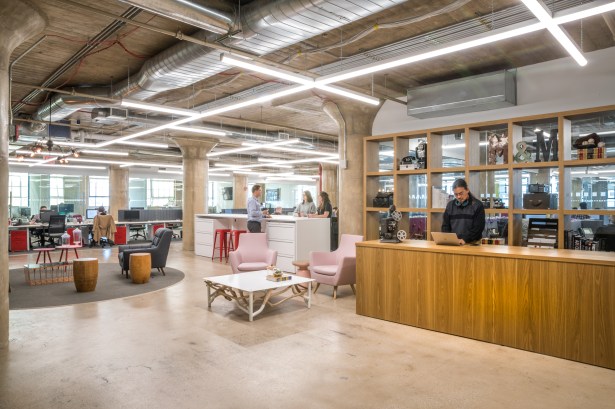 The Florida-based law firm moved its departments into a 17,000-square-foot portion of the fourth floor in July of last year. There are 54 workstations, five private offices, one executive office, two lounges, a café and one boardroom in the office.
One can still glean the industrial aesthetic of the 1920 building, including exposed brick walls and polished concrete floors and columns. The ceilings are also uncovered and reveal vents and other mechanicals. The colors of the furniture, such as bright red and blue chairs and multicolored carpeting, make the office look appealing to younger workers.
"They wanted to attract younger people to work there and have a younger work environment that caters to the tech and marketing sectors," Rudic said.
And youth is so much on display that, get this: The office has concrete columns that have been lathered with a special material that turns them into dry erase boards. Plus, near the café, there are (millennial prerequisite) foosball and pool tables, and two breakout rooms for small private meetings with funky wallpaper and overdyed rugs. And those meeting rooms have sliding barn doors with door knockers on them—because why not?
The 14-seat glassed boardroom matches the rest of the offices' bizarre mix of elements. It
highlights industrial theme-exposed ceilings, carpeting, gothic-styled chandeliers and sleek modern chairs. The furniture is much less bright, save for classical-style chair legs that support the table, which were painted in what we have to call Big Bird yellow.
"The chairs are white, the table is gray wood, the columns are concrete, the carpeting is gray, the chandelier is black. The only color in this room is in the legs," Rudic said. "It's a traditional kind of look, but it's modernized. And it becomes a little bit more eclectic."
Rudic added, "There is no straight set to this—it's what feels right."