The Plan: Fried Frank Adds Fun to Its Offices at 1 New York Plaza
---
---
Facebook, Google and BuzzFeed all have it. Now law firm Fried, Frank, Harris, Shriver & Jacobson (which has been a consultant for each of those tech and media firms) wants in.
The "it" is more fun and collaborative lounges in its nine-floor, 300,000-square-foot offices at 1 New York Plaza where employees can take breaks away from their desks.
So the nearly 130-year-old law firm decided to shave off two of its three reception areas—one roughly 1,000-square-foot space on the 23rd floor and another of the same size on the 29th floor—and instead create lounges in October of last year for all workers to have a place to relax, eat or even work in a different setting.
"It makes the work environment so much more comfortable and desirable. It makes more people feel better about where they are working," Jonathan Mechanic, the chairman of the firm's real estate department, said during a tour of the spaces. "We have gotten good feedback from everybody in the office."
Why in the world did Fried Frank have three reception floors to begin with?
"There was a time where that's what everybody did," Mechanic said. "But it doesn't make much sense now."
The new Gensler-designed rooms feature a café area with flat-screen TVs, casual red and
white chairs and sofas, and views of New York Harbor and Governor's Island. In terms of snacks, there are M&Ms and jelly beans in antique bubble gum machines. And the lounges also have diner-style neon signs by Peter Liversidge and curated art, which is part of the law firm's vast collection.
"They were looking for more interaction, more collaboration, more choice," said Julia Simet, a principal and co-managing director of Gensler's New York office. "The attorneys have their own offices, but they like the idea of not having to be in the office all the time."
Fried Frank didn't stop there. On Monday, April 10, the company opened a billiards room on the 25th floor from what used to be a conference room. It features a custom wooden pool table by Blatt Billiards with Fried Frank logos emblazoned on the balls and the pockets of the table. Mechanic chose the pool table himself; when CO stopped by, the 1961 movie The Hustler, where Paul Newman and Jackie Gleason starred as dueling pool sharks, was playing on a TV.
"When you think of billiards, you think of Fast Eddie," Mechanic said referring to the protagonist played by Newman.
And there's more. To attract and retain associates, a year ago the firm created a lounge for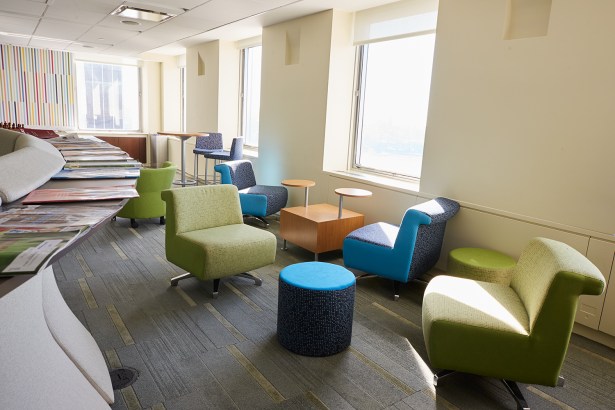 them, also on the 25th floor. It features a chessboard, Ping-Pong and foosball tables, multicolored chairs, a snack bar with granola, mixed nuts and Goldfish crackers, and a 65-inch TV. The room is strictly for newer attorneys, and it is guarded by key card access. Not even Mechanic is allowed—other than for a special occasion.
"It's really exclusively for the associates," Mechanic said. "The world is not the same today as it was in my generation. If my work environment is a better work environment, then [young attorneys] will be happier coming to work at Fried Frank than somewhere else. Attracting the best talent is very important to us."