The Power Designers of New York City Are All About Green Spirit
---
---
In New York City, where it's harder to get access to fresh air and residents don't typically have a sprawling backyard (we're not all Staten Islanders here!), bringing light, air and plants to the buildings has become more important than ever, and that's what the top architects and designers are doing in 2017.
Some firms are doing it by adding more terraces to their projects, or green roofs, and then there are others that are changing the game completely. Take ODA New York's design of 305 East 44th Street, a residential condominium tower that has full-floor gardens weaved in between the apartments. Or FXFOWLE's design of Circa Central Park, a residential building at the northwest corner of Central Park, which has a curving design on the corner facing the park, so residents can get amazing views of the greenery.
Of course, getting air and light isn't the only thing that architects have to contend with at their projects. For CetraRuddy's John Cetra, he is concerned with how the sun affects buildings' color and texture when the light hits the structure. That's why he designed The Moinian Group's rental at 572 11th Avenue with white terra-cotta up to the seventh floor.   
These are the power designers in the city. The projects are different in a lot of ways, but the common thread seemed to be an embrace of green spirit.
ODA New York
Eran Chen, Founder and Executive Director
ODA New York has a distinct style for its projects, which are often porous, fragmented and look like boxes were stuck on the side of buildings. That allows for more terraces and views. According to Eran Chen, who launched the firm in 2007, architecture should "restore our relationship with nature," and therefore the more terraces, open spaces and views, the better.
Take for example his technique employed for Spitzer Enterprises' residential towers at 420 Kent Avenue, which is under construction in Williamsburg. The living rooms in most of the units at the three-building, 857-apartment project have a corner view of the Manhattan skyline and East River, because they jut out from the building. The project also includes 77,000 square feet of outdoor space on Brooklyn's north waterfront and will be completed in about 16 months.
The concepts of light and air and views play heavily into ODA's design of two projects at the Rheingold Brewery development sites in Bushwick, Brooklyn. Besides terraces for the apartments, the team added courtyards.
At the first Rheingold site, a 1-million-square-foot building at 123 Meserole Avenue, where All Year Management is building a more than 800-unit rental project, ODA put in landscaped courtyards that are connected to building amenity spaces and lead to the street. This courtyard style allows more people to meet and enjoy outdoor space.
"It's really the way that people want to live [in New York City]—to be connected to the grid and the big city but, at the same time, be able to connect in small-scale and more intimate environments," Chen said.
And at the other Rheingold Brewery site, 10 Montieth Street, ODA is designing a 350,000-square-foot, 500-unit rental project for the Rabsky Group. It is a block-long property that has a doughnut-shape and has courtyards in the middle. It also features a large rooftop garden, which slopes in key areas to allow more sunlight into the courtyard.
And of course, there is 305 West 44th Street, a 116,000-square-foot condominium for Triangle Assets in Midtown. Starting at the 21st floor of the building, each homeowner will have access to a floor with a private garden either below or on top of her unit via a Parisian staircase.
FXFOWLE
Dan Kaplan, Senior Partner
Since Superstorm Sandy caused widespread flooding and power outages in New York City in 2012, architects from the nearly 40-year-old FXFOWLE decided to take precautions with the design of the Statue of Liberty Museum and visitor center on Liberty Island, Dan Kaplan said.
The previous visitor center on the island was demolished, and the new 26,000-square-foot structure will be elevated higher than the former structure to increase resiliency against future storm surges. Meanwhile, FXFOWLE designed the building to blend in with the landscape of the island. It has a green staircase that leads up to a green roof, which doubles as a viewing terrace. It is expected to be completed in 2019.
FXFOWLE also signed on to design The Moinian Group's 1.8-million-square-foot office building at 3 Hudson Boulevard, which is set to be completed in 2021. The architecture firm added a communal green space inside the building adjacent to the second-floor lobby, as well as what Kaplan calls eight or nine "sky gardens," which are essentially terraces. And the building will have a green roof, which Kaplan referred to as a "green crown."
"As New York goes through this growth spurt that we are experiencing and becomes denser we need to temper the increased density with greater access to natural amenities so that we create a healthier and more desirable, sustainable city," Kaplan said.
And it's not just the insides of the building that the architecture firm is counting; FXFOWLE's design of Artemis' 11-story, 125,000-square-foot condo Circa Central Park at 2040 Frederick Douglass Boulevard is curved around Central Park, exposing residents to views of Manhattan's crown jewel.
Plus, the 48-unit building features terraces and open spaces "so that the experience of Central Park is laced throughout the building," Kaplan said.
FXFOWLE is applying a similar concept at One Willoughby Square in Downtown Brooklyn for Forest City Ratner Companies and JEMB Realty. It's a planned 505,000-square-foot office building that will be constructed over the newly created 50,000-square-foot Willoughby Square Park. The 36-story office building features about 16 balconies, and four pavilions made from the building's setbacks that overlook the park.
CetraRuddy
John Cetra, Co-Founder and Principal
John Cetra would bend over backward to offer great views at all of his projects.
We mean the buildings would bend, not the guy, of course.
Cetra's design of 242 West 53rd Street for Algin Management is slightly curled to afford more units with sweet views of the city. It will house 426 apartments in 468,000 square feet and extend 62 stories up.
"It is a tall building in the middle of Midtown surrounded by tall buildings," said Cetra, who co-founded the New York City based company with Nancy Ruddy in 1987. "How do you create a building that lets the residents inside see views? It was a conscious decision to have the building twist on sides so that within the apartments you can get views of the north and east and west."
The building has what looks like a fish net covering the façade—making it stand out from the other glass-heavy buildings surrounding it.
Another similarly tall property, Macklowe Properties' 152,000-square-foot building slated for 200 East 59th Street, will have wrap-around terraces on every floor to allow future owners of the 68 units to have wide views of the city. The 35-story structure also has an unusual but sleek waffle-style exterior on the base floors, which are earmarked for retail.
Sure, balconies and terraces are great for people to get air and light and for nature to be a part of the buildings, but Cetra believes highly in the way that the sun can change the appearance of a property.
"We like to create buildings with an attitude," Cetra said. "Buildings that are different than just flat glass surfaces. We want to mix glass with terra-cotta and metal and other materials so that when the sun hits the building it glows and changes personality."
For him, there is more of an urgency as he said the world sees the rise of the texture-less, flat glass buildings. With that in mind, he designed The Moinian Group's 165-unit apartment building at 572 11th Avenue with white terra-cotta and curved glass.
One new project that Cetra is proud of is 45 Broad Street, a condo being developed by Madison Equities; Gemdale Properties and Investment; and Pizzarotti & CSpA and AMS Acquisitions. It's designed to be 1,115 feet tall with 150 units, according to city records. Groundbreaking is scheduled for April.
Renzo Piano Building Workshop
Renzo Piano, Founder
Renzo Piano Building Workshop, the eponymous studio of the 1998 Pritzker Prize-winning architect, is working on a completely green campus.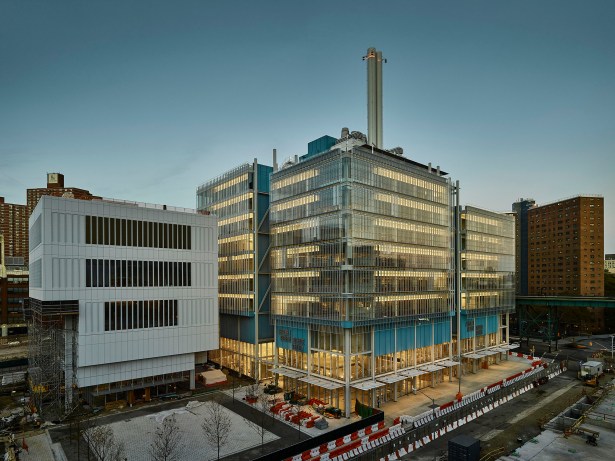 The international firm, which has offices in Paris, Italy and New York and was created in 1981, has been in charge of the master plan and buildings for Columbia University's Manhattanville 17-acre campus expansion between East 125th Street and East 133rd Streets.
Columbia's campus addition is designed according to the U.S. Green Building Council's Leadership in Energy and Environmental Design (LEED) platinum standards. Major highlights include open spaces, as former industrial blocks will have tree-lined streets and open green space, and the buildings will be set back from streets and sidewalks widened, allowing for more sunlight to make its way to pedestrians.
In the first stage of construction, the Renzo Piano-designed nine-story, 450,000-square-foot Jerome L. Greene Science Center and the eight-story, 60,000-square-foot Lenfest Center for the Arts will be completed. The Greene Science Center, which will become home to the Mortimer B. Zuckerman Mind Brain Behavior Institute, features reflective surfaces to reduce greenhouse gas emissions and a double aluminum and glass façade that keeps the building insulated, so it can stay energy efficient. The Lenfest Center building nearby will have screening, performance and presentation spaces. Both buildings are expected to open this year.
Also on the campus will be the 56,000-square-foot University Forum and Academic Conference Center, a building for lectures and panel events. The building will house a 430-seat auditorium and is set to open in 2018.
The new campus will have a pair of buildings that will house the Columbia Business School: The Ronald O. Perelman Center for Business Innovation and the Henry R. Kravis Building, both of which are planned to open in 2021. The sister buildings were designed by Diller Scofidio + Renfro and will be separated by a park.
Besides the Columbia expansion, Piano's firm has designed Bizzi & Partners Development, Aronov Development and Halpern Real Estate Venture's 30-story condominium at 565 Broome Street. It's his firm's first residential project in New York City and is clad with curved glass devoid of mullions and gives a view of the World Trade Center, Hudson River and Soho. It houses 17,000 square feet of amenities including a pool, a fitness center and an outdoor landscaped terrace.
HOK
Carl Galioto, President and Managing Principal of New York and Philadelphia
Remember just three years ago when former Vice President Joe Biden infamously likened LaGuardia Airport to being "in a third-world country"?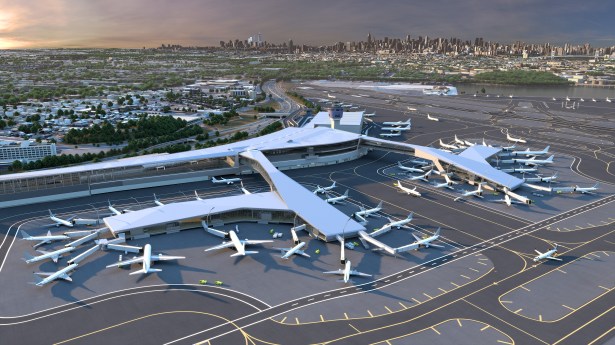 The dig stung—because it felt true. Just last year the airport was ranked the worst in a study by travel publication The Points Guy, and it took the bottom spot this year in an analysis by the Global Gateway Alliance that ranks on-time arrivals.
International design powerhouse HOK, which has more than 1,700 employees in 23 offices around the world, is working to change that image through design.
Together with engineering firm WSP Parsons Brinckerhoff, HOK is designing the new 1.3-million-square-foot LaGuardia Airport Central Terminal B, which will replace the aging 1964 terminal building. WSP and HOK are part of the LaGuardia Gateway Partners team with Vantage Airport Group, Skanska and Meridiam which won the bid for the $4 billion LaGuardia Airport renovation project—the first public-private partnership aviation project in the United States. The 35-gate terminal will be modernized and will "redefine the passenger experience…and position it among the world's best airports," Carl Galioto, the managing principal of HOK's New York and Philadelphia office, said in a statement to CO.
A key feature of the new terminal will be pedestrian bridges over active plane taxi lanes with sweeping views of the airfield and the Manhattan skyline. The design allows for natural light to stream into the facility and includes spacious seating areas. The building is expected to be LEED silver certified. Last June, LaGuardia Gateway Partners signed a lease with the Port Authority of New York & New Jersey through 2050 for Terminal B. The overall project, which includes a new central hall, garage, related roadways and infrastructure, is set for a 2022 completion.
HOK is also providing advisory services to the Port Authority in the planning of the redesign for the entire airport. As a company, HOK has been striving to reduce energy use across its portfolio and expects to achieve a carbon-neutral design by 2030.
Other designs the company completed or is working on in New York City include the offices for media company GroupM's nearly 700,000-square-foot headquarters in 3 World Trade Center and an 18-story condominium at 147-151 East 86th Street for Ceruzzi Properties and Kuafu Properties. HOK is also the architect of record for NewYork-Presbyterian's new 17-story, 733,500-square-foot building on the Upper East Side.
10 Monteith Street
,
123 Meserole Avenue
,
2040 Frederick Douglass Boulevard
,
242 West 53rd Street
,
3 Hudson Boulevard
,
3 World Trade Center
,
305 East 44th Street
,
420 Kent Avenue
,
45 Broad Street
,
565 Broome Street
,
Algin Management
,
All Year Management
,
Aronov Development
,
Bizzi & Partners Development
,
Ceruzzi Properties
,
CetraRuddy
,
Circa Central Park
,
Columbia University
,
Dan Kaplan
,
Eran Chen
,
FXFOWLE
,
Gemdale Properties and Investment
,
GroupM
,
Halpern Real Estate Venture
,
HOK
,
John Cetra
,
Kuafu Properties
,
Macklowe Properties
,
Madison Equities
,
Nancy Ruddy
,
ODA New York
,
One Willoughby Square
,
power 100
,
Power 100 2017
,
Rabsky Group
,
Renzo Piano
,
Renzo Piano Building Workshop
,
Rheingold Brewery
,
Ronald O. Perelman Center for Business Innovation
,
Spitzer Enterprises
,
Statue of Liberty Museum
,
Sustainability and Green Development
,
The Minion Group
,
The Power 100
,
Triangle Assets
,
U.S. Green Building Council
,
Willoughby Square Park