Artists & Fleas Retail Bringing Pop-Up Marketplace to Soho
---
---
Artists & Fleas, which creates curated retail marketplaces with products made by local designers, artists and independent brands, has found another location to set up shop, Commercial Observer has learned. This one is at 568 Broadway in Soho, in space formerly occupied by Armani Exchange at the corner of Prince Street.
The 13-year-old Artists & Fleas, which launched in an empty warehouse in Williamsburg, Brooklyn as a weekly marketplace, has signed a one-year deal for 10,250 square feet of ground-floor retail space at 568 Broadway, according to Bonnie Shapiro, the director of leasing for Allied Partners and who worked on the license agreement. The asking rent was $250,000 per month, a source with knowledge of the deal said, adding, "Artists & Fleas is paying a rent that is substantially lower than the market rent."
The marketplace will open May 12, according to a spokeswoman for Artists & Fleas.
While the merchant mix will be "culled from" brands at the other Artists & Fleas locations, the Soho market "is being curated with an eye towards merchants, products and styles that have unique appeal to the Soho demographic and the Artists & Fleas psychographic that shop downtown," Ronen Glimer, co-founder of Artists & Fleas, said in prepared remarks. "The vibe and fit-out will be consistent with the Artists & Fleas brand experience. …Additionally, we plan to open a partner innovation and activation space later this summer."
The 12-story office building at 568 Broadway, which is owned by Aurora Capital Associates, the Adjmi family and Allied Partners, amasses 350,000 square feet, and is home to retail tenants Forever 21 and Equinox Fitness as well as office tenants Foursquare and Thrillist Media Group and Scholastic.
Winick Realty Group's Aaron S. Fishbein and Daniyel Cohen represented the tenant in the deal. Fishbein would only confirm the duo represents Artists & Fleas and is looking for "a flagship long-term opportunity" for the marketplace.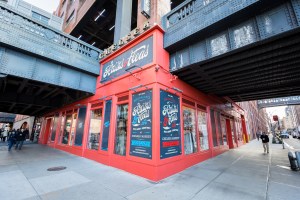 Aurora's Jared Epstein negotiated the deal on behalf of the owners with assistance provided by Winick's Richard Smith and Alec Stone. While Epstein declined to provide any deal information, he emailed: "I strongly believe that Artists & Fleas will add a unique element of excitement and vibrancy to the shopping experience on Broadway in Soho."
Shapiro had a similar sentiment: "I think it's a very exciting tenant with a lot of cachet for our property."
Artists & Fleas has a daily market inside Chelsea Market at 88 10th Avenue at West 15th Street, a weekend location at 70 North 7th Street in Williamsburg, Brooklyn, plus two spots in Los Angeles.
568 Broadway
,
70 North 7th Street
,
88 10th Avenue
,
Aaron S. Fishbein
,
Alec Stone
,
Allied Partners
,
Armani Exchange
,
Artists & Fleas
,
Aurora Capital Associates
,
Bonnie Shapiro
,
Chelsea Market
,
Daniyel Cohen
,
Forever 21
,
jared epstein
,
Richard SMith
,
Ronen Glimer
,
Scholastic
,
Thrillist Media Group
,
Winick Realty Group
,
Equinox