Floored to Ceiling: Inside CBRE's Tech Revolution, Led by David Eisenberg
---
---
The offices of Floored, on the ninth floor of an unassuming building at 159 West 25th Street in Chelsea, resemble the Platonic ideal of a tech startup's New York City office: white walls and high ceilings, an open floor plan occupied by rows of desks holding large-screen desktops, guitars hung on the walls and a nook featuring Ping-Pong and foosball tables.
This is "CBRE South," as Floored's founder and former chief executive officer, David Eisenberg, described it on a recent March afternoon. Eisenberg relinquished his CEO title in January, when CBRE acquired the tech firm for an undisclosed amount. He now serves as CBRE's senior vice president of digital enablement and technology—a key figure in the brokerage giant's effort to propel its technology operations into the future and give the company an advantage over its rivals in a rapidly competitive sector of the real estate business.
Floored, which Eisenberg launched in 2012 with partners Dustin Byrne and Judy He (who are now vice presidents at CBRE), develops interactive, three-dimensional mapping technology enabling real estate users to preview and plan commercial property layouts. CBRE brokers now use Floored's products to help clients who are looking for new office space virtually "walk" through a potential location they are vetting; those clients who are retrofitting or renovating an existing space can use the technology to shape and preview what the changes will look like. The technology is meant to save the brokerage's clients up to hundreds of thousands of dollars in architectural costs and countless hours they would normally spend physically touring spaces.
"The primary challenge is, how do you prove your relevance when [this technology] hasn't been needed in the past?" Eisenberg said of the impact Floored is trying to make in commercial real estate. "The real estate industry has been fine without software. You have to say, 'Test our technology versus a scenario where you don't have it. Do you move faster? Do you save money?' And I think we found that you can prove investing in technology and automation is a good idea."
Eisenberg is a 32-year-old Harvard University graduate who lives on the Upper West Side with his wife and 11-month-old daughter. Having majored in psychology, he started his career at global management consulting firm Bain & Company before pivoting into the tech startup world; he was among the first employees at e-commerce apparel retailer Bonobos and subsequently joined personal marketing startup TellApart, which was acquired by Twitter for a reported $479 million in 2015.
"When I was at university, there was a tectonic shift that happened with people oriented in the financial and consulting worlds moving toward technology," Eisenberg said. He noted the impact of Facebook on this shift in mindset; Eisenberg was at Harvard when Mark Zuckerberg founded the social media giant from his dorm room at the university, and while he does not know Zuckerberg personally, he counts himself "in the first 1,000 users of Facebook."
"I think a lot of my friends, rather than going to Goldman Sachs or Bain or McKinsey & Company, decided to look at venture capital or look at becoming an early employee at Facebook," he said. "That turned out not just to be the right call in terms of impact on the world but also the right financial call."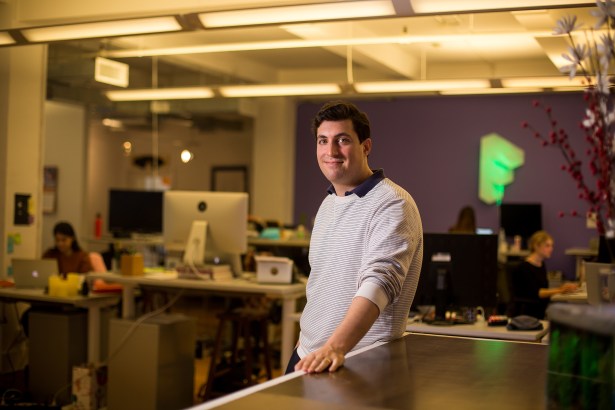 Floored, Eisenberg said, was started not with the idea of creating a real estate tech company but as a 3D imaging software firm that eventually "backed into real estate as being the obvious application" for its products. (The company raised $1.1 million in a December 2012 seed funding round led by investor Charlie O'Donnell's Brooklyn Bridge Ventures, according to startup database Crunchbase.)
"It was about how to deliver personalized marketing solutions to this industry that was doing none of it whatever," Eisenberg said. "There was no personalized marketing that was happening [in real estate] because it was perceived as being too expensive and there was no tooling in place—it was all in the broker's pitch, all in their voice. And we actually built something enabling brokers to do something visual on a unique, client-by-client basis."
Floored's initial lack of familiarity with the real estate business would prove both gift and curse, according to Eisenberg; while the company's focus and orientation as a tech and software firm, first and foremost, meant it was "far easier for us to recruit high-quality software engineers—folks from MIT and the Ivy League," it was also entering an industry in which it had little in terms of experience, background knowledge or preexisting relationships. But Floored would come to develop those and began by marketing its technologies to major landlords and property owners across New York; even before its acquisition by CBRE, Floored's clients included the likes of Related Companies, Equity Office and Hines.
"We said let's try to get Blackstone [Group], Related and Tishman Speyer as customers," Eisenberg noted. "We thought those folks might have the more sophisticated apparatus to evaluate us and have the most properties to deploy us against. There are others who start from the bottom-up, where they try to build a crowdsourcing solution. That wasn't us."
Floored came to fruition at a time when the real estate tech, or proptech, sector was beginning to pick up momentum and major companies were starting to see the potential of investing in technological development. In an industry that often has a reputation for being stuck in its ways, the firm's success—and CBRE's investment in it—is proof that times are changing.
"Real estate folks are entrepreneurs at heart, they're capitalists at heart, and so if there's something better, cheaper, faster, they'll take a look at it for sure," according to Eisenberg. "However, we found that you really have to prove it—you have to prove that it is faster, cheaper, better, and in the absence of that proof, the industry can move somewhat slowly because there's an embedded risk-averseness to dealing with real estate."
CBRE came calling last year, acquiring the then-36-person firm and integrating it into its platform of existing tech-based offerings—a platform that has now been consolidated as CBRE Vantage, a centralized suite of the brokerage's proptech products and services. Leading the effort has been Chandra Dhandapani, who joined CBRE as chief digital and technology officer last July after 17 years as a technology executive at Capital One.
"We've done mergers and acquisitions in the past, but the Floored deal was different in that it was our first major tech-centric acquisition," Dhandapani said. "We were looking to modernize our tech infrastructure, and Floored brings that."
While Floored may have been the brokerage's first serious acquisition in the proptech sector, CBRE "has been investing in tech for several years," Dhandapani added, and it has developed relationships with other real estate tech firms—such as VTS, which signed an enterprise agreement with the brokerage in 2015 enabling CBRE to access VTS's expansive leasing and asset management data offerings.
With a collection of proptech services—including the Real Capital Markets-powered Deal Flow, a listings marketplace, and Asset View, which manages property performance indicators—CBRE Vantage was built with the motivation of "bring[ing] together what technological capabilities we already have in-house and have leveraged from third parties" and enabling the brokerage to "highlight what we have" to clients, Dhandapani said.
It is a portfolio of tools and products that CBRE brokers say they have already reaped benefits from. "Anytime a tenant goes to a building and gets serious about their options, they need to see if [the space] fits or not, and the only way to do that is a space layout," said Ben Friedland, an executive vice president at the brokerage. "Historically, you need to get an architect involved. But Floored can do that in a matter of seconds."
Friedland said that Floored's real value comes "not on the actual space tour," when clients physically view a location for themselves, but before, when they can consider an interactive simulation of the space in question that allows them to whittle down their list of potential options.
"When we're out looking at space, it can often be difficult for the tenants to visualize how the space works for them," he said. "Executives have the ability [with Floored] to visualize their entire work experience, from coming out of the elevator to going to their corner office, and can even see what the views are like from that specific floor of that building."
As a result of CBRE's investment, Floored is now in expansion mode. The firm's workforce, which currently stands at 42 people, "should be 50 percent larger by the end of this year," Eisenberg said, adding that the company is at work on improving and growing its product offerings. For outside observers, the time and money that CBRE is investing in its new acquisition and similar segments of its business are evidence of the growing influence and importance of the real estate tech sector at large.
"What's interesting to me about the [Floored] acquisition is not only did CBRE inherit this platform but also their CEO and a team of about 30 software engineers and tech developers who can be flexible with taking the product a step further," said Mariel Ebrahimi, the co-founder and CEO of real estate tech conference series DisruptCRE.
But Ebrahimi noted that CBRE is far from alone among major commercial brokerages that have invested on the proptech side. JLL, for instance, has worked to build its own tech offerings both internally and through partnerships. In November 2016, the firm enhanced a preexisting relationship with Berlin-based proptech firm Leverton via a cooperation agreement enabling JLL to further deploy Leverton's automated lease abstraction software—"deep-learning" technology that digitally identifies and extracts data from corporate documents like leases and contracts.
JLL has also made moves in the virtual reality software space through a partnership with Sunnyvale, Calif.-based tech firm Matterport, allowing the brokerage to access Matterport's 3D library of real-world spaces. (A JLL spokesman did not return a request for comment.)
Cushman & Wakefield, meanwhile, has partnerships with real estate tech advocacy organization MetaProp NYC, as well as companies with aggregated tech product offerings like DMG Information and Accruent. C&W also teams with the more traditional behemoths of data and software—think IBM, Microsoft and Oracle—on analytics and other initiatives, according to Adam Stanley, the brokerage's global chief information officer.
"We're still partnering with some of the really large firms, because even though people think they're dinosaurs, they still have a lot of money in research and development," Stanley said.
Stanley added that C&W views strategic partnerships with proptech firms, rather than mergers and acquisitions, as "in most cases the best alternative."
"There's always a risk, when you make an acquisition of a tech player, that you limit their ability to actively sell to the market and be open to a broader level of competition," he said. "We still for the most part feel that the partnership route is the best route for us."
While Stanley refuted the notion of a "tech arms race" among the giants of commercial real estate brokerage ("We don't think of it as an arms race…Our clients and customers must be the focus and not our competitors"), CBRE's purchase of Floored, as well as forays by rival firms into the proptech sector, indicate how the industry's major players have placed heightened importance on the role technology plays in real estate—and will continue to play in the future.
"When you start acquiring technology companies, you're making a pretty large statement that tech and data are the future of our business," said Nick Romito, the CEO of VTS. Romito said Floored has the potential to transform the nature of the commercial office leasing business.
"I see a world where, within five years, whether it's a 3D product or something else, the process of looking at a space is going to happen from your desk," he said. "You don't have to go out and tour 50 different spaces. That's going to change."
But Eisenberg is under no illusions about the challenge that lies ahead for his firm—nor is he overly concerned with others in the real estate tech space trying to emulate his company's success.
"I don't think this is easy—even if you knew exactly what our strategy was, I don't think it's an easy thing to copy," he said. "One of the reasons why there are so few winners in the proptech space is that this is not just about building great technology: It's also about nailing distribution in a very complicated industry that has a lot of fragmentation."
And while joining the CBRE empire may mean Floored now has an advantage with regards to distribution—with its technology now to be used by brokerage professionals across the world—Eisenberg knows that his firm's position means expectations are higher than ever.
"The challenge for us is that it's hard to move the needle at a company as sizable as CBRE," he said. "We have signed up for that challenge; we are measured on how much we move the needle on CBRE's total revenue, which is a number very high up in the billions [$13.1 billion in 2016]. For us to show a dramatic impact at CBRE, we need to be one of the most successful proptech companies, period."
159 West 25th Street
,
Accruent
,
Adam Stanley
,
Bain & Co.
,
Bain & Company
,
ben friedland
,
Bonobos
,
Brooklyn Bridge Ventures
,
Chandra Dhandapani
,
David Eisenberg
,
DisruptCRE
,
DMG::Information
,
Dustin Byrne
,
Floored
,
Harvard University
,
IBM
,
Judy He
,
Leverton
,
Mariel Ebrahimi
,
Mark Zuckerberg
,
Matterport
,
Nick Romito
,
Oracle
,
TellApart
,
Twitter
,
CBRE
,
Cushman & Wakefield
,
Equity Residential
,
Facebook
,
Goldman Sachs
,
Hines
,
JLL
,
McKinsey & Company
,
MetaProp
,
Microsoft
,
Related Companies
,
VTS