With the L Train Closing, Some Shrewd Brooklyn Minds Are Looking Around the J, M, Z Lines
---
---
It's all aboard the J, M, Z subway lines.
While the L train partial and temporary shutdown won't be a reality until 2019, some real estate investors and tenants are already taking steps in anticipation of the proverbial traffic ahead. As a result there has been increased demand and an escalation in prices at properties close to the J, M, Z train stations, the next best thing to the L in Williamsburg and Bushwick. (The G train, which has no Manhattan station, is also being talked up.)
Steve Reynolds, a partner and vice president of sales at Bestreich Realty Group, said the future L shutdown is already affecting investors in Brooklyn.
"We're definitely noticing over the last 12 months" an increased interest in properties around the J, M, Z lines, Reynolds said. And those investors along the L line "are underwriting now to prepare for 15 percent loss in rents, mostly residential."
He added: "I have investors say they don't want to pay what prices are because of the L shutdown and they are looking at other places. They're saying, 'How can I pay X when this will happen in 2019?' "
Twelve months ago, land was going for $170 per buildable square foot and now it's pushing $200 a buildable foot, he said.
In 2015, Ariel Property Advisors logged 27 development trades averaging $233 a buildable square foot along the J, M, Z lines in Williamsburg and Bushwick, excluding the waterfront. In 2016, 45 development sites traded in those areas for an average of $255 a buildable square foot.
"We are seeing a significant increase in offers and prices from investors along the J, M, Z lines for apartment and mixed-use assets, anticipating a significant increase in demand on those rental units in 2019," said Shaun Riney, a vice president of investments at Marcus & Millichap. "They are also seeking diversification or a hedge against their L-train specific portion of their portfolio."
Riney noted that there will be a movement in tenancies and "rents will go down in L train-only locations."
Marcus & Millichap is using the L train news as a "selling point" for two residential Williamsburg rental properties on the market: Icon Realty Management's 331 Keap Street (asking $16 million) and Morgenstern Capital's 347 Lorimer Street (listed for $20.5 million), both of which are close to the J, M, Z lines.
Midwood Investment and Development started leasing its 81 residential rental units at The Williams at 282 South 5th Street in South Williamsburg last November, and is touting its proximity to the Marcy Avenue J, M, Z stop in marketing materials and sales conversations. The developer had considered buying ads for The Williams in the L train stations that said, "when it shuts down we should be the ones you first look at," said Mehul Patel, the chief operating officer of Midwood Investment and Development.
This is quite a reversal for the unloved stepchild that was the J, M, Z lines. Prior to this situation, the J, M, Z were scoffed at as unreliable; when they left Brooklyn they curled through a remote area of Lower Manhattan; there were few transfer points. The parts of Brooklyn that the lines went through were lagging considerably behind Bedford Avenue and the most coveted parts of Williamsburg.
The L train panic started in July 2016 when the Metropolitan Transportation Authority announced it would shut down the popular line between Manhattan and Brooklyn—on which 225,000 Brooklynites commute into Manhattan daily—for 18 months to repair damage from Superstorm Sandy starting in 2019. Commuting alternatives—like shuttle service over the Williamsburg Bridge—are still unclear and the outcry has prompted the MTA to host public meetings about the situation.
While the temporary shutdown of the L train line will impact residents and workers in a large portion of Williamsburg and Bushwick, some real estate pros are looking at the situation as positive for some and negative for others.
Brian Leary, a managing partner at Brooklyn-based CPEX Real Estate, said for local retail and restaurants in Bushwick, an L shutdown could be a boon for their business as people become more inclined to remain local.
"It will foster a stronger local economy," he said. But, "the negative component is the impact on commuters that are renting in these areas today that have a real commute to Manhattan. If they are renters, they're going to seek other alternatives. It could put pressure on residential rental prices."
One Brooklyn retail broker who requested anonymity said that retailers are leery about the shutdown, wondering things like, will it be on schedule and what will it do to the area?
"Anybody that relies on that population is just very cautious about moving into Williamburg and L-train impacted neighborhoods," he said, noting that brokers in his office feel a responsibility to inform retail tenant clients about the future L shutdown. And the news is impacting leasing decisions.
"There have been cases of tenants who opted out of Williamsburg once the realities of the shutdown became clear," the broker said. "Especially in this climate, anything that's unknown is fucking scary."
Since the L train shutdown isn't coming until 2019, some executives with whom Commercial Observer spoke said it is a bit premature to see much quantifiable change in the market.
Investment sales broker Brendan Maddigan, a senior managing director at Cushman & Wakefield, said along the J, M, Z lines "the interest has picked up, but it hasn't translated to a dramatic shift in value."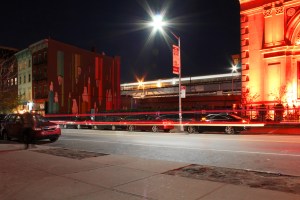 On behalf of an Argentinian investment group, Maddigan is marketing the 95,000-square-foot development site at 151 Broadway in Williamsburg along the J, M, Z lines with an asking price of $32 million. It is a few blocks from the Marcy Avenue J, M, Z station, and Manhattan is a subway station away, facts mentioned in the marketing materials.
Anecdotally, Daniel Tropp, a director of investment sales at Ariel, said that some builders are counting on a residential rent bump on projects along the J, M, Z lines if they can get them online before the L shutdown commences. But, more important than the shutdown right now, he said, is the expiration of the 421a tax program and a tightening in the construction lending market.
Regardless, it would not be wise to invest based on the L shutdown news, according to Ben Waller, a managing director at ABS Partners Real Estate.
"Developers and investors know enough to not time against it," Waller said. "It's just a small period of time in the lifetime of a deal, let alone an investment in a property. There will be an equilibrium. There are too many unknowns and moving parts that it's not a cohesive investment strategy."
Property owners may add concessions and eventually drop rents to entice residents and companies to live or work in buildings along the L line in 2019. The owners of a handful of commercial developments that are L train-focused, such as Heritage Equity Partners' Bushwick Generator at 215 More Street and Hudson Companies' 314 Scholes Street—have agreed to foot the bill for a shuttle to the J, M, Z stop at Flushing Avenue when the L service is interrupted.
Developer Paul Henry of Patoma, whose assets include primarily residential developments in Williamsburg and Bushwick, Brooklyn, and nearby Ridgewood, Queens, said hysteria is unnecessary.
"The L is still going to run from Bedford Avenue east," Henry said. "It is running in Brooklyn. It's definitely something on my mind and I'm planning for, but I also think it's been overhyped. It's going to be temporary—18 months. I don't think it's actually the end of the world."
151 Broadway
,
215 More Street
,
282 S. 5th Street
,
314 Scholes Street
,
331 Keap Street
,
347 Lorimer Street
,
Ben Waller
,
Bestreich Realty Group
,
Brendan Maddigan
,
Brian Leary
,
Bushwick Generator
,
CPEX Real Estate
,
Daniel Tropp
,
Heritage Equity Partners
,
Hudson Companies
,
Icon Realty Management
,
Mehul Patel
,
Metropolitan Transportation Authority
,
Midwood Investment and Development
,
Morgenstern Capital
,
Patoma
,
Paul Henry
,
Shaun Riney
,
Steve Reynolds
,
The Williams
,
Williamsburg Bridge
,
ABS Partners Real Estate
,
Ariel Property Advisors
,
Cushman & Wakefield
,
Marcus & Millichap