Stat of the Week: 12 Big Deals
---
---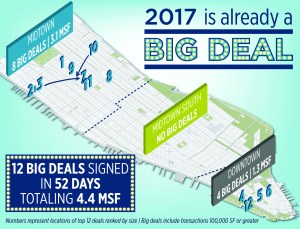 Within the first 52 days of 2017, 12 leases of more than 100,000 square feet were signed totaling 4.4 million square feet. In 2015, it took twice as many days to reach that number of significant leases completed. So, what's the big deal? Well for one, it has propelled the market off to a strong start this year, and it has also helped to drop the available large blocks of space to 76 from 79 at the end of 2016.
Of the 12 leases signed, seven were new leases, but they only accounted for 37.1 percent of the square footage leased, and the remaining five leases were a combination of lease renewals and extensions, totaling 2.9 million square feet. Through the first 52 days of 2016, only two new leases greater than 100,000 square feet were signed. However, these large spaces did not lease quickly, as the seven new leases had an average lease time of 27 months—nine months longer than the average time for large leases signed since the start of 2015.
Eight of the 12 leases completed were in Midtown, with four new leases, one of which was a short-term sublease, two renewals and two extensions completed. The three direct new leases—Tommy Hilfiger's 196,762-square-foot deal at 285 Madison Avenue, Endurance Specialty Holdings' 143,331-square-foot lease at 1221 Avenue of the Americas and SS&C Technologies' 142,720-square-foot deal at 4 Times Square—were all signed with long-term leases.
Downtown had a fantastic start to the year with three new big leases signed in less than two months—equal to the year-end 2016 total. Combined, the three new leases total over 850,000 square feet, 11.4 percent higher than Downtown's overall new leasing activity through the first two months of last year. Spotify highlights the list with its relocation from Midtown South to 378,819 square feet at 4 World Trade Center. Midtown South comes up short to start 2017, with no large leases signed yet, but it's no big deal since there are only six available blocks greater than 100,000 square feet, and in 2016, three large leases were signed as off-market deals.