Stables Situation: What's Becoming of the City's Rapidly Disappearing Horse Stables?
---
---
Once upon a time, horses clip-clopped on our paved streets. That time was yesterday—and this morning. Yes, the horseless carriage has not completely displaced the horse, but as the constant demand for space continues, every hoof step threatens to be the last.
To drive the point home, one of the city's last remaining stables is for sale, and its future use is undetermined. A public bankruptcy auction scheduled for February was postponed, but the listing asking $2 million for the 5,700-square-foot building at 55 Caton Place in Prospect Park, Brooklyn, remains active.
This is Kensington Stables, as it's been known since Massie and Edna Blankinship purchased this site in 1995. There was a second, smaller stable too, at 51 Caton Place, sold in 2005. Marc Yaverbaum of Staten Island-based distressed real estate specialists MYC & Associates is the broker and told Commercial Observer they are entertaining proposals now. Yaverbaum said the debtor in possession, current owner Walker Blankinship, son of Massie and Edna, wants the property to remain as a stable—but it's listed as a redevelopment opportunity. And Yaverbaum admitted there are no guarantees. That means the greatest hope for Blankinship (and the folks who enjoy Prospect Park's only horse rides) is something like the New York Police Department stable within Mercedes House at 550 West 54th Street between 10th and 11th Avenues in Manhattan.
City Council Member Brad Lander sent a letter to Yaverbaum at the end of last month stating that "the community strongly supports the preservation of a horse stable at this location, and bidders should be clear about this expectation." Lander did not respond to a request for comment. There has been a stable there since 1930.
Kensington Stables offers trail rides in the park and therapeutic horsemanship through Gallop NYC, a nonprofit that offers programs for veterans and kids with special needs at six New York City stables, four in city parks including a nine-year license agreement at Tudor Park (in Howard Beach, Brooklyn), home to New York City Federation of Black Cowboys, a society of African-Americans dedicated to telling the story of blacks in the American west, from 1994 until 2016.
From August to December 2016, Gallop NYC renovated the Cedar Lane—now renamed Sunrise Stables—with help from Home Depot, which sent volunteers to build fences, landscape, paint and repair everything. Because of the capital investment in the site, the city lowered the license fees for the beginning years.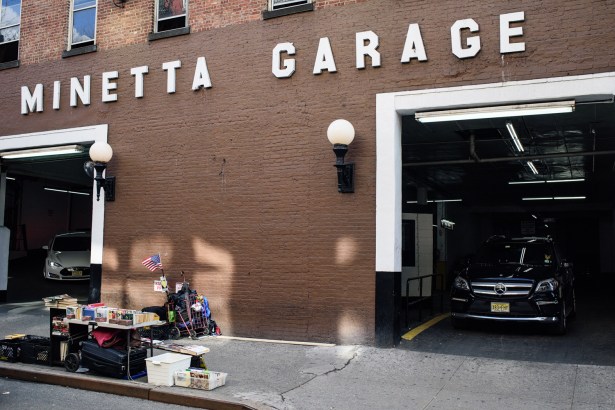 Despite the dwindling number of stables, there is ongoing strong public interest. In January, Gallop NYC—which serves 500 riders every week and has a waiting list of 600—purchased Lynne's Riding School stables at 88-03 70th Road in Forest Hills, Queens for $3 million. It did not submit a proposal for Kensington. (They're currently focusing on the two new facilities on their plate.)
And, there's a need. A report just published in the American Journal of Physical Medicine & Rehabilitation said horseback riding activities can help to improve strength, balance and more for children and adults with a range of neuromotor, developmental and physical disabilities, something Kershaw and her team have known for years.
"There is a demand for recreational riding," said Alicia Kershaw, the executive director of Gallop, "but much more for therapeutic." Gallop has identified 200,000 kids in New York City who could benefit, a number that does not include kids with ADHD or kids with literacy or emotional issues. Grant money and individual donations defray the cost of lessons, which are lower than the group's costs.
"The horseback riding business in New York City is only in trouble because of space," said Kershaw, noting the time and money necessary to get to stables 40 or more minutes outside of the city. "People and horses have been together for thousands of years. It's more deeply in our DNA than people realize."
The history of horses in New York City is perhaps so ubiquitous that we've stopped noticing the repurposed stables, entryways, hitching posts and drinking fountains present in every borough. Horses pulled delivery carts and wagons, carriages, omnibuses (15-passenger stagecoaches that had a set route) and trolleys along iron and steel tracks.
According to The Encyclopedia of New York City, edited by Kenneth T. Jackson, between 1910 and 1920, as nearly everything horse-drawn was replaced by mechanized vehicles, the number of horses in New York City fell to 56,000 from 128,000. In 1896, there were 4,649 stables—private and commercial—housing 73,746 horses in New York City, which did not then include Brooklyn, Staten Island or parts of the Bronx and Queens.
In the 1880s there were some 175,000 horses, about 1 for every 10 people, in New York City and Brooklyn. Now, said Sergeant Donald Boyle of the NYPD Mounted Unit, there are about 850, about 1 for every 10,000 people. "People assume horses are happiest in a country setting," he said. "They have a perception that horses are not at home in the city, but horses built the city."
Built it, lived in it, had fun in it—Central Park bridle paths were created for riding "with a free hand and a rapid rate of speed"—and worked in it, Boyle said. Horses, according to everyone who works with them, are as adaptable as people. And, like people, if they don't want to do something, they let you know.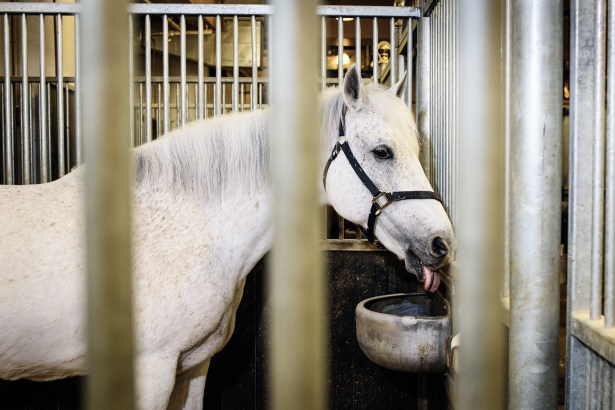 Anita McGill-Gerami, the vice president of Chateau Stables at 608 West 48th Street between 11th and 12th Avenues in Manhattan, said when her mom, owner Gloria McGill, first moved to the neighborhood, street peddlers—the fruit man, pickle man, junk man—kept their horse and wagons there. The McGills have owned the 2,500-square-foot stable built in 1926 for 50 years. Today they offer pony rides and horseback tours and have four carriages that tour Central Park. The currently have five horses and six ponies in the stable, plus borders. Their horses go back and forth to their Lancaster County, Pa., farm.
McGill-Gerami said they are frequently contacted by brokers wanting to represent them in case of a sale. No offer has ever been made. That's okay for them because, perhaps the only provider of pony rides in Manhattan, business has been good. They also do work with TV, movies and the Metropolitan Opera, providing a necessary horse for the screen or stage.
"City people are not easily exposed to horses and ponies," McGill-Gerami said. "They smile and relax and are so excited when they get around them."
Two similarly sized Manhattan stables—Bryne Stable at 547 West 37th Street between 10th and 11th Avenues and Westside Livery a block north at 538 West 38th Street—are in the heart of all of the development in Hudson Yards. Neither could be reached for comment, but their peers are certain they have been made offers. A problem, said Conor McHugh, echoing Kershaw, is there is nowhere for any of them to go. "We really cannot relocate," said McHugh, the head of the 15-driver co-op that owns Clinton Park Stables at 618 West 52nd Street between 11th and 12th Avenues, the largest of Manhattan's remaining four, 30,000-square-foot stables. Leaving Manhattan, and this part of Manhattan in particular, because of its zoning and proximity to Central Park, is not an option if they want to stay in business.
Clinton Park Stable was built for the city's Department of Sanitation in the 1860s and was sold to a cardboard box distributor, maybe in the 1920s (according to McHugh, the exact dates are unclear). In the beginning, McHugh said, cardboard deliveries were made by horse-drawn cart, but as cars replaced horses the stable became more warehouse (though original rings and details remain). McHugh and his co-op bought the building from the cardboard man's grandson for $4 million in 2003. They obtained a new certificate of occupancy and spent more than $1 million over two renovations upgrading the building that's now home to 78 horses (there are 83 stalls—horses go in and out of the city for rest and rotation).
"In order to have ownership of anything in New York City you have to have a viable business," McHugh said. "We've been in business since the 1850s, through war, recession, depression. But you read about $15 [million] or $20 million building sales. The figures don't add up as much with property values like that."
It almost sounds like he's ready to sell. Then he added, "The good news is all four of our stables are owned by the industry, not a separate landlord excited by prices."