Metro Loft's Nathan Berman on His FiDi-Residential Play
---
---
Nathan Berman had to pause when asked how many buildings he owns in the Financial District.
"Five or six" was the eventual answer.
It made sense it would take a moment to get the (vaguely) right response. He's developed a lot of projects in FiDi, and he has a tendency to focus on the here and now.
Berman is currently paying particular attention to his newest project, 180 Water Street, a 29-story, 457,239-square-foot office-to-residential conversion, which should have move-ins start next week, that offers 573 luxury rental units from studios to three-bedrooms, in addition to 10,000 square feet of retail. CetraRuddy handled the building's interior design, and the building's architect is, in Berman's words, "the rabbi of conversions," Avinash K. Malhotra (who has the eponymous firm).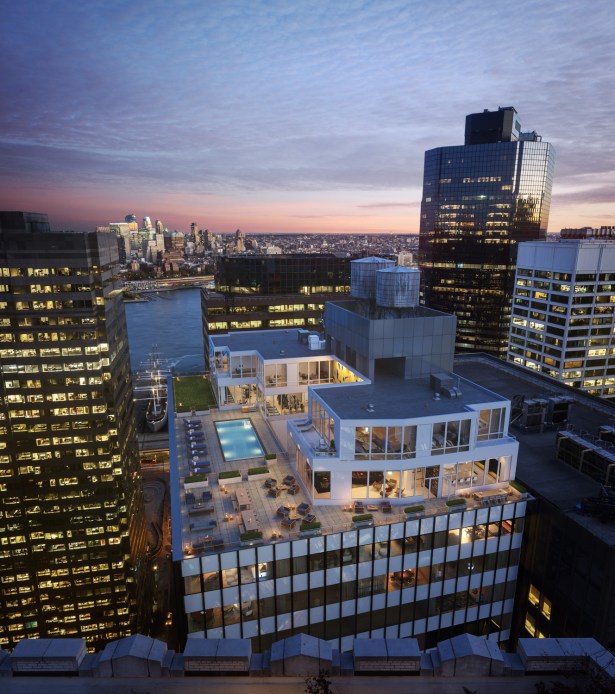 Berman, the 57-year-old founder and managing principal of Metro Loft Management, has spent the past two decades developing multifamily, high-end residential real estate in FiDi. His endeavors in Lower Manhattan, ahead of the curve in many ways, have proved enormously successful, as the area he initially delved into was considered a boondoggle by skeptics.
But Berman has never been afraid to drop his attention when it would be better spent elsewhere.
As a student at Queens College making ends meet as a cab driver, he left before graduation—with 110 credits under his belt—since making money was, by then, more important to him than education. Similarly, after over a decade as an art dealer, he saw limitations on how far he could grow and made a move into real estate, never looking back.
And that was how he wound up in FiDi—and, more specifically, Water Street.
"There's almost nothing comparable to this product," Berman said, speaking to Commercial Observer in one of the project's newly unveiled one-bedroom apartments (Berman estimates the space—with its towering high ceilings—at around 600 square feet). It will rent for just over $4,300 per month (leasing started less than a month ago).
"First and foremost, this is the highest density area in New York City," said Berman, discussing the desirability of FiDi. "This has the youngest demographic in the city. It started with students—200 Water Street was [a New York University] dorm for many years, with 650 apartments. This was an area where younger people, first-time renters, used to come. It was the cheapest area, and the product was fairly nice. The more conversions, the more apartments in the area, the more people, the more retail—it all grew together." 
FiDi's growth neatly coincided with Berman's own rise in real estate.
Born in the USSR, Berman came to the U.S. in 1973, at age 14, when his family settled in Kew Gardens, Queens. Married at 20 to wife Liza (they live on the Upper East Side and have two children, Rebecca, 34, and Daniel, 31, and two grandchildren), he later worked for his father-in-law, Eduard Nakhamkin, who ran the Nakhamkin Gallery at 1070 Madison Avenue between East 80th and East 81st Streets, which specialized in contemporary Russian emigre artists.
He worked at the gallery from 1980 until its closing in 1995—due, he said, to a slowdown in the art market—and was running much of the business by the mid-1980s. He enjoyed the industry but not the financial limitations of his position. By the early 1990s, he "saw the writing on the wall."
"[I thought], I'm not gonna stick around for another decade doing this," Berman said. "It really ought to be more of a hobby for someone who's more financially secure. I had a young family, and I wanted to support them in a better fashion. So I started looking for that next thing. I understood that as far as the art business was concerned, the week or month I didn't show up at the gallery to sell art, regardless of how great my reputation was or how many clients I had, I wouldn't have a business. If I didn't sell a painting that month, I didn't pay my rent. In contrast, what attracted me to real estate was, you lease a building or apartment, and you don't need to convince your tenant every month to pay the rent. You have a deal, you have a year's lease, and you know that for 12 months you're getting money. It was a much more compelling argument."
While he gained experience at the gallery in areas of business, including negotiation and general management, his move into real estate found him starting from scratch, with few resources at his disposal.
He began right away, in 1995, with the purchase of 71 Leonard Street, a five-story, 12,000-square-foot loft building in Tribeca. Berman acquired the building for $520,000—$450,000 of which came by way of a mortgage from the seller—and converted it into eight loft-style apartments.
"I bought the building for $70,000 in cash, which shows you what was selling in those days in Tribeca," Berman said. "I improved some of the vacant units, started collecting a little bit more rent, fixed it up from the outside and, about a year later, was able to get a mortgage from the bank and pay off the mortgage from the seller."
Berman estimates that today, 71 Leonard is worth around $10 million.
He quickly bought a few more loft buildings in Tribeca that he has since sold and, then in 1997, purchased his first FiDi property—the 15-story, 121,000-square-foot 17 John Street—for $5.2 million.
"A broker brought it to me, and I didn't have the money to buy it," Berman said. Partnering with Tony Fromer, the son of a former gallery client, and investor Jacob Popovic, he purchased the close-to-vacant commercial building and converted it to 111 luxury rental units.  
FiDi was still far from being considered desirable for residential real estate. Berman was breaking ground. 
"In the Financial District in the mid-1990s, and even onward, you could buy a building for $20 per [square] foot," Berman said. "This is when office vacancies were 40, 50, 60 percent. Some buildings stood completely vacant—I'm talking half-million-foot structures, magnificent 1930s architectural landmarks that sat vacant or were sold for less than the elevators in those buildings were worth. The big families and institutional investors weren't touching these, even though they were far below the value of the land they were sitting on. I remember going to look at buildings from listings and saying to myself, 'Am I crazy? Can't people see this is literally being given away?' "
Of course, anything priced so well is done so for a reason. But Berman saw his risk as minimal due to the value his low purchase price allowed him to offer New York City renters.  
"My calculation was very simple," he said. "Buying these buildings as cheaply as I did and converting them to residential, I could afford to offer rents in these buildings that could not be matched anywhere in the city. Granted, banks and other investors weren't convinced people would ultimately move here to live, because at the time it was not a 24-hour neighborhood. It was basically 9-to-5, five days a week. It was only offices. So this area was not forgotten but ignored. It was something left on the side. No one thought this area would revive as it has."
It didn't seem to worry Berman.
"Nathan's very decisive—very quick to pull a trigger on a deal while other people are still figuring it out," said Fromer, who has partnered with Berman on a number of projects since 17 John Street including 180 Water Street. "He sees the value in projects and buildings that other people don't. When we bought 17 John Street, there were tumbleweeds roaming down Lower Manhattan after 5 p.m.—it was a business district, not a residential one. Nathan saw the potential for offering [apartments] at below-normal Manhattan prices, and he felt people would flock to it. It turned out to be a wonderful formula, and we've been trying to find [similar] value in buildings ever since."
Berman—whose only regret regarding FiDi is his early inability to purchase even more property there, saying, "I would have grabbed everything I saw Downtown had I had access to the money"—has his sights trained on 180 Water Street. 
The building at 180 Water Street was purchased by the Vanbarton Group from Melohn Properties in July 2013 for around $151 million, and Vanbarton brought Berman in as a minority partner the following February. (Berman said his stake in the building is "around 10 percent," adding, "I had wanted it to be more.") The two parties had worked together on other projects, including 116 John Street and 20 Broad Street, and had discussed converting 180 Water Street to residential, a project Berman would spearhead.
The building's office tenant at the time, New York City's Human Resources Administration, vacated by May 2015, and the renovation began that fall. 
 According to William Bond, a principal at Vanbarton, after working with Berman on the other projects, they developed "a high regard for his sharpshooter capabilities." 
"His strength lies in the conceptualization of the floor plan, the vision for the utilization and maximization of space in a building and the efficiency that his plans bring to the asset," Bond said. "He's able to see the inefficiencies in a Class B office product and [understands how to] remove certain mechanical or core aspects of the building to pick up additional area as multifamily rental. At 180 Water Street, [he understood how to] core out the center of the building to effectuate a light well and get higher density in the building. He really understood how to maximize a floor plate for the optimal densification for multifamily rental." 
While the conversion is only partially complete—the amenities package, including rooftop pool, fitness center, lounge, private dining room and concierge service, is set to be finished up by September—lease-up began three weeks ago. The building had already received 70 applications by that point with around 35 leases signed. Berman expects the building to be fully leased within 10 to 12 months.
In addition, the 10,000 square feet of commercial space will mostly likely be broken down into three retail spots. Berman wouldn't say what, exactly, except that it will probably be food-related.
Berman has two projects on the horizon beyond 180 Water Street: He purchased 20 Broad Street with two partners for $185 million and will be converting the 500,000-square-foot commercial building to 530 apartments. He hopes to begin leasing there next summer.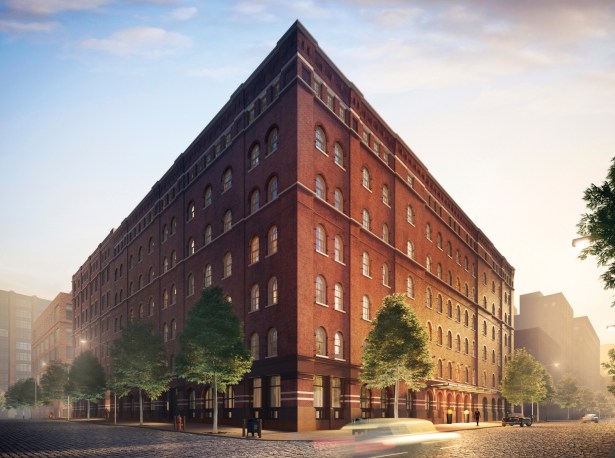 And he's in the final stages of a rare condo conversion for him, at a landmarked building at 443 Greenwich Street in Tribeca. Due to costs that would have been too high for rentals, he's converting it to high-end luxury condos instead.
"I tried desperately to keep it a rental," he said. "But because of the nature of it being an 1880s building, in order to do it justice, I had the option of either doing a [subpar] rental, or doing a nice job that pushed it into a condo. My returns on it as a rental would be so low, it just didn't pencil out."
The building is 70 percent sold to what Berman describes as a "who's who of entertainment and business." While he wouldn't reveal names, it's been reported that actor Mike Myers purchased a four-bedroom condo there for $14.7 million in January, and fashion designer Kobi Halperin bought one in December 2016 for $6.1 million. Actress Jennifer Lawrence also toured the property at one point.
Moving forward, in a city brimming with opportunity, the man with a keen sense of when to shift focus will be keeping his right where it is, continuing to build FiDi into one of the hottest residential neighborhoods in New York City.
"I can't get out of the Financial District because, as with 20 years ago, I still see such value here," he said. "I don't see myself going elsewhere when the opportunities here are so compelling.