With Revenues Falling, the CEO Out and a Traffic Nightmare, Tiffany Is in Trouble
---
---
If there is no more breakfast at Tiffany's, President Donald Trump could be in part to blame—and not just because of the chaos that ensued in front of Trump Tower following his election.
"The difficulty at Trump Tower may have impacted flagship sales, but the larger Trump issue is, if you live in China, you live in Japan, is Tiffany now your go-to place for prestige jewelry?" said Kate Newlin of Newlin Consulting, a brand consultant for retailers and manufacturers. "A big chunk of their business is from Asia, and if we demonize those markets or put question marks over trade deals—I can't think of another jewelry brand that is so American—I think they may take some hits because of that."
Newlin is of course referring to Trump's efforts to renegotiate the U.S.' economic alliances. (And—while it may seem far-fetched to the extreme—Newlin also put forth the theory that Trump having a daughter named Tiffany could subconsciously deter shopping at a store with the same name.)
Beyond the Trump effect, Tiffany & Co.—with its signature robin's egg blue boxes—is beset by issues that plague the high-end jewelry category as well as matters that relate to the iconic brand.
In its holiday-period sales report, Tiffany, which turns 180 this year, said it saw a 4 percent year-over-year drop in comparable-store sales in the Americas, which was "exacerbated by a 14 percent decline at the company's flagship store on Fifth Avenue in New York, which we attribute at least partly to post-election traffic disruptions."
Tom Cusick, the president of The Fifth Avenue Business Improvement District, said the traffic issues related to Trump were felt among all of the retailers in the immediate vicinity of Trump Tower, which is at 725 Fifth Avenue between East 56th and East 57th Streets.
"Between 55th and 56th Streets there was a severe impact on sales announced at stores on both sides of Fifth Avenue," Cusick said. "Things have picked up significantly in terms of customers and pedestrian traffic being able to get in stores since he was inaugurated because he hasn't come back to New York."
Robin Abrams, the vice chairman and principal of the Lansco Corportation, said things are still rough along the Fifth Avenue strip, home to Tiffany. (Its flagship is at 727 Fifth Avenue.) "For now, it's a shit show for retailers in the immediate vicinity," the retail broker said.
Since it's unclear what will transpire when Trump returns to the Big Apple, retailers on the street are taking a wait-and-see attitude, Cusick said.
As a luxury industry as a whole faces challenging times and retailers rejigger to determine the best courses of action, Tiffany has been struggling to keep its leadership intact.
The company announced earlier this month that its chief executive officer for less than two years, Frederic Cumenal, had stepped down, effective immediately. The firm's board of directors is searching for a successor. The company's shares slid 2.5 percent in the aftermath. Less than a month prior, the company's design director left after three and a half years, and the company created and filled a new position of chief artistic officer. And, the current chief financial officer is the third one to take on the role in the last five years, with the most recent one departing last May.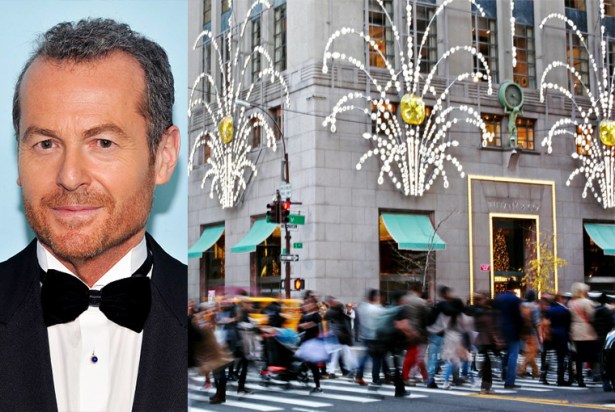 In the news release about Cumenal's departure, the chairman of the board of directors noted the board's disappointment by the most recent financial results and touted its plans for the future. "We remain focused on enhancing the customer experience, increasing the rate of new product introductions and innovation, maximizing marketing effectiveness, optimizing the store network and improving our business operations and processes, all while efficiently managing our capital and costs," Chairman Michael J. Kowalski said. "We believe these initiatives and the pace of their execution are key to driving shareholder value." (Tiffany representatives didn't respond to Commercial Observer's request for comment.)
Investment bank Mizuho Securities has downgraded the brand to "neutral" from "buy" with a price target of $74 from $90.
"While we still consider [Tiffany] as a foremost luxury brand with multiple long-term drivers, we are concerned with multiple executive changes [in the last 12 months]," Mizuho Securities analyst Betty Chen commented.
Morningstar also downgraded the fair value per share and is forecasting "slightly weaker revenue growth in 2016 and 2017," company analyst Jelena Sokolova wrote in her analysis. (Tiffany is releasing its fourth-quarter 2016 earnings next month.)
"We acknowledge that Tiffany's growth in the past two years has trailed some European peers," Sokolova wrote. "However, some of the weakness is explained by currency movements and the resulting changes in destination for traveling consumers, which are outside management control. On top of frequent CFO changes, we still regard high management turnover as somewhat disturbing. We are concerned that the short tenure of executives is affecting management's ability to focus on managing the business for the long term."
The age of online shopping has been a millstone around the necks of all retailers. Also, the secondary market is one that luxury jewelers "haven't figured out the way the luxury automobile industry has," Newlin said. She suggests that Tiffany and its competitors consider how to include selling secondhand products to make them competitive against Etsy, etc. And, the company needs to consider how it can be more than a one-brand shop.
The company attempted to reach a broad audience with its first-ever commercial during this year's Super Bowl. The ad featured Lady Gaga, who performed in the halftime act, in an appeal to millennials as well as older people (Gaga's biggest booster is legendary Tony Bennett).
"While we still consider [Tiffany] as a foremost luxury brand with multiple long-term drivers, we are concerned with multiple executive changes [in the last 12 months],"Betty Chen, Mizuho Securities
One broker had a more measured stance on the company's latest moves.
"As a company, they have taken several new initiatives to attract a younger millennial customer as evidenced by their Super Bowl ad last Sunday," said Richard Hodos, a vice chairman with CBRE's New York Tri-State Region Retail Services Team, in an email. "They have also hired Reed Krakoff as [chief artistic officer], which is interesting. They have had similar initiatives in the past (Lambertson-Truex) with mixed results. Not sure how Fifth Avenue is doing due to the Trump effect now that he is in D.C., although clearly (while Melania [Trump] is in residence) access can be problematic at times. New Yorkers are resilient though, and most will find a way to shop just as they make their way around piles of snow during the aftermath of a blizzard!"
Newlin noted that Tiffany has often been the place to go to mark meaningful moments like an engagement or a wedding, but today, spending on discretionary goods seems to have shifted from products to experience, particularly among millennials.
"If I got my [17-year-old] daughter something to mark a moment, I would give her a ticket to the Governors Ball [Music Festival] or the Jingle Ball. There isn't this sense of [wanting a] memento by spending money on jewelry. There's a more transient understanding of life."
Newlin also said that the Tiffany brand "doesn't feel fresh and modern" and as a result doesn't appeal to millennials. Also a cultural shift away from marriage in most developed markets has impacted Tiffany as the company derives 30 percent of its sales from engagement-related purchases, Morningstar noted.
Newlin remembers when she moved to New York City in the 1980s, and one of her first stops was Tiffany's to buy custom stationery that cost her hundreds of dollars.
"You know, who does that?" she said. "You wouldn't invest in that today. There's a quaintness to it, a charm to it. It has to be reimagined so the DNA is there, but it has to be brought forward."
John Brod, a partner at ABS Partners Real Estate, said Tiffany needs to adjust to the times, but he has confidence that the company will do so.
"The company faces the same issues as other retailers but because it's such an important brand the adjustment will be easier than other jewelry tenants," Brod said. "It's one of the best jewelry brands in the world, recognizable by a broad clientele that goes well beyond just the luxury consumer. Everyone knows that blue box and what it represents. It's just a matter for them to adjust the retail template accordingly." 
725 Fifth Avenue
,
727 Fifth Avenue
,
Betty Chen
,
Donald Trump
,
Frederic Cumenal
,
Jelena Sokolova
,
John Brod
,
Kate Newlin
,
Lady Gaga
,
Lansco Corportation
,
Melania Trump
,
Michael J. Kowalski
,
Mizuho Securities
,
Morningstar
,
Newlin Consulting
,
Reed Krakoff
,
Richard Hodos
,
Robin Abrams
,
The Fifth Avenue Business Improvement District
,
Tiffany & Co.
,
Tom Cusick
,
Tony Bennett
,
Trump Tower
,
ABS Partners Real Estate
,
CBRE