The Plan: A Look at the New Interior Design of 450 Seventh Avenue
---
---
Doing a top-down, soup-to-nuts renovation of an older tower in New York City is an investment many landlords are not willing to make until absolutely necessary or when they want to sell.
"A lot of times as landlords, you chicken out. You don't do a full renovation," Steven Kaufman, the president of Kaufman Organization, told Commercial Observer. "Other times building ownership would spend money to increase the value [with a full renovation] and then sell the property." 
Like its colleagues, Kaufman Organization had made minor upgrades to 450 Seventh Avenue between West 34th and West 35th Streets in the past, but the last time the 1930s building saw a complete makeover was more than half a century ago.
Fifty years is definitely long enough;   Kaufman Organization wants to be different from its peers and spend approximately $15 million to renovate but not sell the entire 46-story pre-war building. It expects the renovation to be completed by early 2018.
"We don't plan to sell the building," Kaufman said. "Our plan is to increase rents and be more competitive. Everything is going to look new."
All of the common areas in the tower, which include the lobby, hallways, bathrooms and basement, will be revitalized with an emphasis on brightness. (There are no common spaces on the 30th to 46th floors, because they are single-tenant occupied.)
Construction recently began on the Nelson Architects-designed renovation, and general contractor JRM Construction has already completed six floors in the property, which is 100 percent leased. It will brighten up the lobby with a new backlight granite counter top for the security desk and marble-like white porcelain walls. Kaufman Organization also opted to put turnstiles in the lobby, which never had the security feature before.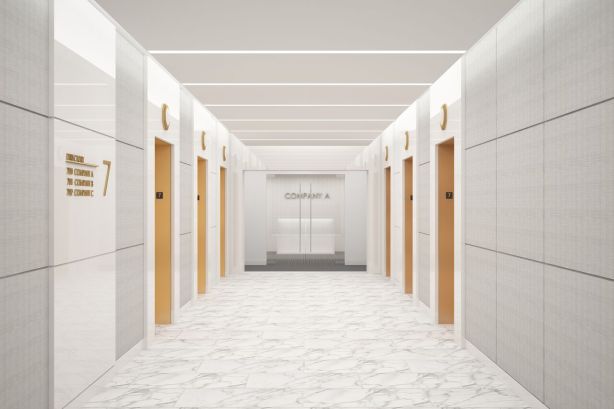 Hallways in the building looked like they belonged in an old motel; with dull red carpeting and dim lighting. So Kaufman Organization is putting in LED lights throughout the property and white porcelain tiles on the floor and walls. The new elevator doors will be brass, making the floors look like they were made out of gold and marble. All 12 of the building's elevators will have new cabs and upgraded mechanicals as well.
The doors throughout the building, which are mixed-matched with varying colors on each floor, are being replacing with all new gray ones that have a translucent glass covering.
Notably missing from the renovation is glass walls or doors that would be a must-have for the typical modernization. But Kaufman said his company wanted a more traditional vibe.
"It wasn't a type of situation, where glass would have worked," he said. "It's a total feeling of newness, but it's different. It's modern looking but classically modern."