Pamela McCormack Climbing the Ladder
---
---
Women are often absent on the masthead of financial firms. And if you go to one of the industry's events or conferences, it can feel a little like rubbing elbows with the starting lineup of the New England Patriots. The big lending institutions have their own macho subculture. And then you get to Ladder Capital.
As a co-founder and the chief operating officer of the 9-year-old company, Pamela McCormack, is one of the few females at the top of her industry. A St. John's University School of Law graduate, the 46-year-old met with Commercial Observer at her office at 345 Park Avenue and detailed her journey from working in law firms to starting and running a public company. And while the Long Island native has to balance being a married mother of three and a top executive, she spends as much time as she can mentoring both young women and men on how to do the same.
Commercial Observer: Tell us about your childhood.
McCormack: It's complicated. What has made me so tough and motivated is that I came from a broken family. I moved out of my home legally when I was 18 but unofficially when I was 16. I ended up in college by accident, almost. I [thought] I needed to have some kind of stomach surgery, so I needed insurance. My mother put me on her insurance, but because I was not living with her, the only way I could get back on it was if I was in school full time. School just came very naturally, and I did well, and I stayed with it. But by default, I was waitressing and bartending just to survive.
Then how did you end up in law school?
At the time, I was working at Houlihan's [a restaurant chain in Long Island] as a waitress, and I was finishing up at Stony Brook University. I was graduating in the middle of the year because I started a semester late. One of my friends who was a line cook [at the restaurant] was back from his school break and said, "Why don't you go to law school?" On a fluke, one of my friends' dad had paid me to take the LSAT with his daughter, just to sit with her and make sure she went to class. I did okay, but I wasn't really serious about it. I never thought in a million years I would use [that score].
When I finished law school, I worked at law firms for only three years. In my third year, I was working at [Stroock & Stroock & Lavan]. We were in the middle of a big closing, and there was a very senior associate in the firm who came into my office at 3 o'clock in the morning. She was doing splits in my office and talking about how she was going running in the morning. P.S., she's nine-months pregnant, and she hadn't seen her 3-year-old child in almost a week. I looked at her and had an epiphany. It epitomized what I didn't want to be as a mother.
Had you had children at that point?
No, but a few weeks later, I found out I was pregnant with my first child. And I said to myself, "I can't do this."
As a third-year associate, I had built a pretty big book of business—interestingly enough, from a guy that works at Ladder now, [Robert Perelman, the head of asset management]. So when I was thinking about leaving, I told him, "Rob, I know you gave me this big book of business, but I don't want to stay here." I gave him the story. I told him I was pregnant, so he said, "Why don't you come and work at Credit Suisse? [where he worked]" I went in-house counsel at Credit Suisse, and I stayed there for a little over five years. Then, I had an opportunity to move over to UBS where Brian Harris [the now co-founder and chief executive officer of Ladder] was.
Were you scared to launch a new real estate finance company right when the crisis was starting in 2008?
We got very lucky. Because we were laid off before the full crisis hit, we got started early enough and got interest from investors before the crisis. For me, it was a different kind of fear. Brian and Greta [Guggenheim, a co-founder of Ladder, now CEO at TPG Capital] were already more independently wealthy than I was at that stage in my career. I had just started on the business side—I was in the middle of construction on my house—and I was also pregnant with my twin boys, which we kept very [quiet] while we were fundraising.
I was scared because we raised the equity [we needed], and then Lehman failed on Sept. 15, 2008. Wells Fargo was going to be our main lender to help us open the door, and they were going to be our first line of credit. We were negotiating that line with them, and they went radio silent on us. We thought maybe they were getting flakey because of Lehman failing. They were negotiating to take over Wachovia, but it was private so no one knew it. As soon as that deal closed, they resurfaced, and it was a blessing because at that point we didn't know if we had a line of credit—while we had the capital, no one wanted to open the firm without financing in place. [Wells Fargo] executed our line of credit on Sept. 26, 2008—I remember these dates, it's ridiculous—and we called our capital and launched on Oct. 8 and my boys were born on Oct. 2. As soon as the line of credit was done, I was like, "Okay guys! You can come out now!" I worked from home the first three months. I worked through the maternity leave. And we started Ladder very small.
Your first role at Ladder Capital was as general counsel, right?
[In the beginning], there was only four of us, and we had to come up with titles. Our private equity wanted a general counsel, and that was my highest and best use at that time. So I started as general counsel, but we all did everything. For us, the big challenge at Ladder is that a lot of the other firms that start up are offshoots of larger institutions.
We started from scratch. It was an exciting time, and Rob and I did a lot of the infrastructure in the firm because Greta and Brian were a little more focused on trying to do investments. Over time my role evolved as the infrastructure built out, and we hired our personnel. I did all the negotiations for our equity and set up all the equity agreements with our private equity partners. Once that was done, we got to really focus on transactions. So I moved into a co-head of securitization role for a while and head of transaction management. They gave me titles for all of the businesses I was overseeing, but in the end, I've had the same role since I got here.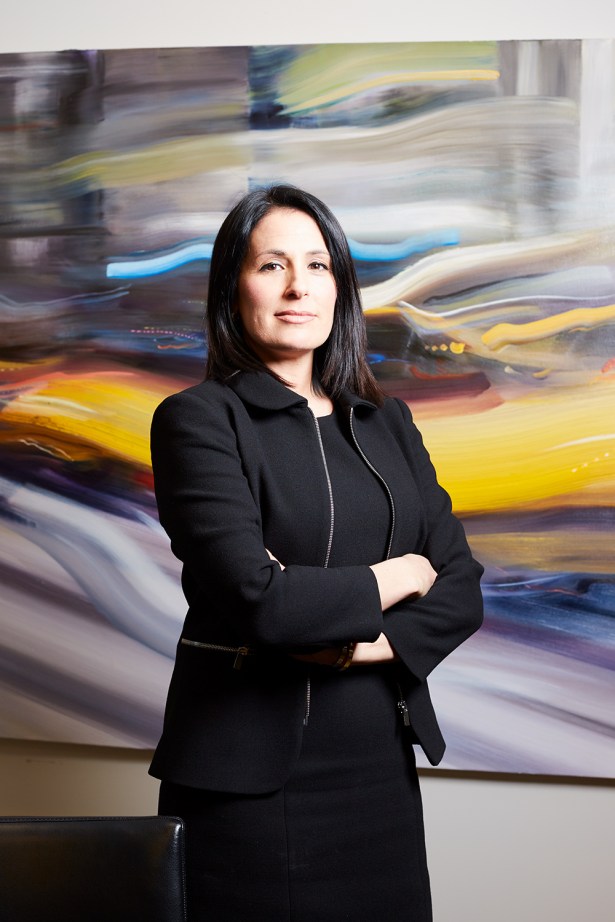 What's your day-to-day like as COO?
I'm a hybrid. I would say Brian and Mike [Mazzei, the president] focus primarily on deals, and I make sure the rest of the house runs. I sit on the investment committee for loans. I deal with a lot of personnel issues. I help to oversee finance and accounting, liability, financing lines, human resources, executive compensation. I oversee securitization transaction management, all of our deals that get closed, the team that closes all the deals reports to me. I come in on deals as needed. I have a very strong, senior team that runs our transaction management, and I have a very strong general counsel. The No. 1 key to success for anybody, and for me [especially], is I've had some of the strongest teams throughout the course of my career. If you invest in people, they invest in you.
Are you feeling positive about the commercial real estate market this year?
We feel cautiously optimistic. Ladder feels well positioned because we have a very robust balance sheet and liability structure, and we have the ability to make conduit loans and bridge loans. We think that if the conduit market does not materialize in the way that everyone hopes, we expect to see a much greater flower on our bridge book, and we're excited about that. We're also uniquely positioned in the sense that we have our own risk retention solutions. We feel confident that we are organized in a way that allows us to continue to operate our business within the risk retention framework autonomously.
Is there a particular risk retention structure you guys prefer?
There's a lot of guessing about which is better for investors. For me, I don't see a huge difference in the structures if they can all be cost-efficient. What I see is a convergence of the pricing on the different structures because everyone is trying to remain competitive. In other words, the B-piece buyers are forced to bring in their yields because the vertical structure is now competing with their cost of funds.
I question how much of that the banks, who have the vertical option—which is a very strong solution with a good cost of funds—will want to hold at such a low yield over time. It's not a high-yielding instrument. For Ladder, if we were going to do anything at this time, we would participate on the vertical strip, and provided that the fee was competitive, we would entertain that. But we also plan to do our own deals and hold our own B piece because we're very comfortable with the credit. They're all Ladder loans. A big distinction for us is that we're not buying other people's collateral. It would be 100 percent Ladder-originated product. We feel confident, and more importantly, we feel comfortable.
At this point in your career, is it still common to be the "only woman at the table"?
It is common, but I would say it's getting better. You're seeing more and more Fortune 500 companies making women CEOs. That's very encouraging for young women to see a path. I do think it still comes at a great sacrifice. I'd like to see more balance between successful women and successful families, but the challenge is really time. I know some people have said it, but in my experience I don't think people hold women back. Circumstances hold women back. It's very difficult to find the right balance where you can be a good mother, a strong employee, a good friend and good wife. It's hard to find the time to do all that, and for me it all comes down to that.
Do you ever talk about any challenges that are still prevalent in the workplace when you meet with other women in the industry?
A lot of it is no different than what you would expect the men to talk about: What's the opportunity? What's the market? We all complain from time to time that there are certain things that happen within each organization where you say, "That would not have happened if you were a man," or "You would not have been overlooked if you were a man." And it's trying to find ways to change that. Complaining does nothing. I've always been of the view that you should work to prove the stereotypes untrue rather than to try to fight them. Be different. Show them. Actions speak a lot louder than words when it comes to demonstrating female empowerment.
Were there any women or mentors you had who helped you along the way?
I witnessed a lot of women who were not helpful, particularly at the law firms I was at. There was a lot of resentment about how they were treated, so they treated the young female associates horribly. They didn't do anything to try to grow or encourage young females to really develop their careers. When I went over to Credit Suisse, my first boss, Colleen Graham, was wonderful. She was so supportive of me. She gave me a ton of autonomy, a ton of discretion. I modeled my behavior after her. Going from a place where I had no support to having that made me realize how instrumental it was in me wanting to develop my career. It's hard.
Listen, I think of myself as a mother first. I do not define myself by my career. It's very hard for women to find the balance and grow in their careers because there're so many demands on women to try to compete in an environment where men don't have the same expectations. Whether it's stereotypical or not—it's changing—but today men don't have the same level of responsibility at home. They are not saddled with the same level of guilt for not showing up at a child's event. They want to be there, but there's a different level of guilt as a mother. You do feel burdened by the stereotypes. You don't put "chief operating officer" on your tombstone. You put "beloved mother, beloved daughter."
On the other hand, I have a huge passion for what I do. I really feel like I'm a better mother because I work. I try to counsel women on this, and men quite frankly, because the same is true for men as fathers. For me, the key to my success has been working with people who I have earned their trust and their faith to work flexibly. I don't think you'll find anyone who will say that I work any less hard than anybody else. In fact, I probably put in more hours than average, but I do it on my own time. I have a train that goes to Port Washington at 6:11 p.m., and I get on that train. Religiously. And if someone needs me, they can trail me to the train station, but my feeling is I'm home putting my kids to bed every night, and I'm present in their lives I can help shape them.