Flushing Has Seen an Influx of Luxury Condos, But Will Luxe Retail Follow?
---
---
In Flushing, the neighborhood located at the very last stop of the 7 train in Queens, condominium prices having been climbing dramatically over the past few years. In the Downtown area, which is home to the city's second-largest Chinatown, many condo units have traded for over an eye-popping $2 million a piece. (For comparison, Manhattan's average condo price is $3 million, according to Douglas Elliman's fourth-quarter 2016 report.)
And that steep incline has affected all aspects of the residential market in Flushing. The average price of a condo in Flushing (including areas beyond Downtown) was $575,000 in the fourth quarter of 2016, a jump of 31.5 percent from five years ago, when it was $437,767, according to data provided to Commercial Observer by appraiser and consultant Jonathan Miller of Miller Samuel.
No, these are not the $20 million 57th Street apartments of Manhattan, but where there are buyers taking $1 million and $2 million condos, surely there's retail to cater to them, no?
Actually, not yet. Flushing's luxury retail seems to still be in the early stages, according to area experts; but the same experts also claim more luxury retailers and upscale restaurants will soon engulf the neighborhood as new developments come to market.
"Flushing was the home for the mom and pop—you had four dim sum places and four delis on some streets," said Stephen Preuss, a senior managing director at Cushman & Wakefield, whose niche is northeast Queens. "Flushing has more foot traffic than anywhere in Queens. And the residential is turning the page. You are getting wealthier residents with more discretionary income. It's a natural progression to have a better selection of retail for those people who could pay $1,200 per foot—and sometimes in cash."  
Preuss led a C&W team in the $66 million sale of the shuttered RKO Keith's Theater in Flushing at 135-35 Northern Boulevard, where buyer Xinyuan Real Estate has plans to erect a 269-unit luxury condo building.
That's just one of many condo developments in the pipeline in the neighborhood, and all together, they have some wondering who the buyers of such properties will be.
While some of these buyers are Asian investors looking for pied-à-terres, that's not the whole story, said Helen Lee, an executive vice president at developer F&T Group. F&T partnered with AECOM and Rockefeller Group to build the 1.8-million-square-foot Flushing Commons mixed-use development in Flushing. It also built the 333,000-square-foot One Fulton Square in the area, which has 43 luxury condos.
"I wouldn't say that there are so many investors from Asia," Lee said. "People tend to think that it's 90 percent. Actually, 10 to 20 percent are coming from Asia."
She added that most of the buyers are domestic. "It's becoming increasingly difficult to get money out of China," she said. "We have a heat map at the office that shows where these people are coming from. A lot of these people are coming from affluent neighborhoods in Long Island."
One-bedroom units at Flushing Commons, which sold out its 148 units in November 2016, went for $700,000 to $900,000, while two-bedroom units were $1 million to $1.5 million. Three-bedroom units exceeded the $2 million mark.
Probably the most upscale of the eateries to cater to this clientele is modern Japanese place Iki at F&T's One Fulton Square, which opened two years ago. It's omakase sets (chef's choice) are priced at $125 per person. And after that meal, one could wrap up the remainder of the evening at Leaf Bar, a rooftop watering hole atop the Hyatt Place hotel (opened in 2014), which is in the One Fulton Square development.
"At the restaurants in that development you are not getting 10 dumplings for five bucks," said Geoff Bailey, a broker with SCG Retail who leased spaces at One Fulton Square. "It's definitely a neighborhood that's on the rise for sure."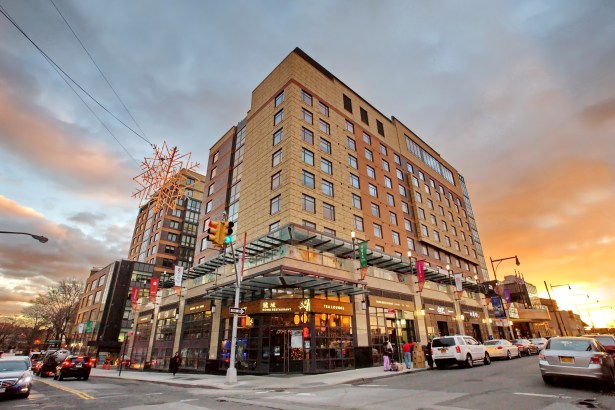 Perhaps the best embodiment of the change on the horizon is Carat & Co.'s three-level store at 3909 Main Street, where it sells luxury watches, diamonds and fine jewelry, from top brands such as Gucci, Cartier, Bulgari, Omega and Mont Blanc. Its top items sell for over $10,000 apiece, according to co-owner Derek Mon, who added the shop averages about $5,000 per sale.
Longtime residents will remember when Carat & Co. operated out of a small space in the Sheraton LaGuardia East Hotel in Flushing approximately two decades ago. Since then, the store has been on an expansion tear. After its initial space at the hotel, Carat & Co. subleased a section of a ground-floor space from a wedding photo store and then quickly moved into a one-floor store about a decade ago at 3902 Main Street. It opened its latest store in the entire 13,200-square-foot building at 3909 Main Street in October 2015.
"A lot of customers now say, 'Wow, we remember when you were in the Sheraton Hotel,' " Mon said. "Over the years we are seeing [Flushing] is shifting to high-end. We are seeing people can afford more expensive watches and jewelry from us."
He added, "I don't think [luxury in Flushing] is at its peak yet. I think it's still developing."
Asian-based retailers are certainly spotting the value in the neighborhood. In fact, Luk Fook Holdings, a jewelry and high-end watch retailer that has more than 1,400 shops in Hong Kong and mainland China, opened its second New York City store in Flushing in November 2016 in New World Mall at 136-20 Roosevelt Avenue between Main and Union Streets. (Its first New York City location opened in Manhattan's Chinatown.) Former Miss Hong Kong Pauline Yeung, a co-founder of the company, attended the New World Mall store's opening with Rep. Grace Meng.
And Peach & Lily, which started five years ago as an online site for premium Korean cosmetics, opened its first brick-and-mortar store inside the Macy's at 136-50 Roosevelt Avenue off of Main Street in November 2015.
In addition to higher-income earners living in Flushing, there are a lot of travelers from Asia who go there to visit family and shop before sightseeing around the rest of the borough, Mon explained.
Those travelers are visiting Citi Field and the USTA Billie Jean King National Tennis Center and shopping at Queens Center Mall, which is roughly 15 minutes away.
There are various business people coming to the neighborhood from Asian countries for work, and there are two hotels outperforming the borough in the neighborhood: The Hyatt Place and the Sheraton.
At the 168-room Hyatt Place, which opened in May 2014 with gyms, a yoga studio and a swimming pool, nightly room rates range from $219 to $319, according to its website. And the 173-room Sheraton, which has been a mainstay in the community since 1989, has prices going even higher, from $213 to $380 per night, according to its website. These far outshine Queens' average daily room rate of $149, according to STR, which tracks hospitality data, and is on par with the average in Manhattan hotels—which clocked in on average at $278 per night.
Flushing stacks up with some Manhattan areas in retail rents, too. Main Street, currently the top commercial corridor in the area with more than enough bank branches, has retailers paying top rents—as in $300 to $400 per square feet, brokers said—for ground-floor storefronts near the 7 train station at the intersection of Roosevelt Avenue. Even blocks away from the 7 train stop, Main Street rents are in the mid-$200-per-square-foot range.
This puts Flushing in difficult-to-believe territory for commercial rents in New York City. It is comparable with average asking rents on a square-foot basis for ground-floor retail spaces in Midtown on Third Avenue ($286) and the Upper West Side ($360) and just under areas like Lower Manhattan and the Flatiron District (both $403), according to Cushman & Wakefield's 2016 year-end report. It's also among Brooklyn's Williamsburg, where average retail rents on Bedford Avenue are in the high-$300s per square foot, according to the Real Estate Board of New York's latest Brooklyn report, released last September.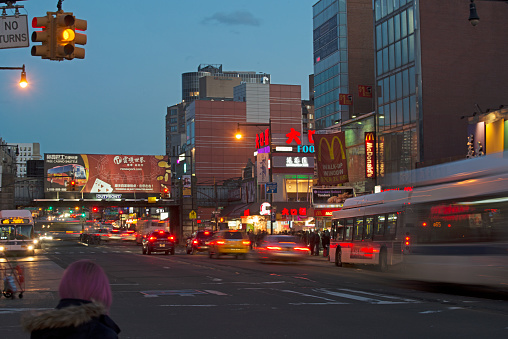 And while Williamsburg is known for its significant presence of tourists, Flushing's infamous foot traffic comes from daily commuters, and that's who's driving prices on Main Street, Bailey said.
Annually the 7 train station on Main Street gets more than 19 million riders and is ranked as the 12th-busiest station in the city in 2015, according to the MTA. (To compare, the L train Bedford Avenue station in Williamsburg ranked 35th with 9.3 million riders that same year.) There's also a Long Island Rail Road station and a slew of bus lines.
"There is no slow time of day [on Main Street]. The sidewalks are always jammed," said Michael Meyer, the president of F&T. "Main Street and Roosevelt, I joke, is the Fifth Avenue of Flushing. You have this enormous foot traffic."
While leases have yet to be finalized for retail space at Flushing Commons, Meyer promises high-end stores are coming from the east.
"We have heavy interest from some national tenants as well as upscale Asian retailers," he said. "We expect the final retail roll to contain a balanced mix of consumer services and food and beverage outlets."
While Asian retailers are biting, upscale American and European brands haven't made the jump to Flushing, yet, although a handful of major retailers have taken notice of—and even invested in—the neighborhood. 
A case and point is with The Shops SkyView Center, an 800,000-square-foot mall at 40-24 College Point Boulevard developed by Onex Real Estate partners in 2006 and home to early tenants BJs Wholesale Club, Best Buy and Bob's Discount Furniture. It struggled to attract major retailers during the recession, but in 2010 Target and Marshalls signed leases.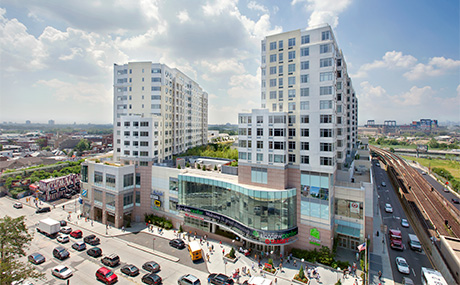 A few years later, things really picked up at the mall. Restoration Hardware opened a store there in May 2013, and the following year in September Nordstrom Rack launched a 39,000-square-foot store. Then in April 2015, Nike debuted its first outlet store in the city, at 15,000 square feet, at SkyView. Forever 21 swung open its doors to a 10,093-square-foot store, and Uniqlo brought its goods to an 8,000-square-foot location. The mall was doing so well Onex ended up selling it and its parking garage to Blackstone Group for $400 million in July 2015.
Some believe that the market still isn't ready for major international brands but agree Flushing has obviously turned a corner.
"It's not Neiman Marcus and Gucci," said retail expert RKF Vice Chairman Barry Fishbach, who isn't marketing property in Flushing. "[SkyView] has brought national retailers to Flushing, which I think is positive. It shows that there is disposable income in Flushing. Obviously, it's a positive start."
While SkyView convinced retail experts that there are shoppers in Flushing, F&T is out to prove the luxury shoppers are there, too. The developer started building Tangram, a 1.2-million-square-foot project with SCG America last year, which will have 300 luxury condos, 80,000 square feet of commercial space and a 225,000 retail base. It will feature a large atrium like the Winter Garden in Brookfield Place and an experiential movie theater—the neighborhood's first since RKO Keith's Theater closed more than three decades ago.  
Bailey, who is marketing the retail at Tangram, is hoping to attract luxury retailers from the shopping districts of Shanghai, Hong Kong, Tokyo and Seoul, as CO previously reported. However, Bailey and F&T's Lee declined to indicate with whom they are negotiating.
"Flushing has a concentration of untapped affluence that is steadily growing," Bailey said. "The combination of luxury residential with a vibrant dining and nightlife scene, tremendous daytime population and strong tourism creates a perfect storm for retailers."
135-35 Northern Boulevard
,
136-20 Roosevelt Avenue
,
AECOM
,
Barry Fishbach
,
Best Buy
,
Blackstone Group
,
Bulgari
,
Carat & Co.
,
Cartier
,
Citi Field
,
Cushman & Wakefield
,
Douglas Elliman
,
F&T Group
,
Flushing Commons
,
Geoff Bailey
,
Grace Meng
,
Gucci
,
Helen Lee
,
Hyatt Place
,
Iki
,
Jonathan Miller
,
Leaf Bar
,
Luk Fook Holdings
,
Michael Meyer
,
miller samuel
,
Nike
,
One Fulton Square
,
Onex Real Estate
,
Peach & Lily
,
Restoration Hardware
,
RKO Keith Theater
,
Rockefeller Group
,
SCG America