City Looking to Add More Fun in Coney Island With New RFP
---
---
Coney Island will be getting another amusement park if the city has its way.
As a part of the city's redevelopment plan for the Brooklyn neighborhood, the New York City Economic Development Corporation and the city's Department of Parks & Recreation released a request for proposals, or RFP, today for the creation and operation of new rides, games and other attractions in the entertainment area.
The RFP includes 150,000 square feet of space on five vacant parcels along the boardwalk between West 10th and West 16th Streets. Proposals are due on March 17. The city is hoping the new amusements will be opened by summer 2018.
"Coney Island just keeps getting better," the new NYCEDC President and Chief Executive Officer James Patchett said in a prepared statement. "The de Blasio administration is working to grow jobs in the amusement district, build affordable housing and invest in critical infrastructure. It's all part of our effort to improve quality of life and expand opportunities for Coney Island residents while preserving the unique culture of this historic destination."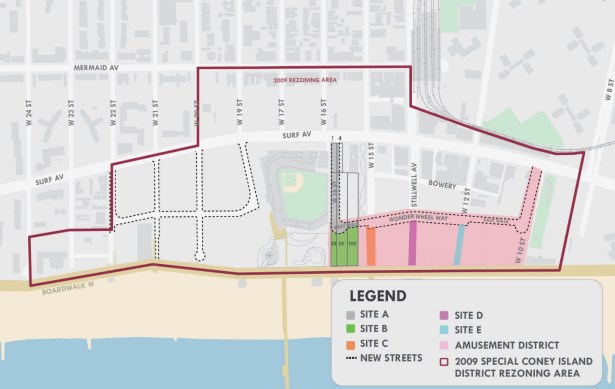 Following decades of deterioration and closings of various independently owned rides, the Bloomberg administration partnered with Central Amusements International (CAI), a subsidiary of Italy-based amusement park operator Zamperla, for the construction of Luna Park in Coney Island in 2010.
That first year CAI opened 19 new rides in the new amusement park. A year later, CAI opened the Scream Zone, a sister park with additional rides. And then in 2013 the company won the RFP to build the Thunderbolt roller coaster, which opened in 2014. Today CAI operates about 30 rides in Coney Island.
A representative for Zamperla did not immediately respond to a request for comment.
Coney Island has long been a home to amusement rides. The famous Deno's Wonder Wheel opened in 1920 and the Cyclone in 1927.
At nearby Luna Park, Joseph Sitt's Thor Equities sold the 3.1 acres to the city in 2009 for $95.7 million, retaining about 55,000 square feet on land off the boardwalk. Thor has used the site for its twice annual art show, but has plans for a hotel and movie theater someday, as CO previously reported. Sitt did not immediately respond to an inquiry seeking comment about the RFP, according to a company spokesman.
Local Councilman Mark Treyger called the RFP a "victory that benefits all."
He added: "Expanding the already exciting array of activities in the iconic Coney Island amusement district means more employment opportunities for local residents and more reasons for New Yorkers to continue making the 'People's Playground' one of our city's premier recreational destinations."