Morris Adjmi on Designing in Historic Districts, Aldo Rossi and His Own Style
---
---
"I'm not doing this."
That was what the legendary Italian architect Aldo Rossi told his young apprentice, Morris Adjmi, when the two of them were doing a project together in Osaka, Japan, and he was confronted by a television film crew 20-odd years ago. (Rossi—as Adjmi describes him in an understated way—was shy.)
" 'Aldo, they're here,' " Adjmi, now 57 years old, remembered saying, " 'just do the interviews. Whatever.' "
Adjmi was a young, Tulane University graduate in his 30s who had enticed the Italian superstar into taking him under his wing. (Adjmi and Rossi had originally met at the Institute of Architect Urban Studies.)
During their first project together in Fukuoka, Japan—a 62-unit hotel called Il Palazzo that opened in 1989—the property was so successful the developers sent Adjmi two books of nearly 300 pages each (one in English and Japanese) full of press that the building received and highlights of its architectural accolades.
Apparently, the Japanese press couldn't get enough of Rossi—who couldn't take much of the media attention. That was why he had such a fearful reaction to seeing reporters a few years later.
"So we all get in the elevator," Adjmi recalled, "and Aldo is standing and he goes, 'I'll wait for the next one.' The door closes and I'm like, 'That's it, he's gone.' "
Indeed, he was. (Adjmi finally found him later at a little jazz and whiskey bar.)
Thankfully, Adjmi didn't learn all of his press moves from his mentor.
New Orleans native Adjmi, the founder of Morris Adjmi Architects, didn't flake on Commercial Observer's interview with him. The father of three boys—who is currently working for big developers like Savanna with a ground-up industry-style building at 540 West 26th Street and a brick-like glass tower for Kushner Companies at 30 Journal Square in Jersey City, N.J.—met with CO on the 32nd floor of 60 Broad Street, where he has his 75-employee design firm.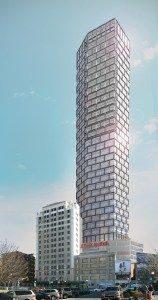 There he talked about Rossi (who was 66 when he died from a car accident in 1997), his New York projects and blending brick and glass.
Commercial Observer: Do you still do a lot of drawings for your projects by hand?
Adjmi: Well, let's put it this way, I'm really old school, but everybody else draws on the computer. I tend to draw by hand most of the time.
Robert A.M. Stern recently told CO that he basically wants everyone in his firm to draw by hand.
That's ironic because I know someone who used to teach architectural drawings to architects at Yale and Bob got rid of them because he wanted everybody to start working on the computer.
Do you go back to New Orleans often?
I do. A lot of my family is still there. I probably go down there at least six times a year. And we are doing a project there now, so that adds to the frequency.
Where else are you working on projects?
I would say more than 50 percent of our work is in New York. But now we are doing a lot of work outside of the city. I have probably four projects in Philly, five projects in [Washington,] D.C., a couple of projects in Chicago, a project in New Orleans, a project in Miami and a project in Tampa. So we are really doing a lot of work outside of the city.
Is that a recent expansion for the firm?
It's been happening for the last three or four years. What tends to happen is we do one project [outside New York] and then we do another and another one. It snowballs.
Your firm will be around for 20 years by next year, right?
It never occurred to me that it was coming on 20 years. Except that someone—a book publisher from London—contacted us recently about doing a monograph. And we say, "Okay, that sounds like a good idea." And then we were thinking it's going to come out in 2017 and in doing the math, we realized wow it's 20 years.
Tell us about your relationship with Aldo Rossi.
I met Aldo at the Institute of Architect Urban Studies when I was studying there. There were four professors in this advanced design workshop. It was sort of a natural growth for me to study with him because, growing up in New Orleans, I was interested in the architecture of New Orleans and using historic architecture as a font or a source to create new work but not focus on using historicism or mimicking style.
So you started as a student, but how did you get to work with him?
It was a little serendipitous, I guess. After I was studying at the Institute for Architecture and Urban Studies, the girl I was going out with at the time [and I] were traveling through Europe, and then at some point she decided to go back to France, and I was sort of left in Italy. So I called up Aldo and I said, "I'm over here in Florence. I'm going to stop over in Milan." He said, "Come over." Then he showed me the office and he said, "We are doing this competition, and we could use a little help. We only have three people in the office." I said, "I could stay." I literally thought I was going to stay for three weeks. We won the competition, and I ended up staying for three years.
How did you get to New York then?
After that, I came back to New York and I was working for another architect. Aldo was coming [to America], he called me up and said, "I'm on my way to Miami—do you want to have dinner?" We had dinner, and he said, "It looks like they want me to do a project there [in Miami]. Could you help? I need somebody here in the States to do it." So I took a leave for a month from the other firm. We did the project, presented it and they loved it. So we said, this is great, we'll open an office in New York.
Then Aldo said there is an opportunity to go to Japan. Someone invited me for a hotel project in Japan. And so he said, "We should go there." So I went there with Aldo and his son [in 1986]. It was amazing.
What was it like to lose him?
It was hard. I was very close to him. I studied with him and worked with him. And was really part of the family. So it was pretty traumatic.
How has the firm evolved since working with Rossi?
All the work that I did with Aldo set the foundation for the office and what I consciously decided to do—but it takes time to develop a style or come into your own. I knew the work I did with Aldo was important, but I didn't want to just do Aldo Rossi's greatest hits for the rest of my life. I wanted for my office to grow from that foundation but then create a slightly different point of view and to develop on everything that happened before, which I think I'm doing.
So what are you doing differently?
Instead of just limiting our approach or our attitude to looking at the immediate context and history, I'm looking outside of that and looking at what's happening in trends in art or different photographers or people that I admire and seeing how we can bring some of that influence into projects. [Like] Donald Judd [the minimalist] in some projects who we've tapped into with some of his art in 101 Spring Street, which is a cast iron building that is inverted.
Tell us about the challenge of designing 837 Washington, the Samsung Building.
This is a project that had been designed by another developer and architect team—which proposed to [Landmarks Preservation Commission that they] tear down the existing building. The Landmarks Commission denied that application. So then Taconic Investment Partners acquired the site, and they hired us. We initially talked to Landmarks. They said they could see, maybe, a story—a story and a half—on top [of the existing site]. Our developer said they need more space. By looking at the site and its conditions, we came up with this slightly different approach. This building threads through this existing structure. One of the things that influence it was this twisting [steel] addition or this [new] part of the building…I was pretty sure that the only way this could be successful was if the new building didn't overpower the old building.
Do you think the Landmarks Commission limits what architects can do?
There are some people who think going through the Landmarks process is cumbersome or difficult or something they don't want to do, but I embrace it. I would say that a third of our work is in historic districts. I would have difficulty working on a project in the middle of a blank field or some place that didn't have a context. And I think the work becomes more interesting if there is some kind of tension or a dialogue about a relationship to what's there.
Some of your newest projects are using terracotta. What is it like to work with that material?
There is one that is wrapping up at 7 West 21st Street. It's all terracotta. It's really beautiful. It's like a milky white and then gray terracotta on the bottom. That's why I like working in landmarked districts. You get a chance to make these projects special.
What kind of project do you prefer— commercial or residential?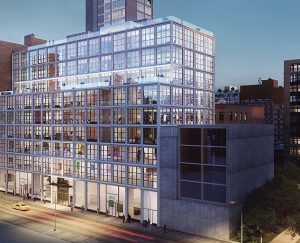 I like doing both. There is something nice about controlling the whole project. So if you do a residential project you can do from outside to inside, which I think is great. But I think some of our work, like we did the Samsung Building—although we didn't do the interiors—was an amazing project.
For your ground-up project with Savanna at 540 West 26th Street, what kind of materials are you using?
The façade is a bent aluminum panel. It is really beautiful. And it has concrete mushroom columns. We created a fresh take on  [mushroom columns] with a really smooth version of it.
Why do you think Savanna wanted an industrial style?
I think it's just this idea of creating some sense of authenticity.
Is 30 Journal Square the largest project that you are working on?
Yes. It's close to a million square feet. Over 70 stories. There is a low-rise building [on the site] that we are using, the Jersey Journal building, which originally there was some discussion about tearing it down. And I said, "Let's not tear it down. Let's use it as sort of a gateway into the project." We built this glass tower in the back with this brick pattern that sort of resonates, and you'll be able to see from a distance.
Why a brick pattern glass tower?
If this was all glass, it would just blend with the sky, and you wouldn't really notice it. And brick was a big part of this neighborhood, so we wanted to use that as inspiration for the shade but also create an identity for the building. And I think there is a way to get a lot of glass and also have something that reads from a distance and creates a certain amount of presence for the building.