The Wild Career of Brad Siderow, Whose Real Estate Company Is Expanding Like Crazy
---
---
The idea for a high-end Korean steakhouse in the sky in Manhattan's Koreatown was a dream first conceived about 15 years ago between construction contractor and businessman Andy Sung and broker Bradford Siderow.
At the time, Siderow was a young agent for MHP Real Estate Services (formerly Murray Hill Properties), a company his father Neil co-founded with Norman Sturner. Sung was constructing Cafe Duke, a small deli, at 1450 Broadway between West 40th and West 41st Streets for a Korean operator, a lease deal that the young Siderow closed. As the two got closer, they found themselves discussing Sung's dream Korean restaurant, which he wanted to build at 1250 Broadway between West 31st and West 32nd Streets, in Koreatown. He constructed floors in that building before and knew of a vacant 39th floor.
Fast forward to 2008: MHP and Jamestown buy the building for $310 million from SL Green Realty Corp., and a light bulb goes off in Siderow's head.
"I called up Andy, and I was like, 'Hey Andy, is this dream of the restaurant on top of the world still alive?'" Siderow, 48, said.
"'Basically you're not going to believe this, but we just bought that building, and we are going to blow out the windows [on the 39th floor].'"
MHP executives had other ideas, however.
"I had the perfect user, which was a high-end Korean steakhouse on Korea Street," Siderow said. "Everybody was like, 'Well, let's see if restaurateur Danny Meyer is interested. And the owner of San Pietro, we know him. Let's talk to him.'
"I was like, 'It's 32nd Street and Broadway!' " Siderow said. In other words, right in the beating heart of New York's Korean dining scene—not American or Italian.
When Meyer and San Pietro didn't work out, Siderow went back to Sung, and his restaurant Gaonnuri (which means "the center of the world" in Korean) was born. Siderow quickly struck a deal for the 8,500-square-foot space, and the Korean steakhouse opened in October 2012.
Gaonnuri is doing so well that in February, Siderow, now with his own brokerage, Siderow Organization, closed a deal for Gaonnuri's second location in Fort Lee, N.J.'s Hudson Lights complex. The 6,500-square-foot ground-floor establishment with 1,500-square-foot mezzanine level will open in early 2017. But Sung and Siderow are thinking even farther. They are looking at Philadelphia, Miami, San Francisco and Los Angeles for additional locations.
"He really has good networking all over the nation. So I think he is a good broker," Sung said. "He is more like a friend or a family member. He really takes care of the client very well."
Siderow started Siderow Organization in 2008 with partner Eric Levy (who left in 2011) and two young salespersons, and it has bloomed today into a group of about 39 salespersons and brokers, comprising 23 agents in the residential group and 16 agents in the commercial division.
The residential and commercial groups together oversee the sale and rental of more than $2 billion worth of real estate in New York City, for approximately 4,000 rental units, Siderow said.
And its commercial group is currently partnering with financial services giant UBS to acquire a residential or commercial property in New York City for investment.
"From the time that we started in 2008 to now there were a lot of brokerages much larger and smaller than us that have opened and closed," said Joshua Arcus, the president of Siderow Organization. "We have expanded from essentially just the two of us working together at one point to 40 people now working for us. Despite all the difficulties that have come along, we have continued to expand."
Siderow has a sparkling, exuberant personality. He grew up in Chappaqua, N.Y., the middle of three boys in a real estate family. While his father (who died in December 2015) headed MHP, his mother (who passed away four years ago) ran a real estate company, Siderow Kennedy Group.
Siderow was very attached to his late father and grew up dreaming of getting into the business.
"Real estate was definitely discussed around the dinner table," Siderow said. "It was an easy decision [for my career choice]." But his father refused to grease the skids into the business and he went to college, instead.
In his sophomore year at Northeastern University in Boston, he realized that college wasn't for him, so he dropped out. His first job in real estate was in the early 1990s, managing properties for the Parkoff Organization, which went well until his immature side kicked in.
"He fired me because I was 23 and didn't come back from the south of France on time," Siderow said.
His father finally brought him on board at MHP, but he failed to close a deal. So he quit real estate and decided to go to Israel for two years to escape.
"For no religious reason, I went. I was just like, Where would my parents let me go?" Siderow said. "Well, they are not going to let me go to Hawaii, so I'll go to Israel."
There, Siderow made connections with people from supplement- and nutrition-maker Herbalife. He joined the company as a salesperson and was eventually tasked with building a team that would open Herbalife's market in India. Siderow moved there in 1999, where he stayed until early 2001.
"I had to come home. I was like, 'I can't live in India anymore,' " Siderow said. "It was the longest year of my life. Let me tell you something, monsoons are biblical."
In addition to the bad weather, there was the animal life.
"I [was] walking to one of my distributors' apartments," said Siderow, who stands at 6 feet, 4 inches. "I tripped over a cow sitting down. I wasn't expecting to see a cow. It's like someone looking up at buildings in Manhattan and tripping over a fucking donkey. And then another time in India, I was walking with people and I'm thinking there are dogs next to me and it was monkeys."
Plus, there were other cultural differences that drove him nuts.
"The other beautiful thing about India is they are very religious," he said. "And what's one of the most religious symbols? The swastika. The Nazi's hijacked it, but it's still a swastika. When you are looking at a swastika, you don't know if it's backwards or not. All you see is a fucking swastika."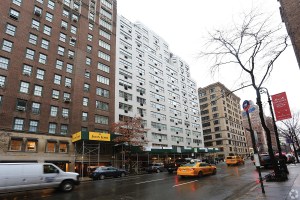 One of the more offbeat things he took away from his year in India was a love for Formula One racing (hey, you have to watch something on TV). In his current office suite on the eighth floor of 315 Madison Avenue overlooking Grand Central Terminal and the upcoming One Vanderbilt, his wall has a roughly 3-foot-high Formula One Fiat car painting, and there are model Ferraris and pictures of him with Formula One race car drivers on the same bookshelves that contain pictures of his wife and 7-year-old daughter, Sofia.
When he returned to New York in 2001, he decided to give his father's company another try. He was able to complete his first deal that year for the Cafe Duke in 1450 Broadway, where he met Sung. His career took off from that point.
In 2005, he called Parkoff—the same guy who had fired him before roughly a decade earlier—to congratulate him on a purchase. That conversation led to Parkoff rehiring Siderow to lease the 73,000 square-foot, 19-story commercial building at 110 East 55th Street between Park and Lexington Avenues. He did a variety of transactions there including a 3,200-square-foot deal on the 13th floor for Schweiger Dermatology and law practice Counsel Abstract's 5,057-square-foot space on the sixth floor.
"I don't remember how the conversion went but he said, 'Bring me tenants and start working on it,' " Siderow recalled. "He knew me, he knew my father, and we had a good relationship."
A year later he represented MHP in the sale of the ground lease of 135 West 50th Street between Avenue of the Americas and Seventh Avenue to UBS for $322 million in 2006.
"After we did the deal with UBS, I was with my father at their headquarters, and we are sitting at this huge marble room conference room table," Siderow said. "He's talking, and he says to these guys, 'I'm not going to leave my son an empire. I'm going to maybe leave him something.' They all start laughing, and I'm looking at him like 'What?' 
"I think he said that because he always wanted me to be on my toes and not relax and think that he was going to leave me some monster real estate empire that I can just slide into it."
It was one of those hair-raising moments that convinced Siderow that he should strike out on his own, which he did in 2008.
While the firm has been growing, it hasn't been without pains. It took its hits during the recession. (The company was making just $170,000 in revenue in 2008, according to public records.) But Siderow never stopped working, which inspired current Siderow Organization president Arcus, who was one of the young brokers in 2008, to believe they would have better days ahead.
"Between the time we started, from 2008 to 2011, times got really tough at certain points," Arcus said. "There was a moment where I lost all hope. And Brad picked me up and we moved on."
He added, "When I first came into [the firm], Brad was a guy who had a big Superman 'S' [decal] on his wall. The 'S' was for Siderow, but to me he was like this team leader."
In 2011, Levy sued his then partner Siderow for trying to force him to sign documents "renouncing his 50 percent stake in the company…in exchange for absolutely nothing," according to court documents. (Levy declined to comment.)
The case was eventually settled out of court. But Siderow had to endure other legal battles; Lauren Weiner, a former partner of the Siderow residential division, sued him and Arcus in July of this year in a similar case. This case is ongoing.
"Defendants sought to force Ms. Weiner out of [Siderow Organization] through harassment, verbal abuse and even physical intimidation, including trapping her in an office while attempting to coerce her into surrendering her membership interest," court filings allege.
The filings also alleged that Siderow wasn't a licensed broker and that he doesn't have the connections that he claims to have. Weiner is looking for damages in excess of $1 million, according to court papers.
"The new one is ongoing, so I really can't discuss that right now," Siderow said. "The more successful we get, the more you have to roll with certain punches. It comes with the territory. I am always hoping for peace. This isn't me—I'm on defense."
The case is currently going through an arbitration, and Weiner declined to comment when reached by CO. Weiner's attorney, Todd Higgins of Crosby & Higgins, referred CO to the court filings. The arbitration hearing is expected to begin in about five months, Higgins said.
Putting the court battle aside, Siderow's main focus now is continuing to grow the company's operations, especially on the commercial side.
The firm is marketing a 28,000-square-foot sublease space at 280 Park Avenue for the hedge fund BlueMountain Capital Management, which Siderow's older brother, Stephen, co-founded in 2003.
And the company has been adding staff. Alexander Altman joined the firm's commercial real estate group because of the atmosphere and Siderow's energy.
"When you meet somebody that comes across like an open book, you can tell he is passionate about what he does," Altman said. "The energy, the style, he came across as a decent guy to do business with."
Earlier this year, Siderow Organization represented Parkoff Organization in two deals: one, obtaining a 400-square-foot lease at 661 Lexington Avenue between East 55th and East 56th Streets for Le Cafe Coffee; and another, at 1248 Lexington Avenue between East 84th and East 85th Streets for a 1,215-square-foot La Familia Pizzeria.
The brokerage is marketing nearly 20,000 square feet of retail in the Parkoff Organization portfolio, which includes 7,000 square feet at 809 Madison Avenue, 8,500 square feet at 135 East 55th Street and 1,300 square feet at 623 Second Avenue.
Although Parkoff cut him back in the 1990s, Siderow Organization now oversees the approximately 100-building portfolio of residential and commercial properties for the Parkoff Organization in the five boroughs. (The Parkoff Organization did not return a request for comment.) And Siderow sees the silver lining of being fired.
"He's a family friend," Siderow said. "I do always joke with him, but if he never would have fired me, I would have still been a building manager."
110 East 55th Street
,
1248 Lexington Avenue
,
1250 Broadway
,
135 East 55th Street
,
135 West 50th Street
,
1450 Broadway
,
315 Madison Avenue
,
661 Lexington Avenue
,
Alexander Altman
,
Andy Sung
,
Bradford Siderow
,
Cafe Duke
,
Counsel Abstract
,
Crosby & Higgins
,
Danny Meyer
,
Eric Levy
,
Gaonnuri
,
Grand Central Terminal
,
Herbalife
,
Joshua Arcus
,
MHP Real Estate Services
,
Neil Siderow
,
Norman Sturner
,
Parkoff Organization
,
Schweiger Dermatology
,
Siderow Organization
,
Todd Higgins
,
Jamestown
,
SL Green
,
UBS