Stat of the Week: 60 BPS Lower
---
---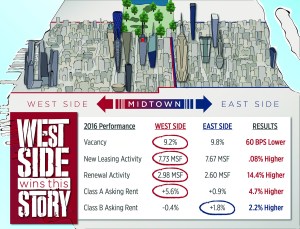 This year, the Midtown vacancy rate jumped 80 basis points to 9.5 percent after hitting a recent low of 8.8 percent at the end of 2015. The rise in vacancy is partially attributed to a 3 percent decline in new leasing activity year over year through October with 14.8 million square feet leased. Despite this, overall average asking rents are up 3.9 percent this year to $79.78 per square foot. Midtown, however, consists of over 242.2 million square feet of inventory, divisible into two distinct submarkets: West Midtown and East Midtown. Splitting up Midtown into West Side and East Side submarkets—every building west and east of Fifth Avenue—uncovers some intriguing results year-to-date. So, let's take a look at some statistics for both areas and see which side of Midtown can win this battle.
Vacancy Rate: Despite the West Side having a 130-basis-point increase to 9.2 percent this year, it is still lower than the East Side's 9.8 percent.
Winner: West Side 60 BPS lower
New Leasing Activity: This category was the closest as West Side leasing activity totaled 7.7 million square feet and slightly edged out the East Side by 0.8 percent—a 59,862-square-foot difference.
Winner: West Side 0.8 percent higher 
Lease Renewal Activity: the West Side had over 2.9 million square feet of lease renewals signed this year, compared to 2.6 million square feet in the East Side, a 12.6 percent difference.
Winner: West Side 14.4 percent higher
Class A Asking Rent: West Side Class A asking rents jumped 5.6 percent this year to $83.14 per square foot, while East Side grew only 0.9 percent to $85.97 per square foot. 
Winner: West Side 4.7 percent higher increase
Class B Asking Rents: West Side Class B average asking rents dipped 0.4 percent this year to $60.29 per square foot, while the East Side had a 1.8 percent increase this year to $59.18 per square foot.
Winner: East Side 2.2 percent higher increase
So, there you have it—Midtown has been dominated by a West Side story this year, and it has outperformed the East Side in four of the five categories.