Real Estate on the Ropes: Lo Russo Gets Pounded, Young Chetrit Victorious
---
---
That's now two knockdowns in a few weeks for Cushman & Wakefield's Ron Lo Russo.
The C&W executive, who recently stepped down from his post as the tri-state president to head the agency leasing arm of the business, dropped to his knees in a charity boxing event on Nov. 18 after taking a combo of punches and a push.
When the 152-pound, 5'9" Lo Russo fell, the crowd at the Haymakers for Hope event went nuts. His opponent, Debevoise & Plimpton attorney Gregory Copeland, was dominating the match from the onset. After Lo Russo sprang to his feet, Copeland delivered more punishment and at one point rocked Lo Russo's faceguard so hard it was twisted on his head.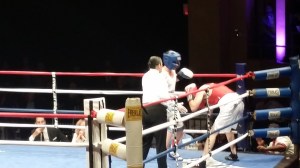 The three-round bout had recurring scenes of Lo Russo chasing the 143-pound Copeland with big punches as the evasive lawyer landed combos and displayed fancy footwork. Lo Russo lost the fight by a unanimous decision.
The Haymakers for Hope boxing charity event took place at the Hammerstein Ballroom in the Manhattan Center. The event raised a total of about $800,000 for cancer research, but Lo Russo did beat his opponent at something: He raised $91,650 in donations, according to the event's website, as opposed to Copeland's $68,415. (C&W sponsored Lo Russo and Copeland's bout.)
But, the event meant more to Lo Russo than just a fight. He told CO after the fight that his father-in-law died last year from the disease. (He did not answer questions about the fight however, or his black bird with flames tattoo on his right shoulder, which was visible during the combat.)
Although it was a charity event, the atmosphere was that of a real boxing match—there were real judges, the card was sanctioned by USA Boxing, and David Diamante, a professional sports announcer, mostly known for his role with the Brooklyn Nets, was onhand to call the matches. (The Nets were playing the Oklahoma City Thunder on the road that night.)
Lo Russo wasn't the only real estate professional taking part in the event. In another matching featuring a real estate industry individual, Eric Weinberg founder of Deer & Devon Brokerage, fought Andrew Westgate, an attorney for Latham & Watkins.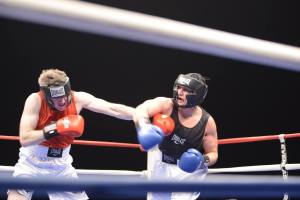 While Westgate had a small height edge at 6'3", Weinberg had an advantage of being 17 pounds heavier, at 222 pounds. Weinberg was methodical during the match and waited patiently for openings to get easy jabs. He also outlasted his opponent and scored a split decision victory.
Later in the evening, Joseph Chetrit's son, Michael, took the ring to chants of, "Mikey, Mikey, Mikey." His cheering section, comprised of young friends, were dressed down compared to the suits and ties of his opponent Michael Zhang's supporters. Chetrit's crowd also came bearing white roses. (Apparently, Chetrit's heretofore unknown boxing alias is "El Rosa Blanco.")
Chetrit had a slighter upper hand during the opening rounds as he skillfully dodged Zhang's swings and landed some combos. But Zhang, who works in private equity for Sentinel Capital Partners, displayed some fancy footwork of his own and connected some big shots towards the end of the second round. But both men were noticeably fatigued by the finale of the three-round bout. Towards the end of that round, Chetrit landed a few big shots that convinced the judges of his victory by split decision.
Chetrit, who said he was competing for his grandmother who survived breast cancer, said the fight was tough.  
"Mike was a great competitor," he said. "It was a hard fight."
What made him win? He pointed to a brawny man standing nearby and said: "Coaches."
Brooklyn Nets
,
Cushman & Wakefield
,
David Diamante
,
Debevoise & plimpton
,
Eric Weinberg
,
Gregory Copeland
,
Hammerstein Ballroom
,
Haymakers for Hope
,
Joseph Chetrit
,
Michael Zhang
,
Ron Lo Russo
,
Sentinel Capital Partners