Plaza Construction's CEO on Expanding Under a Chinese Firm, Splitting From Fisher Brothers
---
---
East Coast developer Fisher Brothers is today led by Arnold Fisher, his sons Ken and Steven and their younger cousin Winston.
If they had to add a non–family member to their ranks, a natural pick would be Richard Wood, the president and chief executive officer of Plaza Construction.
Plaza was a part of the 1915 real estate development firm before it was amputated corporately. In April 2014, Fisher Brothers sold its Plaza Construction divison for an undisclosed sum to China Construction America, a subsidiary of the conglomerate China State Construction Engineering Corporation, also known as CSCEC. But the ties go far deeper than their business association.
Wood, 58, has known Arnold, Ken and Steven for more than half a century, having grown up with them in Harrison, N.Y., and gone to grammar school and high school with Ken and Steven (they even played on the same little league team). So when Ken and Steven went to work for the family business after college, they "dragged" Wood along, Ken told Commercial Observer.
Naturally, severing Plaza from Fisher Brothers was a difficult decision.
"We were childhood best friends," said Ken, 58. "It was major. It was something that we agonized over."
Wood has been the president of Plaza since 1997 and been in leadership roles since it was founded as an arm of Fisher Brothers in 1986. Prior to that he worked with Fisher Brothers overseeing construction sites as a superintendent.
"It was sort of bittersweet that Plaza got sold, but it was necessary if Plaza was going to grow," Wood, a married father of two, said. "They are a development company. Plaza was getting to the point where it needed to be a major focus, and I think it was the right decision to sell it to a larger enterprise."
Plaza has been on a wild growth spurt since the transaction. Before the sale, Plaza had 500 employees; today it has 700 and is one of the largest construction management companies in the city (CO ranked it as one of the top construction firms in the five boroughs earlier this year). Its projected revenue for 2016 is $1.3 billion, and Plaza is currently working on close to 15 million square feet of projects around the country. Woods' endorsement of the sale was widely accepted by his employees as well.
"I was comfortable after seeing Richard's reaction [to the transaction]," said Christopher Mills, an executive vice president at Plaza. "After the transition nobody resigned because we were under a new company. Everyone said, 'If Richard is staying, then we're staying.' "
Now with a parent company that has more than $135 billion  in construction services (according to Forbes) under its belt, Plaza has access to more funds for bidding on larger public and private projects. And Plaza can work on various skyscrapers in the city like Continuum Company's 65-story, 777-foot-tall condominium at 45 East 22nd Street and the planned 91-story, 275-unit condo at 125 Greenwich Street for SHVO, New Valley and Bizzi & Partners Development.
And Plaza's skyscraper projects aren't limited to just New York City, since the company will get to work on CSCEC's planned developments throughout the country. Those include New Jersey's tallest building. China Overseas America, another subsidiary of the Chinese conglomerate, is developing a 900-foot skyscraper at 99 Hudson Street in Jersey City with Plaza. The superstructure will be completed by early 2017, Wood said. The 79-story, 781-unit residential condo will feature 15,000 square feet of retail space and about 14,000 square feet of public space. It will surpass the height of the two-year-old Goldman Sachs tower at 30 Hudson Street, which stands at 780 feet tall.
Wood has been working to expand the company's reach across the United States as well as the scope of its projects. The company is targeting the developers of healthcare facilities, schools, museums and buildings for nonprofits. Diversifying its projects would help Plaza hedge against a downturn in the market, like if the luxury condo pipeline dries up.
Plaza completed the $176 million Metropolitan Transportation Authority's new Fulton Center station building in late 2014. The 180,000-square-foot project is constructed with exposed structural steel, glass storefronts, stainless steel panels, granite flooring and has spiral staircases that lead to the train lines.
"There is a tremendous number of existing subway systems that run right underneath," Wood said. "So we deliver a completed foundation, and we built the building above it and needed to maintain access for hundreds of thousands of people a day through the facility while we built around it."
And on Aug. 25 of this year Plaza topped out a $95 million railcar manufacturing facility in Springfield, Mass., for CRRC MA USA. The 40-acre project, which includes a 204,000-square-foot assembly factory and a 2,240-foot long test track, is expected to be completed in the fall of 2017. CRRC will manufacture 284 subway cars for the Massachusetts Bay Transportation Authority starting in 2018. At the topping out ceremony, Plaza enjoyed high remarks for its time management.
"Replacing cars nearly four decades old will help deliver a more reliable and comfortable rider experience," Massachusetts Gov. Charlie Baker said in a prepared statement. "Construction of the factory is running ahead of schedule."
That's where Plaza's new life has been a roaring success.
Of course, not everything has gone smoothly. Last week, on Oct. 13, the U.S. Attorney's Office for the Eastern District of New York filed fraud charges in Brooklyn federal court against Plaza for improperly billing its clients over a 13-year period (from 1999 to 2012) for projects like the Empire State Building, the Brooklyn Navy Yard, Bronx Terminal Market and New York University. Plaza has agreed to pay $9.2 million, which includes $2.2 million in restitution to its clients, and $7 million in penalties to the government, over the next two years.
The U.S. Attorney's office didn't gild the lily. "For more than a decade, Plaza Construction overbilled its clients by charging them for unworked time and by fraudulently inserting a hidden surcharge to help offset its administrative costs," United States Attorney Robert Capers said in a statement. "By doing so, the company defrauded its clients and abused the trust placed in it to provide construction services at some of New York's most storied sites."
The government's probe of Plaza was part of a string of investigations to root out fraud in the construction industry. In April 2012, federal authorities charged rival Lend Lease with overbilling clients for a period of ten years. It paid $56 million in restitution. Hunter Roberts Construction Group was charged in May 2015 with an eight-year overbilling scheme and was mandated to pay $7 million. And Tishman Construction was forced to pay $20 million for an overbilling scheme last December.
Plaza has pledged that it has made changes to correct its behavior from that period.
"In agreeing to this Deferred Prosecution Agreement Plaza is pleased to have resolved this matter, which focused on historical conduct that was corrected by Plaza in the years leading up to [last week's] announcement," the company said in a statement to CO. "Internal controls have been implemented to ensure compliance and oversight, and to fulfill contractual commitments to our valued clients, as well as our company's commitment to the highest ethical standards in the industry."
Fortunately, billing is not Wood's department. As he no longer clocks in on job sites, but coordinates teams and holds meetings with his managers, Wood isn't a gruff construction guy. He speaks precisely and explains things like a professor—which is a trifle ironic, considering he dropped out of Alfred University in upstate New York to work for the Fishers.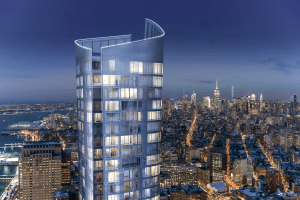 When it comes to personal matters, Wood is a closed book. Though he has spent an immense amount of time with the Fisher family, and they sing each other's praises, he is tightlipped when it comes to retelling stories about their shared youth.
"It's a little personal," he said.
Even small talk like, say, the general election doesn't seem to cause any breach. "I wish the environment were better" is all Wood would say about Donald Trump versus Hillary Clinton, adding, "Candidates and just the general environment that surrounds the process."
Even though the company has split from Fisher Brothers, Plaza still holds a very tight relationship with its former owner.
Plaza is behind two major projects for Fisher Brothers: The 37-story, 372-unit rental building at 225 East 39th Street in Murray Hill, slated for completion in spring 2017 (the Handel Architects-designed tower will feature a rooftop deck, a lounge, cabanas with barbecue stations and a courtyard garden among other things).
And Plaza is also working on Fisher Brothers, The Witkoff Group and Vector Group's planned luxury 64-story condo tower at 111 Murray Street in Tribeca. The Kohn Pedersen Fox-designed tower will include 157 luxury homes and is expected to be completed in 2018.
"Because he worked so closely for me and my father and my brother, he brings an ownership mentality," Ken said. "He brings that management-owner mentality, which in my mind is worth its weight in gold. He has become one of the top construction executives in the country. And without being prejudiced and biased in any way, I can tell you Richard is the guy that you would want to build your project."
He added, "I don't think we thought about doing [111 Murray Street] with anybody else."
111 Murray Street
,
125 Greenwich Street
,
225 East 39th Street
,
30 Hudson Street
,
45 East 22nd Street
,
99 Hudson Street
,
Arnold Fisher
,
Brooklyn Navy Yard
,
China Construction America
,
China State Construction Engineering Corporation
,
Christopher Mills
,
Continuum Company
,
Donald Trump
,
Empire State Building
,
Fisher Brothers
,
Handel Architects
,
Hillary Clinton
,
Hunter Roberts Construction Group
,
Kohn Pedersen Fox
,
Lend Lease
,
Metropolitan Transportation Authority
,
New York University
,
Plaza Construction
,
Richard Wood
,
Robert Capers
,
SHVO
,
Steven Fisher
,
The Witkoff Group
,
Tishman Construction
,
Winston Fisher