Stat of the Week: 63.5 Percent
---
---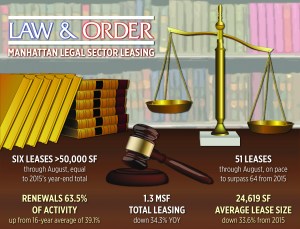 In the commercial real estate industry, law firm leases are considered especially coveted. In New York City, the dedicated brokers who investigate these transactions are members of an elite squad known as the "Special Leasing Unit." Here are the latest numbers:
The legal services industry has been active through the first eight months of the year, as 51 new leases and renewals were signed through August. On an annualized basis, this industry is on pace to surpass 75 transactions and outpace the 2015 total of only 64. Similar to the increase in renewal activity throughout the market, 33.3 percent of law firm leases signed this year were renewals, up from only 26.5 percent in both 2014 and 2015.
Despite the increase in the number of leases signed, total leasing volume is down 34.3 percent from one year ago, with just under 1.3 million square feet completed. Although there were six leases greater than 50,000 square feet signed by law firms through the first eight months of the year—equal to the same total from all of 2015—the average size of each deal is down 33.6 percent to only 24,619 square feet. Despite six leases over 50,000 square feet signed this year, the legal services industry has yet to notch a lease greater than 250,000 square feet, which this sector has completed at least two of since 2013. On a square footage basis, 63.5 percent of the leases signed were renewals, as four of the top six deals were law firms that remained in place. Renewal activity is up for law firms this year, as the industry has averaged a 39.1 percent renewal rate since 2000.
Since 2014, law firms' average starting rent was $72.64 per square foot, the highest three-year average on record, but 2016 has started off with a 6.5 percent decrease from 2015 to $69.06 per square foot.