Yes, We Kent! XIN Development's John Liang on His Record-Smashing Development, the Oosten
---
---
One of real estate's great turnaround stories has been Brooklyn's Kent Avenue. For years, it was a wasteland—a long stretch of industrial plants going from Greenpoint down to Williamsburg. A few developers realized that Kent Avenue had potential, and a handful of condominiums were unveiled in the 2000s, like Schaefer Landing and The Edge. But the great recession put a lot of plans on hold.
You would never know it now: Grocers and pharmacies are finally making their long-awaited appearance, and developers like Jed Walentas' Two Trees Management Company and Eliot Spitzer are unveiling bold mega-projects with thousands of apartments.
One of the most anticipated of the new residential projects is the Oosten, the 216-unit condo a couple of blocks south of the Williamsburg Bridge. It recently sold one of its penthouses for $6.49 million—a Williamsburg record. And when Commercial Observer stopped by the building last month it was a beehive of brokers, buyers and hardhats despite the fact that it was a weekday.
Unlike a lot of its neighbors along Kent, the Oosten wasn't built by New Yorkers; the developer is Chinese. We sat down with John Liang, the head of the Beijing-based Xinyuan Real Estate Company's U.S. division, XIN Development. The 46-year-old father of two daughters (ages 10 and 3) had just gotten back from China but was eager to talk Brooklyn, his firm and the time he almost got shot selling Bibles door-to-door.
Commercial Observer: Tell us about Xinyuan.
Liang: I think it is important to note that Xinyuan is the only New York Stock Exchange-listed Chinese real estate developer. And the genesis of that story was back in 2007, the famed American real estate fund manager Sam Zell went to China looking for a partner. Out of dozens of Chinese real estate firms, he chose Xinyuan. He became a major shareholder of Xinyuan. His Equity International teamed up with another private equity fund called Blue Ridge Capital. Xinyuan then did a very successful [initial public offering] of the New York Stock Exchange in 2007 and raised about $300 million.
The focus of the business is urban area home building, mainly high-rise apartments in second-tier and first-tier cities [with 5 million to 6 million people] in China. Until 2011, the business model of Xinyuan had been in China, solely. Then came the financial crisis—the tsunami we call it—which created the perfect opportunity for a well-capitalized Chinese company to start looking for opportunities in the United States. The core business is still in China.
How did you get involved with Xinyuan?
I joined the company in 2012. I worked with General Growth Properties before; I was head of real estate for A&P properties, The Great Atlantic and Pacific Tea Company. I became the head of operations for the U.S. We put together two small teams composed of local professionals, one on the East Coast one on the West Coast, looking for opportunities.
We did three deals in 2012. Two of them were relatively small. One in Irvine, California, which was a takeover of a distressed portfolio from a large U.S. homebuilder. We finished the project and completed the sales both in China and in the U.S. It was a very short and sweet project, took us about a year to finish the sales. We made a pretty good profit off that.
The second project was located in Reno, Nevada. It was also a distressed land portfolio from a major financial institution. The original idea was to put together these parcels and start developing Toll Brothers-type single residential family units for potential Chinese and local high-end buyers. Right after we closed the deal, the phones started to ring. Local developers called in to buy the land, piecemeal, and you could feel the recovery was in place in the market. Within a year we sold off all these parcels in different chunks to different developers and made pretty good money within a short period of time without doing anything.
In the second half of 2012, we found the Williamsburg property, which was in foreclosure. The local developers who were members of the Hasidic community here were originally going to develop it into a pretty typical housing project, but they were in financial distress. So we came in and negotiated with both the owners and the court. The acquisition price was something like $125 per buildable square foot.
At the time of the acquisition, when we did our pro forma, internally we said, if we can sell these units for around $750 per square foot, we would meet our investment objective. When we started presales a year and a half ago, the market price was already north of $900 per square foot. So we decided to go a little slow. On our first version of the offering plan, you could see prices ranging from $850 to $950 per square foot.
Today we have presold 70 percent of all units. We have 216 units all together. The current average selling price is in the $1,300 to $1,500 range, and it's still going up. People have started to realize, especially families with children that are priced out of the Manhattan market, that [the Oosten] is just across the river. We're sort of the mid-tier product but the highest in quality with a starchitect, Piet Boon, the famous Dutch designer that we hired. It has all the modern amenities—an indoor swimming pool, large interior courtyard that is second to none in this market, a rooftop garden. You'll have a doorman, a beautiful library, a two-minute walk to the ferry, an eight-minute walk to the train, for half of the price of Manhattan. So far most of the small units are gone, and 30 percent of our buyers are from China.
What else are you working on?
We have a second project in Manhattan in the Hell's Kitchen area. It's located at 10th Avenue and 44th Street.  
That's where Commercial Observer used to be located. Will that be similar to the Oosten—luxury, high-rise?
It's almost the same. It also has a height limitation because it's in the so-called special Clinton District. We have an eight-floor height limitation. But there will be a significant retail component, different from The Oosten, which is 100 percent residential. The second floor and above will all be condos. We're planning 80 to 85 condo units. And then we have close to 40,000 square feet of retail space.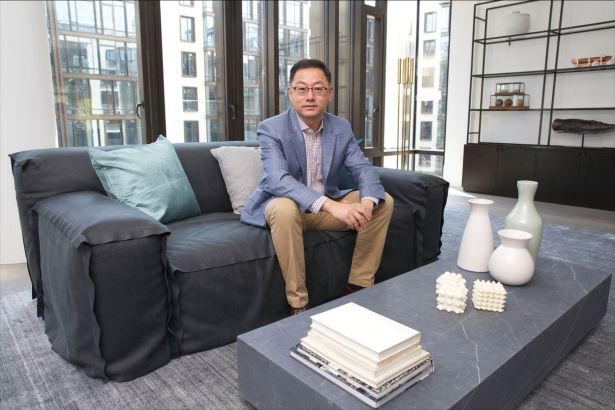 Looking ahead, are you going to be focused mostly in New York or elsewhere in the country?
So, Xinyuan, the parent company, has two arms. One is called Xinyuan China and the other is called XIN International, the overseas part. Within the U.S. we focus on two corridors, the northeast corridor starting from Washington, D.C., to Boston, with the gravity center being New York. The other corridor is South California to the Bay Area.
The common factor of both these corridors is that they are the most economically viable regions in the United States. Secondly, they are destination gateway cities for new immigrants, both from Asia and all over the world. These are the destinations of world capital flow. So even in the financial crisis, the capital from all over the world kept flowing into these two markets that gave us a lot of confidence. Usually we would project 25 to 30 percent of our buyers are Chinese customers that we're familiar with. Here we have a clear advantage over any local developer.
Chinese buyers tend to be somewhat clustered in certain neighborhoods of New York. Is this something that is an issue in Williamsburg in particular?
There are two or three clusters of Chinese population in New York, one in Flushing, one in Downtown Manhattan—the Chinatown area—and one in Sunset Park. In the beginning, that was a part of our calculation. We asked the same question: What kind of product do we want to build? Do we want to build something specifically catered to Chinese buyers? Or do we want to build something that's mainstream America or international, given the international status of New York and in the meantime track buyers from all over the world—including China?
Chinese buyers are self-selective. They want to be blended in the mainstream of American culture and lifestyle—that's why they come here. Even if this is only 10 percent of the Chinese population, we're talking about 10 percent of 1.4 billion people—it's a big market. Our decision is to build a world-class New York project that is a good design and a good product all around, whether from a Chinese perspective or a New York perspective or a Russian perspective or a European perspective.
How big is Xinyuan in China?
We deliver 10,000 apartment units every year. Our annual sales are $1.5 billion. I think if you're above a billion dollars here you're in the same league as the Toll Brothers, KB Home—these major U.S. homebuilders. We'd rank in the top 10 here in the U.S. In China we're not the biggest—the biggest companies would deliver $10 billion to $20 billion in annual revenue. In China we're in the second tier. But internationally we're the leader.
Where are you originally from?
I was born and raised in Beijing [and] spent half my life in China. I came here during my college years—I went to the University of Arkansas when Bill Clinton was still the governor. I majored in architecture, was a registered architect for about eight years. I went back to graduate school to the Wharton School to get my MBA. After that I started working for American real estate companies. First for GGP [General Growth Properties], then A&P, as the head of real estate, before I connected with the chairman of Xinyuan, and he hired me to build out their American operations.
That must have been a culture shock coming from Beijing to Arkansas.
That was a culture shock, yes, indeed. I came to America in 1991. In my classroom I was the only Asian student. I understood very little English—I learned it on paper. I remember that class was Renaissance architecture history. I had to take out a recorder to record everything, then went back to my dorm and would listen to it over and over again till I had written down every single word. That's how I studied while my roommates were out partying. [But] I made some friends, very good friends. Even today I still keep in touch with my [University of Arkansas] Razorback friends. I go to their watching parties in the Meatpacking District.
So you're a football fan?
I'm a major, major Razorback fan. I met my wife at a football game between Arkansas and [Louisiana State University]. She was going to LSU; I just finished at Arkansas. I was the only Arkansas fan; she was the only other Chinese person. That was how we met. She is from Beijing, too.
And you were an architect—why did you make the change to development?
I felt over my eight years of architecture career, there was always a lack of respect—and I wasn't making a lot of money either. One day I was yelled at again by a developer, by a client, so I started thinking maybe I should do something different. Maybe one day I could sit at the other end of the table. That's when I said, maybe I'll go back to school, mingle with the high rollers, get to know people in the financial world and see where that takes me. In my first class I was this Chinese guy speaking in a deep Southern accent. I literally spoke like Forrest Gump.
What was the weirdest thing you saw in the south?
I was selling Bibles and encyclopedias in Alabama and Tennessee [door-to-door]. One day I walked in on this guy who pulled a gun on me and said, "Get off of my property!" I'm sure he was drunk. But if you go to these places, the kids play with guns. They're fully armed. Their weekend hobby was to go hunting with their cousins. Everybody was a cousin. I'm talking about teenagers and 12-year-old kids. Even when I was in Memphis as an architect, I became friends with developers, contractors. They took me hunting, they took me to their club in Mississippi—we would hunt deer and compete at the end of the day. I clearly remember the champion [of one competition] was a 12-year-old kid.
Were you any good?
No, I would have killed my partner. I almost did. One day, I didn't kill anything the whole day, and we were ready to go home, and we were in his [all-terrain vehicle,] and I saw a deer in the headlight—just stunned—and I jumped out and pulled my gun. He said, "You can't do that: It's unsportsmanlike. It's against the rules." I was all in a hurry, and the gun went off. It went right by his ear. After that, no more hunting. He decided not to bring me to his club anymore.
Now that you're on the other side of the design, developer divide, do you ever make changes in the design process?
Absolutely, yes, every day. I hate to be that guy. Maybe you have heard about Kemmons Wilson, the founder of Holiday Inn? We were the designers for his project in Memphis. He would come in at six o'clock, just before we were ready to leave, with a roll of drawings under his arm and say, "Make these changes for me, please." He would bypass my boss and my supervisor and directly go to the designers and sit right behind you when you were working on your computer until you were done. I remember he only bought us dinner once; the rest of the time he bought us chocolate. He had these personalized M&Ms—he would make them W&W—and it was sold in the supermarkets. He would bring these chocolates to these designers while we were starving and working on making the changes on his drawings.
With the Chinese economy slowing down now, did that change any of your plans?
I think we had a good strategy from the get-go. We targeted the middle market and made the best product, the best in class. That's still true today. When we are looking at acquisition targets we want to make sure that we don't project a sell out price too aggressively. In terms of the Chinese environment, I think China is doing just fine. What if the GDP growth comes down to 7 percent from 12 percent? It's still better than the 1.5 percent in America and the negative growth in Japan and some other parts of the world.