Virtual Reality Is About to Take A Big Leap Forward in Architecture, Design and Marketing
---
---
Look up. There are 16-foot ceilings in SGA's 74 Kent Avenue in Brooklyn. Look around. You can really see the differences between the tones on the red brick walls. There's abundant light from the large windows and gritty exposed industrial steel beams and polished concrete. There's a view from the window of rooftops surrounded by plants of varying colors.
But if you've had enough, take off your virtual reality headset, and you are back in Manhattan.
If pictures are worth 1,000 words, "then virtual reality says 1 million," said Brooks Slocum, a project manager at SGA. "It's not changing the way we work; it's just enhancing it. Because we have [the designs] in our heads, it's fun to be able to share it that much sooner with everybody instead of it being a built product."
In its first virtual reality design and marketing effort, SGA built a 3D model of the 33,000-square-foot former landmarked Eberhard Pencil Factory in May, which will be converted to office space, and is showing the space virtually.
It took SGA about three weeks to design and create renderings, make the virtual models and prepare it for the landlord, Caerus Group.
But SGA is hardly the only architecture and design form breaking into the 3D world. SOM used virtual models when designing Barnard College's planned 128,000-square-foot teaching and learning center in Morningside Heights. The architecture firm thought school administrators would understand the designs better by being taken into a virtual world rather than viewing traditional flat rendered images.
"There are issues of access for students," Dan Cashen, a senior designer at architecture giant SOM, told Commercial Observer. "We did a full virtual reality experience to show [Barnard executives] how students will circulate the library."
His colleague, Associate Director Frank Mahan, added, "It's a turning point in the way that we communicate with our clients on the magnitude of when digital renderings became widespread in the real estate industry. It helps us to understanding what they are really [feeling]."
Virtual reality is becoming such a hot commodity in real estate that Colorado-based Concept3D, which is a 3D mapping service that has worked on Google (GOOGL) Earth, launched atlas3D service about a week ago to cater specifically to the commercial real estate industry. The company, founded in 2006, has created 3D maps of various colleges around the country including Arizona State University, the University of Mississippi and Nassau county's Hofstra University.
Meanwhile, architects, developers and landlords have started to inquire about mapping their projects for marketing purposes to their clients and potential tenants.
"We saw several people coming from outside the education market asking for similar capabilities," said Oliver Davis, the founder and chief executive officer of Concept3D. "So what we decided to do was launch atlas3D so that would service this market, including commercial real estate. Now a broker can come in and incorporate their own listings."
Today, the firm charges a minimum of $250 per building—which just proves how inexpensive the technology has become (when it first started digitizing structures about a decade ago the company charged about $2,000 per building, Davis said).
The most popular virtual reality device that architecture firms and designers are flocking to is the Samsung Gear VR, which is powered by Oculus VR, one of the leading companies in the virtual reality movement. (Facebook purchased Oculus VR for $2 billion in 2014.)
The device is a sleek headset with sturdy straps that uses smartphones as its screen. Its lightweight frame and high-quality images make it easy to carry and to effortless to explain what one is viewing in virtual reality. It retails for about $100. A representative from Oculus VR did not return a request for comment.
Architects and designers have been taking their 3D models that they usually make on the computer and inputting them into smartphone apps that are made to work with the virtual reality device. Some do it themselves, like SGA, while others depend on outside help from a startup, like SOM, which partners with InsiteVR.
The low-budget alternative to the Samsung Gear VR would be Google's Cardboard device. It also uses the smartphone as a screen, but the headset is made from—you guessed it—cardboard. It sells for a mere $15 from Google (but can be procured even cheaper from other online outlets).
Although virtual reality was too new for the design of some of SHoP Architect's larger projects, such as the planned skyscraper condominiums, the 73-story 9 Dekalb Avenue in Downtown Brooklyn and then the more than 1,400-foot tall 111 West 57th Street on Billionaire's Row, the firm is taking a hold of it now.
"When we were designing those, a year and a half ago, we looked at it, but I wouldn't say that was really part of the design process yet," said John Cerone, an associate principal of SHoP and the director of virtual construction and design. "We are now using it more actively in our design process. I imagine in all of our projects, [virtual reality] will be part of the design team's review process."
One of SHoP's first projects in conjunction with virtual reality devices is a planned renovation of the Intrepid Sea, Air & Space Museum at Pier 86 on West 46th Street, which is mostly inside an old World War II United States Navy vessel.
The firm will be designing a renovation of a portion of the museum, which was the sick bay for the ship. It was previously not made open to the public but will be after the renovation. SHoP is using virtual reality to help conceive possible designs for the space. It wants to clean up the area and make sure it's safe and accessible for patrons.
Spector Group has gotten into the mix, too, with an office conversion project of the 200-year-old Second Presbyterian Church at 27 Washington Street in Newark, N.J., for Audible, an Amazon subsidiary that makes audio books.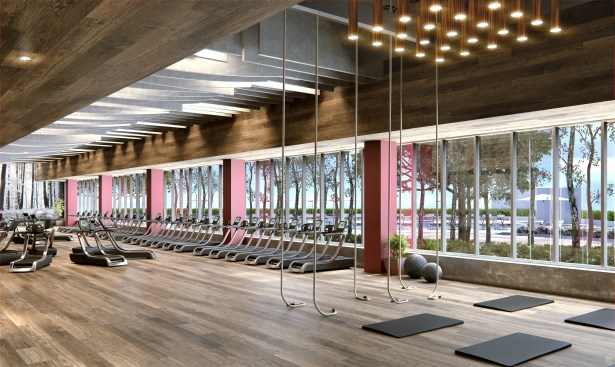 And ArX Solutions, a company that works with architecture firms to help visualize projects, completed a virtual reality experience for Related Companies' hotel the W Fort Lauderdale a few months ago for the common areas of the building, including the pool and rooftop. And the firm recently landed a contract to build another virtual reality design for Midtown Athletic Club's expansion in Chicago. The 126,300-square-foot project, which is set to be unveiled in 2017, is a five-story expansion of a one-story building. In addition, ArX is in active negotiations with SHVO to build a virtual reality 3D model of the retail section of the ground floor at 125 Greenwich Street, which will be a 91-story condo.
Global architecture firm Gensler used virtual reality to design the Microsoft (MSFT) flagship store at 677 Fifth Avenue last year and the headquarters for automaker Cadillac at 330 Hudson Street, which opened last month. It is currently using virtual reality for a $250 million soccer stadium for a new Major League Soccer team, the Los Angeles Football Club. The 22,000-seat arena will be completed in 2018, and Gensler has used virtual reality headsets to imagine what views fans can expect from different seats and therefore how to improve the positioning of those chairs.
Greenland USA and Forest City Ratner Companies started its virtual reality usage with its $4.9 billion, 22-acre Pacific Park residential project in Brooklyn, behind the Barclays Center. The firm realized the power of virtual reality when it wanted to show off what the public green park would look like.
"We knew that we wanted to start with the park," said Adam Greene, a vice president at Forest City. "We thought that it was the most important thing to start with, because it's a little bit unknown to people right now, since the site is a big construction [area]. We wanted to show that open space and what it was like to be in there."
Then the developers subsequently added its condos under construction at 615 Dean Street and 550 Vanderbilt Avenue and the rental project 535 Carton to the virtual reality experience to give future homeowners and tenants a look inside the projects.  
While firms have been using Samsung Gear VR and Cardboard to assist with design phases on projects and marketing of the spaces, those aren't the only brands under consideration.  
Even more advanced technology, such as HTC Vive and Microsoft's HoloLens, is being tested now. With the Samsung Gear VR and Cardboard users can only access certain points in the project and see 360-degree 3D images. They can't walk through virtual spaces yet because the processing power isn't strong enough.
The HTC Vive, which was released in April, allows actual movement in the real world to be felt in the virtual world—the drawback is it is tethered to a computer (so it's not so easy to bring to clients). Microsoft's HoloLens projects augmented reality, which is described as virtual objects being layered on top of the real world. The device is still being developed and only a limited amount of architecture firms have deals like Microsoft to use it.
Designers are touting that a combination of these tools will be implemented in the design phase in the coming years as the landscape of virtual reality tech advances.
In fact, Gensler is testing HoloLens for its Los Angeles offices to visualize a planned expansion.
"It's a time machine," said Alan Robles, an experience designer at Gensler. "You can stand in spaces that don't yet exist."
As time goes on, virtual technology is going to become the norm, and those who don't use it will be left in the dark.
"By the end of the year, beginning of next year, if there is a design firm that isn't incorporating it, they're going to be severely hampered—severely behind the times," Robles said. "For clients, as they become more engaged in this technology, on both the entertainment side and the work side of things, it's just going to become a normal part of engaging."  
111 West 57th Street
,
74 Kent Avenue
,
Adam Greene Forest City Ratner Companies
,
Alan Robles
,
Arizona State University
,
Brooks Slocum
,
Concept3D
,
Dan Cashen
,
Gensler
,
Greenland USA
,
Hofstra University
,
HTC Vive
,
Oculus VR
,
Oliver Davis
,
Samsung Gear VR
,
SGA
,
SHoP Architects
,
SOM
,
University of Mississippi
,
Facebook
,
Google
,
Microsoft
,
SHVO