Laurence Roberts is Forging Brooklyn's Next Great Dining Destination
---
---
At the office of Washington Square Partners, Laurence Roberts, the head of the company's Arch Brokerage affiliate, showed Commercial Observer a page he keeps on the social media site Flipboard.
Titled "Square Feet @ New York City," it has a clean and colorful presentation that allows him to post real estate-related articles of interest to share with the over 23,000 people who have viewed his site. He then reposts his three favorites of the day on LinkedIn.
"I get comments sent to me from all over the world," Roberts said. "They'll comment about the article and ask my opinion on it."
That he's on Flipboard for his social media sharing—and not the more commonly used Facebook or Twitter—says a lot about Roberts, a man who has found success in two industries while flying under the radar: He's more old school than the standard hotshot who inked one of the best deals of the year.
"A lot of people, particularly brokers, see real estate as interchangeable pieces of property," said Paul Travis, the managing partner of Washington Square Partners. "Larry's focus is really trying to understand his client's business objectives and coming at it from that direction. That's what makes him different, and that's why he's been a good match for us."
Roberts is in the running for Real Estate Board of New York's Deal of the Year award for his work on DeKalb Market Hall, the 27,000-square-foot food hall coming to City Point later this year. And it is one of those deals that promise to make Downtown Brooklyn a more livable, workable and generally palatable area.
"Unless you like fast food, there's nowhere else to eat in Downtown Brooklyn," Roberts said. "I think there are 15,000 units coming online in the next two years. Even on top of City Point, there are 1,400 units. Within a one-mile radius of City Point, there's a whole different demographic. You pull from [Brooklyn] Heights and Park Slope. And of course, all the workers at MetroTech. That's only 100 feet away. There's a need to eat."
In addition to bringing much-needed culinary variety to the rapidly evolving borough, the hall is also a notable attraction for the massive City Point project itself.
"City Point needed to really put itself on the map," he said. "We have Century 21, Target and the Alamo Drafthouse theater, of course. But [we wanted something to] cater to this demographic—the Brooklyn Heights or Park Slope demo—and bring them over to Downtown Brooklyn."
At one point, Roberts, 54, would have seemed an unlikely person to help breathe new life into New York's culinary scene.
Raised in Howard Beach, Queens, Roberts spent 23 years on the sales end of the garment business with two companies—Jerry Leigh of California and the now-defunct Kikomo.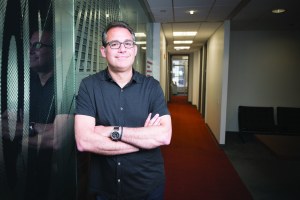 "I was going all over the world, to Hong Kong, to India," he said. "I was structuring the deals between the retailer and the manufacturer. We were supplying the mass market. In the days before Wal-Mart came around, all 10 regional discounters were around, [like] Caldor and Ames. We were supplying them with apparel. At one point, we had the Disneyland license, so we took the Disney products out from the parks and brought them to the mass market."
He did business with Wal-Mart—which had only around 50 or 60 stores at the time, he said—and once, in the mid 1980s, received valuable advice from chain founder Sam Walton.
"He told me three things I've never forgotten, and I still use this in real estate," Roberts said. "Never be on time for a meeting—which means, better be early. Are you an order taker or a salesperson? Better be a salesperson if you're coming to deal down here. And, know the definition of negotiation. If you can't get up from the table, it was never a negotiation to begin with, so you better figure out how to get it to work."
Around 2000, Roberts "saw the writing on the wall" that industry consolidation was about to start shrinking business opportunities.
"I said, either I make a move now, or I get stuck in that industry," he said. "So I thought it was time to make a move. What made it easier was that my wife was a real estate attorney." (Presumably, because she knew the real estate terrain.)
After making the shift, he happened to share rented office space with Travis from Washington Square Partners. In time, the pair decided to join up, forming Arch as an affiliate of Washington Square. (They collaborate on projects, and Roberts also has his own clients.)
"Real estate offered me three things I wanted," he said. "I didn't want to travel anymore—I was a million-mile flier a year, traveling all around the world. I wanted a fragmented market, and this market is fragmented, whereas retail was becoming not so fragmented anymore. And I still liked big commissions."
His skills at sales helped ease the transition, but Roberts still needed to build a new contact base, which he did with good old-fashioned networking.
"Basic. 101. Get out, work hard, meet people, give your card out, shake a lot of hands. Make sure people know you're in a new industry," he said. "You gotta remember, this is before social media."
His biggest challenge was learning the industry jargon. But "if you learn how to work with people, that's 90 percent of it. The other 10 percent you can learn quickly."
Roberts specializes in retail and office brokerage but, due to his proximity to the parent firm, also participates in the advisory and development sides, giving him a broader approach to real estate than many. (Roberts is a champion consumer of information—he gorges on everything from the New York Post to Grub Street for two to three hours a day on his commute, because given how many areas of the business he's involved in, "I need to know everything.") He said this multidimensional knowledge base has made him a better broker, allowing him to "talk deeper into the deal."
And as a dealmaker by trade, he caught on quickly. His first, in October 2004, was for a four-building portfolio in Inwood, representing both the buyer and seller in an $11.85 million transaction. Others he's been involved with over the years included bringing Planet Fitness to three separate locations, including 15,800 square feet at River Plaza in 2007 and 15,000 square feet in Canarsie Plaza in Brooklyn in 2010; representing Vineyard Vines in obtaining its 2,600-square-foot store (plus a basement of equal size) in Southampton in 2010; and bringing Foragers Market to a 5,700-square-foot space in Chelsea's Gem Hotel in 2011.
Roberts credits his successful transition to a simple principle: He does his best to be a good person to deal with.
"You can't find much on me [in the media] because there's nothing bad to say. I am what I am, you get what you get, and that's why people like to do business with me," he said. "My word is as good as a contract. That's what we're known for. We fly below the radar; a lot of people seek us out. No one could question our fiduciary responsibilities to the tenant or the landlord."
Travis concurs.
"When we saw Larry's very high service orientation to his clients, we thought he was a good match for what we do," Travis said. "He's intensely focused on understanding his client's business."
In 2013, Mr. Roberts helped bring the offices of artist management and creative content agency Art Partner to a 10,500-square-foot space at Brooklyn's City Point development.   
Through his presence in the Washington Square office, Mr. Roberts learned, through "osmosis"—"What kind of broker would I be if I didn't know what was going on?"—that discussions were underway about bringing food to the complex. As it happened, he had the perfect recommendation.
"There's no food around there," he said. "We really wanted to put this project on the map, and we felt that doing a great food hall was key. I have a client, Anna Castellani, who I've known for a long time. [She owns] Foragers, in Dumbo [and Chelsea]. We did the Eighth Avenue and 22nd Street location. She's one of the pioneers in Dumbo, way back when it wasn't even on the map yet, and she's Brooklyn born and raised. I approached her and said, this could be a great opportunity for you to do a Brooklyn-centered food hall."
The plan originally called for a street-level hall to occupy around 10,000 square feet. The desire was for a food hall that represented "the best of Brooklyn."
"Not such a polished environment, like the Plaza," Roberts said of the initial wish for the hall. "[We wanted] more of a genuine Brooklyn feel. More real, with concrete floors and an unfinished ceiling."
In time, it became clear that 10,000 feet wouldn't fulfill their ambition. The plan for the DeKalb Market Hall was moved underground, and almost tripled in size. Roberts structured the deal, which would allow Castellani, named the hall's managing partner, to scout what will eventually be 35 to 55 food vendors. Trader Joe's will be one of the anchor tenants, and vendors will include Ample Hills Creamery, Fletcher's Brooklyn Barbecue, and only the second-ever outpost of Lower East Side institution Katz's Deli. The hall is scheduled to open this fall.
Like Travis, Castellani cites Roberts' intense service orientation in bringing the hall to fruition.
"He was critical in making [the hall] happen the way it happened. He actually cares about where he's putting his businesses," Castellani said. "It's not about collecting the rent check. He spends a lot of time with you. He's not going to put you anywhere if he doesn't think it's going to work."
Roberts, who lives in Chappaqua, N.Y., with his wife of 16 years, Kara, and their son and daughter, 9 and 12, respectively, said City Point has put his company on "a whole different platform," since "there are very few people who have done that size project in an urban environment in New York."
At present, Roberts' offerings include an 11,428-square-foot divisible two-floor space at River Plaza in the Bronx, and a 1,850-square-foot at grade retail space, with an 800-square-foot lower level, on Elizabeth Street in Nolita. He's also working on several "big, game-changing" projects he's not yet able to discuss.
While Roberts' success appears to evolve from his vast sales experience, his service orientation and his multidisciplinary approach to the real estate business, there's another reason he does well: He brings a joyful, enthusiastic approach to what he does.
"What do they say? Get up, get dressed, put your shoes on, go to work," he said. "You never know what's going to happen."
Alamo Drafthouse
,
Ample Hills Creamery
,
Anna Castellani
,
Arch Brokerage
,
Century 21
,
City Point
,
DeKalb Market Hall
,
Fletcher's Brooklyn Barbecue
,
Foragers Market
,
Gem Hotel
,
Katz's Delicatessen
,
laurence roberts
,
Paul Travis
,
REBNY
,
Sam Walton
,
Target
,
Wal-Mart
,
Washington Square Partners