Are Development Hopes of New Arenas in NYC Pretty Much Just Pipe Dreams?
---
---
For years, advocates for rebuilding an aboveground Pennsylvania Station, which was destroyed in 1963, have shaken a fist at Madison Square Garden, which sits on the footprint of the former rail hub. Their beef is that the ornate structure was unceremoniously demolished to make way for the sports arena that's home to the New York Rangers, New York Knicks and New York Liberty.
New York City councilmembers in 2013 even went as far as renewing MSG's special permit to operate as an arena for only an additional 10 years, in hopes it would be demolished and relocated. 
"This is the first step in finding a new home for Madison Square Garden and building a new Penn Station that is as great as New York and suitable for the 21st century," Christine Quinn, then-City Council speaker, said following the vote, according to The New York Times. "This is an opportunity to reimagine and redevelop Penn Station as a world-class transportation destination."
But a study released last week on the recently announced redevelopment of the existing Penn Station found that the dream of relocating MSG is nothing more than a fantasy, as Commercial Observer previously reported. The Rudin Center for Transportation Policy and Management dedicated a significant amount of its 20-page report on the overhaul to why demolition and relocation would never make sense. If the stadium were to move even a few blocks west, the report found, it would cost as much as $5 billion when all is said and done.
"Well-intended civic groups are pursuing a dream that is unlikely to ever be fulfilled," Mitchell Moss, the head of the Rudin Center, told CO. "The cost of moving MSG would require acquiring a new site…which would impose enormous costs on the public."
Actually, Mr. Moss is probably underplaying it. Moving MSG would likely be a construction and urban planning nightmare, the Rudin Center's report asserts. Using the option of the U.S. Postal Service's Morgan Annex on Ninth Avenue between West 28th and West 30th Streets as a potential site, the think tank argued the land acquisition even in a softened market could cost up to $800 million. Then comes the demolition. Building a new MSG and an attached 5,600-seat theater (which is getting relocated no matter what, due to a planned renovation of the existing Penn Station) would cost another $1.6 billion.
Demolishing the 48-year-old MSG to make way for a new Penn Station would cost $65 million, according to the report. Constructing the train hub, buying and tearing down neighboring Two Penn Plaza so that it could be built and keeping up the existing station below ground would cost $2.5 billion.
[googleapps domain="docs" dir="spreadsheets/d/11xIfKq3AcHD4B4ipGheXeizZ5sTRZUfJSMtABZVO4tk/pubchart" query="oid=719242795&format=interactive" width="885″ height="547″ /]
The increased cost of the new MSG also presents a giant leap in terms of cost from the city's most recent sports arena. Barclays Center, at the heart of the Pacific Park Brooklyn development, had a $975 million price tag without the cost of land factored in, according to the report. Upgrades to the 38-year-old Billie Jean King National Tennis Center in Flushing, Queens, which officially started work on a new stadium and dome over its main arena in 2014, are expected to run up to $500 million. Construction of CitiField in Queens, home of the New York Mets; and Yankee Stadium, where those other guys play in the Bronx, each cost close to $1 billion when they opened in 2009, according to various reports. 
Construction costs generally are more standard for office and residential buildings than stadiums because the plans are generally uniform, according to one construction industry maven who added that the repetitive process makes it easier to build and set up cranes. Given that no two stadiums are alike, specialized contractors are required to build the unique designs.
Rising construction costs in general and special permits are contributing just as much to the price. MSG and most other Big Apple arenas also happen to be in dense parts of the city—making it difficult to install cranes, halt traffic and protect pedestrians, said Louis Coletti, the chief executive officer of the Building Trades Employers' Association of New York City, an organization representing construction managers. In the case of the $1 billion renovation of MSG that finished in 2013, he added, project manager Turner Construction also had to work around hockey and basketball season, both of which run for six months or longer depending on whether the teams make the playoffs.
"Projects such as these involve street closures, building permits and increased safety precautions," he said. "Cranes need to be put in place during the weekend to avoid creating public risk. [This] really comes down to the urban environment that we are in—that's what makes the building of these facilities unique and complex."
When it comes to securing financing on these projects, however, it's a surer bet than most other types of real estate projects, Mr. Coletti added. Among the reasons is that they typically guarantee large returns from a slew of revenue streams, he added.
"With sports arenas in New York," he said, "there will always be a return on investment." 
The area surrounding MSG has benefitted when it comes to property values, said Robert Knakal, the chairman of New York investment sales at Cushman & Wakefield. Because the arena serves multiple uses—sports events, concerts, trade shows and conventions—it's constantly drawing people to the area, he said, thus stirring economic activity around the stadium.
"An arena that is multipurpose is a tremendous amenity for an area," Mr. Knakal said. "It is very different than a football stadium that would be used far less frequently than the Garden."
Advocates for a restored, albeit adapted, Penn Station of the early 20th century argue the contrary position: that the aboveground rail hub would be more of an economic boon, not MSG. Justin Shubow, the president of the National Civic Art Society, said the restored design would vastly increase property values. In regards to demolishing Two Penn Plaza, Mr. Shubow floated giving air rights from Penn Station to the site's landlord Vornado Realty Trust to build elsewhere. (Vornado has said on earnings calls it's planning an overhaul of the existing building.)
He also noted that MSG, which has been four different buildings, has moved several times since the first incarnation opened in Madison Square 137 years ago at the corner of Madison Avenue and East 26th Street.
"I don't think there's any love for the building itself," Mr. Shubow said. "MSG has moved a couple of times in its history and no one would mind if it moved again, especially if it made way to build a monumental gateway to the city."
This fight between Penn Station preservationists and the pro-MSG crowd is one of many instances in New York City in which the public, the city and sports teams have clashed. The fight is as recent as the construction of the Barclays Center in Brooklyn, which opened in 2012, and stretches back to why the Dodgers bid farewell to the same borough nearly 60 years ago.   
When the Brooklyn Dodgers' Ebbets Field started to show signs of aging in the mid-1950s, owner Walter O'Malley went looking for a new home in Brooklyn. The business man-turned-ball club owner wanted to build a new, domed stadium in Downtown Brooklyn and move the team from Flatbush. But city planner Robert Moses argued one couldn't be built at the triangle of Atlantic and Flatbush Avenues (where the Barclays Center is now) because moving businesses out of the area and make way for the stadium wasn't covered by the Title I Housing Act of 1949, according to a 2007 article in The New York Times.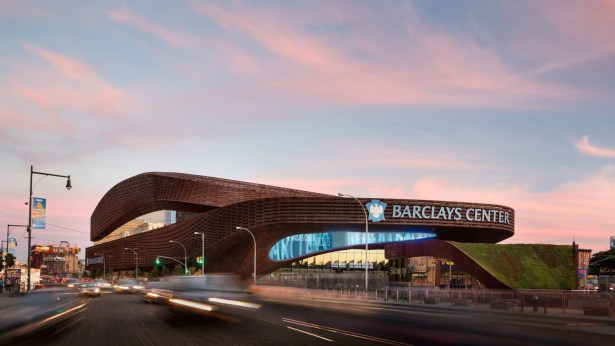 After some debate and turning down an undeveloped site in Queens that became the eventual footprint of Shea Stadium, O'Malley and the Dodgers bid farewell to Brooklyn—heading to Los Angeles, where the team has now been based for almost 60 years.
Other times it's the community halting construction of a potential stadium. In 2012, Major League Soccer proposed building a 25,000-seat stadium in Queens' Flushing Meadows-Corona Park, which would've eaten up about 13 acres of park space. Reactions to the plan were mixed, with many local communities rallying against the proposal, which never kicked off construction—let alone an agreement with the city. By 2013, the plans had faded to build the stadium; MLS is still searching for a potential site.
"You had a group who wanted to take more parkland," said Geoffrey Croft, the president of pro-green space organization New York City Park Advocates. "Once again, you had almost no elected officials who were willing to come out and fight for the public. In that case there was a little bit more pushback."
The bigger issue, he added, was that sports teams have often gotten major tax breaks both for the land and to operate these stadiums—leaving the taxpayers to foot the bill.
"We need our professional sports teams, but not at the cost that our elected [officials] in the last few decades have felt are appropriate," Mr. Croft said. "No one is saying that we shouldn't have these professional sports teams, but it should be more equitable."
With additional reporting provided by Cathy Cunningham and Lauren Elkies Schram.
Barclays Center
,
Brooklyn Dodgers
,
CitiField
,
Geoffrey Croft
,
Louis Coletti
,
Madison Square Garden
,
Major League Soccer
,
Robert Knakal
,
Robert Moses
,
Rudin Center for Transportation Policy and Management
,
Turner Construction
,
Walter O'Malley
,
Yankee Stadium