Andrew and Scott Singer's Multi-Billion Dollar Debt Team Is All About Family
---
---
Back when Manhattan's Meatpacking District still fit the literal description of its name, cold storage facilities lining the city's westernmost streets from West 14th Street south  to Gansevoort Street, the Elghanayan family—which was quietly but surely making a name for itself as one of the most influential real estate developers in the city—had just purchased a block-through building at 95 Horatio Street.
The property, which occupied the entire block between 10th Avenue, Gansevoort Street and Washington Place, was slated for redevelopment, but the Elghanayans ran into a speed bump.
"Their engineer said to them, 'If you start work now, the building will crack and there's nothing you can do about it,' " Andrew (Andy) Singer, the founder, chairman and chief executive officer of what is now called Singer & Bassuk Organization, recalled from his Third Avenue office. " 'You have to let this building thaw.' "
Literally thaw. The family had purchased the property from Manhattan Refrigeration Company in 1980, and the structure had to sit and defrost before construction could commence.
"They left it for a year, or whatever it was—a long period of time, particularly if you've made an investment and you can't do anything with it," Mr. Singer said.
Mr. Singer, who was just over 10 years into his career as a debt broker at the time, went on to finance the original mortgage on the building—city records show $12.8 million from Citibank—and refinanced it over and over again. When his son Scott Singer joined the family firm after college in the 1990s, he went on to arrange further debt on the building—most recently securing a $165 million loan from Capital One.
The brokerage—which totals 10 people including Andy, President Scott and support staff—does not release aggregate origination numbers, but in the last decade Andrew, now 69, has completed more than $15 billion in debt deals in Manhattan alone. Scott, 44, has done several billion himself.
The Elghanayans' renovated residential and retail property in Meatpacking, now under the family's TF Cornerstone flag, is representative of the Singers' generational approach to the business. Andy and Scott have seen the redevelopment through not only generations of their client but through the evolution of New York City's neighborhoods. High-end boutiques, luxury condominiums and the Whitney Museum of American Art have since replaced the old warehouses and the stench of rotting meat (which both father and son say was the reason they would avoid Gansevoort Street on property tours with potential lenders).
The Elghanayans, at both Rockrose and TF Cornerstone, have now been clients of the Singers for more than 40 years. And they are not Andy and Scott's only family-run real estate clients. Whether coincidental or not, Singer & Bassuk represents a number of New York City's biggest multigenerational firms. The debt brokerage works with Jack Resnick & Sons, Kalmon Dolgin Affiliates, Muss Development, Ruben Companies, the Winter Organization and World Wide Group.
"Singer & Bassuk understands family offices and multi-generational real estate companies because they are one themselves," said Jason Muss, a principal at Muss Development, which was founded by his great-grandfather Isaac in 1906. "They understand the way we work and bring that perspective, which is really nice. They know us well, and they understand what we're thinking."
Muss' first deal with Singer & Bassuk was for its Oceana Condominium & Club at 50 Oceana Drive East in Brooklyn's Brighton Beach area. When the real estate market was just coming out of the recession, construction financing was finite, and the Muss family was looking to complete another phase of what would become a 15-tower, 865-unit development across 15 acres by the waterfront in Brooklyn. The Singers ended up snagging a $35 million mortgage for Muss from J.P. Morgan Chase to fund another segment of the $250 million development.
"They were creative in figuring out that the land had a certain amount of value," Mr. Muss said. "We owned the land for a long time, and they helped us make the case that the loan should be a little better priced with a little bit higher loan-to-value, which was helpful to us."
Scott, along with Jeffrey Moroch, who has been with Singer & Bassuk since 1999, took home third place in the Real Estate Board of New York's 2012 most ingenious deal of the year for that transaction with Muss.
"They're a big part of our advisory team," Mr. Muss said. Since the company's introduction to Singer & Bassuk just over eight years ago, Muss has used Andy and Scott to finance more than $100 million in loans, according to Mr. Muss.
Right now, Singer & Bassuk is working on allocating roughly $500 million in construction debt for Jerry Wolkoff-led G&M Realty's apartment and retail development at the former graffiti artist haven 5 Pointz in Queens. Scott said Singer & Bassuk is also working on a $300 million refinancing of a trophy office building Downtown and a $300 million trophy asset in the Plaza District.
Late last year, Singer & Bassuk was engaged as the exclusive real estate finance adviser to the Brooklyn Navy Yard. "That's really exciting for us and that comes out of a referral from a major institution who we both do business with," Scott said.
Andy added that the team competed against a number of "big household names for the assignment."
Recently, in February, Singer & Bassuk arranged a $245 million mortgage from Prudential Mortgage Capital Company on Ruben Companies' 1700 Broadway in Midtown West. The Richard Ruben-led company built the 42-story office tower between West 53rd and West 54th Streets on a leasehold with the Shubert Foundation in 1968. Ruben Companies sought new financing because it had reached an agreement to purchase the fee interest in the land below and consolidate its ownership.
"That was a deal that was confidential and it was important to [Ruben Companies] that it remained so until it closed," Scott said. "They came to us for advice and within an hour we had come up with a strategy for how to most efficiently do the financing, keep it confidential and get it closed quickly."
In September 2015, Singer & Bassuk brokered a $100 million mortgage from AXA Equitable Life Insurance Company on TF Cornerstone's headquarters at 387 Park Avenue South. Andy, along with Kathleen McSharry, senior managing director who has been with Singer & Bassuk and its predecessor firm since 1982, was in the running for  REBNY's Most Ingenious Deal of the Year award.
"At the time we went to get financing, the building was not stabilized," explained Jeremy Shell, the head of finance and acquisitions at TFC. The company had renovated the building and was in the process of re-tenanting some vacant floors but "wanted to take advantage of the current interest rate environment and went out to get permanent financing," he said.  
"Andy creatively structured a master lease arrangement and secured the financing with AXA, and that was a very challenging structure to pull off," Mr. Shell said. "Because of the creativity Andy brought to the table, and the relationships both we and Andy have with AXA, [we were able] to pull off a successful financing."
Over the last six years, Andy alone arranged $832 million in both construction and permanent financing for TFC's seven-building mega-development East Coast in Long Island City. Right now, Singer & Bassuk is about to bring another deal to market for TFC: Carnegie Hall Tower at 152 West 57th Street between Avenue of the Americas and Seventh Avenue. This will be Andy's fifth time arranging debt on the building, including the original construction loan for the 60-story trophy office in 1988. Most recently, he completed a $190 million refinancing of the property with UBS and Helaba Bank.   
Singer & Bassuk tends toward development deals, which is a point of pride, Scott said, because those types of transactions "take a deeper knowledge base to do and a deep relationship with your client, and you're creating a very different relationship between a developer and the financing sources."
Right now, however, there has been a bit of a slowdown in demand for construction financing. Land and labor costs are too high and need to come back down to earth, Andy said. And regulations like Basel-III are driving up bank prices when it comes to those deals.
But it wasn't always big, glitzy deals. The elder Singer got his start in real estate almost unintentionally. He grew up in the western Bronx, at West 236th Street and Johnson Avenue, attended the then all-boys DeWitt Clinton High School and played bass in a rock band called Ricky & the Catalinas—they would play at churches, synagogues and dances.
He headed to University of Wisconsin—the first in his family to go to college—at the age of 16. During freshman orientation a classmate asked him what he was going to major in. His response was, "What's a major?"
"I was totally unprepared to go to college," Andy told Commercial Observer. He was handed a course catalog, rifled through the pages and came across a major called "real estate and urban economics."
"I thought, 'Hmm, I have these two uncles in Manhattan and they are in the real estate business,' " he said. "I didn't know what they did at that point, but they lived really well. We would go to their house—there were linens on the table, there were people serving the meals. I thought this was unbelievable. I always had a desire to make a lot of money. I didn't know how I would do it. And I said, 'Gee, they go to Europe in the summer,' and I hadn't been north of Rockland County. I thought, 'This sounds pretty good. You know what? I'll major in real estate.' And that's how it started."
Andy joined the army post-college and needed to find a job before he got out, as he was about to get engaged to his now-wife Harriet. He wrote to his uncles, asking for a job, so in 1968, the 21-year-old Andy was hired at his family's firm Ackman Brothers with a weekly salary of $150.
He started in January and, on a cold winter's day, made his way from the company's West 42nd Street office to 525 West 21st Street. Growing up in the Bronx, Andy wasn't too familiar with Manhattan. He got off the subway at 28th Street, looked at the address he needed to go to, and assumed he would need to walk about five blocks. He was wrong. He made his way west and then farther west, until he passed 10th Avenue and felt completely frozen. He entered the office of a company called John Jay Casale, met a man named Tom Joyce, said what his uncles had instructed him to say and asked if the company needed a mortgage. Tom said they did and led Andy around a warehouse, which housed the Railway Express Agency.
"I didn't know what I was looking at, other than a bunch of boxes," Andy said. "I went back to the office, told my uncles about it. They told me what to say next—and this was the first person I ever got to—and sure enough they hired us, and I arranged a loan of about $500,000 with a savings bank that's long gone."
In between his first deal and the next, Andy estimates he was either ignored or turned down by 100 people. "It was a very encouraging start," he said, "and it was a little misleading as to how easy this business was."
Easy or not, it was in Andy's early days in real estate that he would get introductions to some of the folks who would become the city's top real estate developers.
In 1976, Andy met Steven Rotter, the now-chief financial officer at Jack Resnick & Sons. Mr. Rotter was working as a junior accountant, and the first client he was sent out to do payroll taxes for was Ackman Brothers—the predecessor to Singer & Bassuk. Eventually, Mr. Rotter became a partner in the accounting firm and kept the brokerage as a client until he joined Jack Resnick & Sons in 1994.
"Since that time we have basically used Andy and Scott as our exclusive mortgage brokers and worked with them to refinance billions of dollars of loans," he said. In fact, Singer & Bassuk is now refinancing many of the company's buildings for the second or third time.
In the mid-1970s, Andy sold the St. George Hotel in Brooklyn Heights to a client of his named Martin Raynes, and he was then retained to arrange the financing. Mr. Raynes brought on two partners: Richard Bassuk, who would go on to be president at Andy's firm and give it its current name, and Edward Minskoff—with whom Singer & Bassuk still works.
Scott on the other hand came in during a tougher time in real estate, a few years after the recession ended in 1991. He worked the summers in college at his father's company, but despite advice from others to explore his options before hopping aboard the family firm, he did otherwise.
"I'm just listening to [Scott] go through this process, and one day he calls me up and says, 'You know, dad, I've been thinking about this, and would it be okay if I started with you?' " Andy said. "So I controlled myself, and said, 'Oh, if you really think that's the right thing, then okay.' I'm thinking like, 'Yes!' "
As a father, Andy was careful not to put pressure on his children to join the family firm—his daughter Amy Kaissar, who is five years younger than Scott, works in theater and served as a minor-producer on Tony Award-winning Fun Home. (Andy didn't get home until 3 a.m. the night of the Tony's because he was out celebrating with his daughter.)
Scott on the other hand fell in love with his father's work and said there were a number of things that drew him in.
"Maybe it took five minutes in between buildings at that point, but when we came into the city, I always thought it was cool that Andy would say I financed this building, I financed that building, I worked on that building," he said. "I just got a big kick out of that. It was very tangible."
Scott would tag along on meetings with his father, and one business breakfast in Florida stood out in particular. "[Dad] said we're meeting a guy named Dave," Scott recalled. "So we sit down at the table, and the guy named Dave was Dave Winfield, who is now a hall of fame baseball player. I sort of learned early on that there were some pretty interesting people who we could meet through doing this."
But coming in post-recession was a great learning experience for Scott. It also helped him get ahead of his peers, he said. Many of his college classmates were going into investment banking, and it wasn't until the late 1990s that he started to see people his age at the table, which he felt gave him a leg up because had a head start.
"I worked through this very, very difficult time and got grounded in the challenges that exist in the business, and I think that for me it turned out to be a great decision," Scott said.
Working in close quarters, with the same clients, and of course spending time together outside of the office, is undoubtedly a lot. But Andy and Scott have made it work.
"One of the interesting things is how close they are and how well they work together. Oftentimes in father-and-son relationships there's some tension," Mr. Rotter of Resnick & Sons said. "I've never sensed that. They really work well together. Scott will defer to Andy, but Andy will also defer to Scott. It's the relationship you'd like to have with your children."
Both father and son explained that their relationship is based on mutual respect, and the elder Singer noted, "We're very reasoned, rational. You're talking with a colleague."
Scott agreed, and explained that as he grew in the business, his differences with his father became more apparent—but that wasn't a bad thing.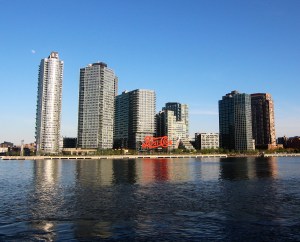 "Dad was very open to giving me the space and respecting those differences and different approaches," Scott said. "And that give-and-take has been critical to us just loving working together for all this time."
Indeed, the two love what they do. When Andy wakes up in the morning, he looks out of the window of the East 69th Street apartment he shares with his wife and can see 70 Pine Street, where Singer & Bassuk arranged an aggregate of $500 million in financing for the development. He has watched World Wide's 250 East 57th Street building go up floor by floor, another deal Singer & Bassuk arranged debt on.
"As soon as I open the shades, I'm back in business," he said. "Every one of those buildings, 99.9 percent of them have mortgages. The vast majority of those mortgages come due every 10 years. Some less, some a little more. On average, 10 years. That's inventory for our business."
When asked whether they were ever tempted to try out a different part of the business, both Andy and Scott said no—though they did buy a stalled condo development at 264 Water Street in the Financial District and completed the property in 1993.
While other larger brokerages, like CBRE, Cushman & Wakefield, Eastern Consolidated and JLL, have many irons in the fire with capital markets teams and leasing and sales divisions, Singer & Bassuk has intentionally decided against that type of diversification.
"We've bucked that trend," Scott said. "We think that we can excel by spending our time focusing on the finance side, so we've not brought in a sales team. We're not trying to compete on the leasing side. We think that by focusing our time on one particular aspect, we can be the best at it. But we also avoid conflicts of interest by not being in those other businesses."
That allows them to have great relationships with all sources of capital, from banks and insurance lenders to commercial mortgage-backed securities originators, all while being devoted to the borrower.
Again, those relationships with the borrowers are crucial to Singer & Bassuk's success, and the two Singers work very closely not only with the principals of their clients' firms but the chief financial officers and directors of finance as well. "We're not competing with them at all. We're being an extension of them—we're being complementary," Scott said.
Those relationships extend beyond office hours, which has been a tremendous trust-builder, Mr. Rotter said. He's a Jets fan and brings his son to games with Andy and Andy's granddaughters. The Singers have six front-row seats at the 50-yard line.
"I always know that they have our best interest at heart," Mr. Rotter said. "I think they'd have that anyway, but it's a trust-building thing."
"We want [the clients] to think of us as their finance department," Scott said. "The vast majority of them think of us that way and use us that way, and the rest we're working on."
152 West 57th Street
,
1700 Broadway
,
5 Pointz
,
50 Oceana Drive East
,
95 Horatio Street
,
Andrew Singer
,
AXA Equitable Life Insurance Company
,
Carnegie Hall Tower
,
Citibank
,
DeWitt Clinton High School
,
G&M Realty
,
J.P. Morgan Chase
,
Jack Resnick & Sons
,
Jeffrey Moroch
,
Jeremy Shell
,
Jerry Wolkoff
,
Kalmon Dolgin Affiliates
,
Kathleen McSharry
,
Muss Development
,
Oceana Condominium and Club
,
Prudential Mortgage Capital Company
,
RIchard Ruben
,
Rockrose Development
,
Ruben Companies
,
scott singer
,
Singer & Bassuk Organization
,
TF Cornerstone
,
The Shubert Foundation
,
UBS
,
Winter Organization
,
World-Wide Group
,
Capital One