Hudson, Related Nail Down $105M Construction Loan for Cornell Tech Passive Resi Tower
---
---
Hudson Companies and Related Companies have nabbed a $105 million construction loan from Wells Fargo for a residential building on the Cornell Tech campus on Roosevelt Island, David Kramer, the president of Hudson Companies told Commercial Observer.
The deal closed last Friday for what will be the first residential passive high-rise in the world, which cuts energy consumption. The Handel Architects-designed building is expected to cost $117 million, to construct.
"We spent the equity funding first so we have a building that's already topped out," Mr. Kramer said. "The construction loan happened after the building topped out which is the first time in our [30-year] history that that's happened."
A spokeswoman for Wells Fargo declined to comment but a source with knowledge of the deal said the loan carries a three-year term with a one-year extension option.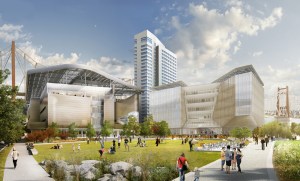 The 26-story, 270-foot tall apartment building at 1 East Loop Road will have 251 units for 500 residents, Mr. Kramer said, ranging from graduate students to staff to faculty. The unit mix will be studios through three-bedrooms with sizes from 369 square feet to 1,430 square feet. Rents will start at $1,275 a month for a shared suite. "Ultimately we haven't set the rents yet," Mr. Kramer noted.
The Real Deal first reported that the developers were near a financing deal with Wells Fargo last month.
"This is a very energy-efficient campus," Mr. Kramer said. "We had sort of set a high bar for ourselves to develop a residential building that was in the spirt of innovation that is the campus' DNA."
The residential building will open in 2017 along with the rest of the first phase of the Roosevelt Island campus.
The developers "have to finish before the students arrive in August 2017," Mr. Kramer said. Phase one also includes The Bloomberg Center, which Cornell University is building as an academic building with collaborative and private work spaces, and The Bridge at Cornell Tech, developed by Forest City Ratner Companies for companies, researchers and entrepreneurs. At full buildout in 2043, the campus will span 12 acres.
A spokeswoman for Related didn't immediately respond to a request for comment.
With additional reporting provided by Danielle Balbi.