Kings County's Craft Retailers Are Hitting New Heights
---
---
Last year, Ample Hills Creamery was suffering from a problem many retailers wish they had: too much demand and not enough supply.
The Brooklyn-born ice cream-maker opened in 2011 and makes frozen treats made of ingredients designed to charm a Brooklyn audience—"hormone-free milk and cream from grass fed cows and organic cane sugar," its website says. Flavors consist of such winners as Salted Crack Caramel and Ooey Gooey Butter Cake. The demand for its ice cream skyrocketed to such a point that it partnered with The Walt Disney Company for Star Wars Light Side and Dark Side ice cream favors in advance of last year's Star Wars: The Force Awakens.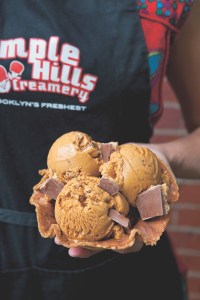 Ample Hills needed another, larger facility, in addition to its current one in Gowanus (it also has retail locations in Brooklyn and Manhattan), and late last year owners signed a 10-year, 15,000-square-foot lease at 133 Beard Street in Red Hook. It will be a production facility with a party venue and some retail.
The force is not only with Ample Hills: The demand for unique, high-quality, local products in Brooklyn is at an all-time high and fueling the growth of artisans of craft businesses.
"They way I like to think about it when I talk to [other real estate professionals] from Manhattan—who don't know Brooklyn—is [Brooklynites] have very open minds," said Peter Schubert of TerraCRG, who represented Ample Hills with colleague Lauren Musacchio in that deal. "This kind of culture rejects Starbucks. They don't like the big brands."
From pie bakers and granola makers to apparel and perfumes, craft retailers are crawling all over Brooklyn, introducing unique, locally made products. The buzz for their products, which are often a little pricier than national chains, is primarily coming from the rise of millennials in trendy neighborhoods.
There's a common tune for many of these retailers. They start out in small spaces—many in their apartments—use organic and locally sourced ingredients, and they tend to do things by hand without machines.
An example is The White Moustache, which produces yogurt using a handmade, traditional Persian method. Homa Dashtaki founded the business in Brooklyn in 2013 after an attempt in Los Angeles. She currently has six employees and works in a roughly 1,500-square-foot space shared from a portion of granola-maker Early Bird Foods & Co.'s location at 24 Commerce Street in Red Hook. Ms. Dashtaki sells to a variety of retailers, including Whole Foods Market and Foragers Market, but has a nine-month waiting list for her products. She's searching for an outlet of about 4,000 square feet in the borough.
But despite this considerable success, Ms. Dashtaki insists she wants to stay in Brooklyn.
"The focus now is to keep the business small and local. I don't think the goal is to grow your business and sell it to PepsiCo anymore," Ms. Dashtaki said. "I'm never going to give yogurt to Texas. Texas should figure out how to make their own yogurt. There should be more guys like me everywhere."
Perfume-maker D.S. & Durga took a 750-square-foot space at 1192 Bedford Avenue in Bedford Stuyvesant for a showroom and production area in November. David Moltz started the company in 2008, turning his Bushwick apartment into a "lab." In 2010, the business moved into a commercial space in Gowanus. Mr. Moltz makes all the formulas himself: "We try to tell stories in fragrance, matching aromatic materials to real life objects, places and events," he said. Some of his products—such as Siberian Snow and Freetrapper—are sold at Barneys New York and various boutique retailers in Brooklyn.
Then there is Four & Twenty Blackbirds, which makes not-so-classic pies, such as Salted Caramel Apple and Bittersweet Chocolate Pecan with organic and local products. Sisters Melissa and Emily Elsen started in a Crown Heights apartment in 2009, before opening in Gowanus at 439 Third Avenue a year later. Their production kitchen and offices are at 597 Sackett Street, where they have a 3,000-square-foot bakery. Since the business is growing, the sisters are looking for their fourth location in the borough (they also have one in the Brooklyn Public Library at Grand Army Plaza).
"From the time I moved here, Brooklyn has felt like a city in flux and rapidly growing," said Emily, who has been a Brooklynite since 1999. "It seems only natural that the larger manufacturing that has left for overseas production values and pricing would be replaced with more cottage, craft industry with those of us who are independent and seeking a large, diverse audience at our doorstep."
For a lot of the Brooklyn retailers, actually producing in the borough is not only a sign of authenticity but also a pride point for their customers.
Brooklyn Industries, the apparel-maker founded in 1998 by Lexy Funk, is a case in point. It had left its Williamsburg manufacturing site behind for cheaper options in Asia, while opening more stores in Brooklyn. But the firm chose to relocate some manufacturing back to Brooklyn in 2011 because "desire for artisanal, local product has grown," Ms. Funk said, according to blog post on Brooklyn Industries' website. Today the company manufactures its products in Brooklyn and Queens.
While trendier neighborhoods have been benefiting from the craft retailers, more businesses are reaching to other parts of the borough, such as Sunset Park. The neighborhood's Industry City, a 6-million-square-foot manufacturing, office and retail complex, has a variety of unique Brooklyn-born craft retailers, including One Girl Cookies, which opened a 5,000-square-foot production space last year. And textile designer Maryanne Moodie moved into Industry City last year too.
"Millennials, an important part of Brooklyn's renaissance, live in the borough's neighborhoods—and are starting businesses in the borough's stock of nontraditional workplaces," Andrew Kimball, Industry City's chief executive officer, said in a statement. "Industry City is a great platform inasmuch as the expansive complex is a growing community that offers room for traditional manufacturers, artists and artisanal makers, as well as fledgling businesses—many tech-based—started by millennials."
Downtown Brooklyn, a main shopping area, might not fit into the whole craft retail rubric, given that the rents are high for an entrepreneur starting a business from scratch. But Acadia Realty Trust and Washington Square Partners are allocating space for Brooklyn craft retailers in their 26,000-square-foot DeKalb Market Hall, which is part of the 1.8-million -square-foot mixed-use complex City Point in the heart of Downtown Brooklyn. They are hoping to provide smaller spaces with "manageable rents" so a diverse mix of local (as well as some regional) retailers can move into the area. Ample Hills has already signed on as a retailer.
"It's part of what is going to make City Point very Brooklyn as opposed to just another shopping venue," said Paul Travis, a managing partner at Washington Square Partners. "Ultimately, we want City Point to reflect where Brooklyn is today."
In due time experts expect craft retailers will pop up farther into the borough where bigger brands are more prominent.
"It's already out in Sunset Park. It's out to Bushwick. Young, creative people are moving to Bay Ridge," said Carlo Scissura, the president of the Brooklyn Chamber of Commerce. "It's just a matter of time before people move out to other neighborhoods."
Mr. Schubert added: "We aren't talking about Canarsie and Brighton Beach. We're not there yet. But I think it's continuously going deeper and deeper into Brooklyn."
1192 Bedford Avenue
,
133 Beard Street
,
24 Commerce Street
,
439 Third Avenue
,
597 Sackett Street
,
Ample Hills Creamery
,
Andrew Kimball
,
Brooklyn Industries
,
Carlo Scissura
,
D.S. & Durga
,
David Moltz
,
DeKalb Market Hall
,
Emily Elsen
,
Food & Drink
,
Four & Twenty Blackbirds
,
Homa Dashtaki
,
Industry City
,
Lauren Musacchio
,
Melissa Elsen
,
Paul Travis
,
PepsiCo
,
Peter Schubert
,
TerraCRG
,
The White Moustache
,
Washington Square Partners
,
Whole Foods Market