The City of Woody Allen Takes Over the City of Angels
---
---
It used to be that you went out to Los Angeles to make it in the movies. Now, you go out there to make it in tech, transportation, hospitality, education—you name it.
The unemployment rate of Los Angeles County decreased significantly to 5.9 percent in 2015, from 8 percent just a year ago with the addition of 73,200 new jobs, according to Cushman & Wakefield's annual office report, and this, in turn, is fueling its growing real estate office market.
New York developers have taken notice.   
Of course, the biggest player in town hails from the far east—not New York. In Downtown Los Angeles, which has become the tech and creative hub of the city, the chatter is all about a 73-story, retail, office and hotel tower called the Wilshire Grand Center by the South Korean-based conglomerate Hanjin Group. The project, which is set to be completed in 2017, includes 356,141 square feet of office space.
But the New York-based developers aren't fooling around. Some have already been active in L.A. for decades, such as Tishman Speyer and Cohen Brothers Realty Corporation, both of which are expanding their portfolios in L.A. And Jamestown, which has headquarters in New York and Atlanta, has recently taken an interest in Los Angeles, too. The firm purchased Brunswig Square, an eight-story, 140,000 square-foot office and retail building on the edge of downtown Los Angeles last year for $60 million, as The Los Angeles Times reported.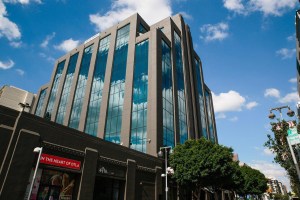 "With our purchase of Brunswig Square, Jamestown is putting a stake in the ground for long-term investment in downtown Los Angeles," Michael Phillips, Jamestown's president, said in a statement. "DTLA, and the Arts District in particular, have the kind of creative energy that draws innovation and talent."
Jamestown also bought Lantana, a four-building, 484,840-square-foot office, studio and production campus in Santa Monica, for more than $300 million in 2013, according to CoStar Group. Santa Monica, the westward beach-front community, has the highest Class A average office asking rents at $56 per square foot in 2015, according to James Breeze, C&W's Los Angeles market director. To compare, the overall average between all office asset classes in Los Angeles was $34.08 per square foot last year, an increase from $32.28 per square foot the previous year.
Star-studded Hollywood has the most office inventory under construction with 632,624 square feet, the C&W report indicates. Tishman Speyer, which owns more than 2.8 million square feet of properties in Los Angeles, recently closed its purchase of the 204,000-square-foot, 14-story office and commercial building at 6430 Sunset Boulevard called the Sunset Tower in Hollywood for $127 million, according to a Feb. 17 news release from the company.
"We're pleased to add this extremely well-located asset to our Los Angeles office portfolio," Rob Speyer, Tishman Speyer's president and chief executive officer, said in a prepared statement. "In particular, we continue to be very bullish on the Hollywood submarket as one of the key areas attracting growing companies with employees who want to live and work in a vibrant 24-hour community."
Los Angeles ranked sixth in construction starts for commercial and multifamily properties in metropolitan areas throughout the nation with $5.8 billion last year, up 10 percent from a year earlier, according to recent data from Dodge Data & Analytics.
Tishman Speyer is building a 425,300-square-foot office complex called The Brickyard in Playa Vista, a western Los Angeles community with residential, retail and office buildings 10 minutes north of Los Angeles International Airport. The complex will include two buildings of 100,000 and 300,000 square feet, 8,000 square feet of retail, 9,000 square feet for day care facilities and parking. The project is expected to be completed later this year. In recent years growing tech companies have targeted Playa Vista for its lower rents.
And Related California, a division of Related Companies, has plans for a 300-room, four-star hotel, residential and retail complex referred to as the Grand Avenue Project in downtown Los Angeles. It already completed the first phase of the project, a $120 million, 19-story residential building called The Emerson, which has 271 units. The Frank Gehry-designed Grand Avenue Project will have the nation's second Equinox (another Related brand) hotel, as was widely reported.
Elsewhere in West Hollywood, Cohen Brothers is working on leasing its newest building addition to the Cesar Pelli-designed Pacific Design Center at 8687 Melrose Avenue, which it acquired in 1999.
The property is a sprawling 14-acre campus that has included the 750,000-square-foot Blue Building and Green Building, which has 250,000 square feet of office space, for decades. The site also has two Wolfgang Puck restaurants, a luxury film venue and reception facility and a 200-seat conference center. About two years ago, Cohen Brothers completed a third 400,000-square-foot Red Building, but CEO Charles Cohen halted leasing it until 2015 when he was able to achieve higher rents and get creative tenants to move into the building. The asking rent was about $51 per square foot per last year but has escalated to about $60 per square foot a year, Mr. Cohen told Commercial Observer. Current tenants include a mixed media and creative roster, such as Abrams Artists Agency, Gaumont International Television and Clique Media.
Reasons for moving into the building?
"It's a creative environment," Mr. Cohen said. "And there's the restaurants, clubs, hotels, and it's a minute from Beverly Hills."
About the building, he said, "We forged new territory price wise. It's the best of New York transported to the West Coast."
On the Pacific Design Center site Mr. Cohen is planning to erect another office building (still in its early phases), which will also include retail.
6430 Sunset Boulevard
,
8687 Melrose Avenue
,
Charles Cohen
,
Cohen Brothers Realty
,
Cushman & Wakefield
,
Frank Gehry
,
Hanjin Group
,
James Breeze
,
Jamestown
,
Michael Phillips
,
Pacific Design Center
,
Related Companies
,
Rob Speyer
,
Sunset Tower
,
The Emerson
,
Tishman Speyer
,
Wilshire Grand Center