New York Developers March on Washington, D.C. With Open Wallets
---
---
Hillary Clinton, Bernie Sanders and Donald Trump aren't the only New Yorkers trying to make it big in the nation's capital.
A tad more than 200 miles to the south of the Big Apple, Washington, D.C., has become a second home for New York real estate tycoons when it comes to investment. It's not just the travel convenience (but a short train ride away is a perk). The demand for office and residential space is ticking up as the new generation of lawyers, lobbyists and government aides go for urbanization over the suburbs. Some of New York's savviest investors are getting comfortable with that.
Take for instance New York-based TF Cornerstone, which first ventured into the district about 10 years ago. TF Cornerstone currently owns a total of nine office buildings in the Washington, D.C., metropolitan statistical area, the most recent of which were bought at less than $500 per square foot. One of the company's executives said the city had several eye-catching investment qualities, including an already strong employee base and proximity to New York.
"In terms of why we came down, it was primarily a diversification play, to have assets in a market other than New York," said Kenneth Houle, a vice president at the firm who is based in the capital. "D.C. has a number of things going for it, principally the U.S. government and a highly educated workforce. It's also very easy to commute from New York by train, plane or car as opposed to going somewhere on the West Coast that is harder to get to."
In 2013 the company scooped up a 157,523-square-foot property at 1090 Vermont Avenue in downtown D.C. for $62.7 million, preceded by an $82.4 million purchase of a 190,458-square-foot building 2121 K Street in the Central Business District in 2010.
"It's far from a cheap place to do business, but you can buy at a more attractive cash flow basis," Mr. Houle noted.
By no means does Washington, D.C., have the office stock of New York City. The metropolitan area, which includes counties in Northern Virginia and Maryland, has almost 331 million square feet of office space, according to a January JLL market report. That's about two thirds of the total office space in Manhattan.
But the average asking rent for that inventory was a mere $36.90 per square foot in the fourth quarter of 2015, according to the report. The highest asking rents in the entire area can be found in the Capitol Hill and East End sections of Washington, D.C., which both averaged around $60 per square foot.
Development is prime in Washington, D.C., because companies are in dire need for new office space, said Jeffrey Sussman, the president of Property Group Partners, which is developing the mixed-use Capital Crossing and has built in the city for more than 40 years. That's because a great deal of the existing office stock has been pre-cast building that went up in the 1960s.
The need to develop more residential is also just as strong in the Mid-Atlantic region as it is in New York City. TFC plans to add 1 million square feet of residential and retail to its existing office holding in Reston, Va., a recently rezoned area that's 20 miles outside of Washington, D.C., and serviced by the Metro's expanded Silver Line.
"We generally feel like there's some very legitimate supply concern on the multifamily front in D.C.," said Mr. Houle, who heads TF Cornerstone's D.C. presence. "We think the fundamentals are outstanding long term and are actively looking to acquire sites with a longer term development horizon."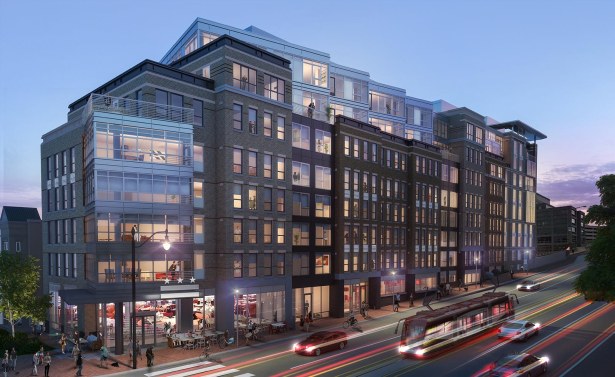 TF Cornerstone isn't the only big New York real estate name that's noticed the need for housing in Washington, D.C. Fisher Brothers, which just completed the 378-apartment Station House at 701 2nd Street NE in March 2015, is seeing demand for amenity- and transportation-heavy residential development in the city. The H Street corridor, which intersects the project near Union Station, has been an emerging area particularly for young professionals looking to live within the city's boundaries, and the developer is exploring more options along that strip, said Ken Fisher, a principal of the company.
"I don't know if you'd call it Soho," Mr. Fisher said. "But it's a young, urban kind of a marketplace, and we see that. We see the H Street corridor as something that could be kind of a hipper situation, so we like that area very much."
Another area ripe for development is the South Capitol neighborhood, where Ruben Companies and Related Companies are finishing up the sixth floor of a 13-story, 430,000-square-foot mixed-use project at 909 Half Street. Once completed in early 2017, the property will house 383 apartments in addition to tenant amenities like a full basketball court and a rooftop pool.
The submarket is "undergoing an incredible transformation" with hundreds of millions of dollars being spent on infrastructure, said Richard Ruben, the chief executive officer of Ruben Companies. From dog-walking parks to new restaurants and a new Whole Foods. "You can see and feel how wonderful the neighborhood is going to be," he said.
"It's one of the few places in Washington where there's lots of open space," Mr. Ruben added. "It's very attractive to a younger, more open lifestyle."
1090 Vermont Avenue
,
2121 K Street
,
701 2nd Street NE
,
909 Half Street
,
Bernie Sanders
,
Donald Trump
,
Fisher Brothers
,
Hillary Clinton
,
Jeffrey Sussman
,
Ken Fisher
,
Kenneth Houle
,
Property Group Partners
,
Related Companies
,
RIchard Ruben
,
Ruben Companies
,
TF Cornerstone