NGKF's Barry Gosin On Playing in the Real Estate Big Leagues
---
---
"The brokerage business has to be collaborative," said Barry Gosin, the chief executive officer of Newmark Grubb Knight Frank. "I want to be visible to everybody. I want everybody to see each other."
That's one of the reasons why NGKF is redoing the roughly 130,000 square feet of office space it has at 125 Park Avenue between East 41st and East 42nd Streets, and going with a model which will place Mr. Gosin at the center of the action, a la former Mayor Michael Bloomberg.
"It'll be mostly open, all glass, lots of light and very tech-savvy," Mr. Gosin said. The design firm Gensler will be overseeing the project, which should be finished some time in July.
Like many open space–style offices, there will be meeting rooms and casual spaces, but Mr. Gosin, the father of two (and grandfather of four) sounds more jazzed about what the bullpen will be like. "It's really about energy," Mr. Gosin said. "Hard work is contagious."
With a 6,000-broker company with 370 different offices to look after, it's no wonder Mr. Gosin wants to get a charge.
NGKF is doing a lot more than just spiffing up its offices: in July the company acquired Excess Space, which is "a dominant force in the niche area of real estate dispositions and lease-restructuring for retailers, with an excellent industry reputation," Mr. Gosin said.
"We acquired Cornish & Carey over a year ago," Mr. Gosin added. "We are number one in the Bay Area; number one in Boston; number two in New York, and expected to be on the leaderboard in all major markets around the country." Oh, and did we mention that he also acquired ARA (Apartment Realty Advisors) a year ago, making NGKF the second largest multifamily sales company in the country, according to Mr. Gosin.
"But," he added, "our goal is to be the best—not the biggest."
But before getting to that, let's start at the beginning.
Commercial Observer: How did you get into the business?
Mr. Gosin: I got into business because the only person I knew who was successful, who I had respect for, was in the real estate business. That was Fred Wilpon. Richie Wilpon [Fred's brother] and I were buddies…[We] grew up in Brooklyn. Fred went to Lafayette High School—he was actually pitcher on Sandy Koufax's team, while Sandy Koufax was the first baseman. Fred was the star pitcher.
And you said, "This guy's in real estate and that's where I want to go"?
It's the story of everything. If you grow up in the neighborhood where role models are drug addicts and criminals, that's what you're witness to and what really guides where you go. I grew up in a neighborhood where I'd more likely be in the Garment Center or an attorney. In my case, I was probably destined to be a lawyer. And that was it. [But the Wilpons were] my one exposure to the world of Manhattan real estate, and that was interesting.
What was your first deal?
Well, I worked in the construction business for one year. My father was in the home improving business and I knew that was not for me. Actually, Fred advised me to go into the brokerage business. And my first deal [in 1973] was I walked in on a cold call into a guy's office, a guy named Harold Blauvelt, who had an engineering firm—they might still be in business—[they] had 94,000 square feet at 79 Madison Avenue, and I moved him into One Park Avenue, into an Olivetti sublease.
Olivetti typewriters?
Yes—and the rent was $4 per square foot! It took me a few years and I started to really get the feel of it. Then I became an agent for 41 Madison [Avenue] for the Rudin family, so the Rudin family became my second leg of the journey to where I am today. This was when the market couldn't give space away. I joined the team and we had the idea of converting 41 Madison Avenue from an office building into a showroom building. Today, many tenants that I put into the building are still there. I rented almost every foot of that building from 1973 to 1976, and in 1976 won the Deal of the Year award [from REBNY] by moving the toy industry at that time out of 200 Fifth Avenue as a group into 41 Madison Avenue.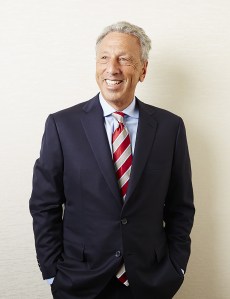 It seems like the toy business is disappearing from New York.
It's gone.
Why is that?
It's the nature of retail and the diminished amount of small retailers. You don't need to have a showroom where little mom-and-pop stores have to come in and shop for their goods or to replenish their inventory. After that I went to a building, 200 Lexington Avenue. That building was empty. It housed wholesale furniture and they all went to High Point, [N.C.]…[But] there was one little tenant who was selling to Orthodox decorators from Brooklyn, and the showroom was packed on Sundays. People would come in and buy. And I said, "That's interesting, there must be a market for furniture design." So I took all the wholesale manufacturers that were left in the building and I convinced them to open a showroom to decorators. I went around the building and collected $25 from the tenants to advertise in Architectural Digest. And these guys hated decorators. They would say, "Get out of my office!" I said, "No, you don't understand. You're wholesalers…open to decorators. Get new [brands]. Take the high end. You'll make a bigger margin." So I wasn't a real estate broker—I was a marketing person! I [wound up signing] a bunch of different designers. I signed bigger and bigger furniture. I signed up fabric guys on the fourth floor.
What would you say is the primary focus of your attention now? Is it office or retail?
As the CEO of my company, my focus is everything. I focus on all things real estate, all things third-party and all things advisory. I mean I've done everything in my career. I've been an agent, a tenant rep, I've done retail, I've done showrooms, I've done industrial…I've done every side of the business.
Which is the hardest?
They all have their different skills. Probably the hardest thing is going into business cold—the ability to create something out of nothing, meet someone who doesn't really want to talk to you. The moment that stands out in my life the most was when I was on 41 [Madison]—so I did Noritake, Mikasa, Denby, Villeroy & Boch… those were all tenants I put in the building. I used to go to showrooms and just go from booth to booth saying: "I'm from 41 Madison, I'd like to talk to you about coming into the building." And I remember [seeing] Haviland china. You know Haviland? Very high-end, French [dishware]. I walked into Fred Haviland's booth and I said "Hello my name is Barry Gosin. I'm with New York Merchandise Mart and I'd like to talk to you about taking a showroom in the building." And he looked at me with these cold eyes, dead-cold Charlton Heston eyes, and he said: "Go away." I had nightmares. He made me feel like a zero.
So you never got that guy, I take it?
I never got that guy. But I got everybody else. Then I went into the tenant rep side of the business. We have an incredibly deep bench, including David Falk, Brian Waterman and Scott Klau on the agency side, [and] Neil Goldmacher, Moshe Sukenik, Chris Mongeluzo and Michael Ippolito on the tenant side. What makes us different is we have a lot of people who have grown up in the company who now have matured and are coming into their stride.
Where do you think the office model is headed?
Work has to be more like living. Look at the workplace. Go to a place like WeWork. In open environments where there's more energy, people got more stuff that they can enjoy. Bloomberg has food all the time, and they just want people to be there as much as they can.
So you're a believer in the idea that WeWork [kinds of offices] are here for the long run?
I remember having a conversation with a very wealthy technologist going back 15 years ago—it was Jay Walker from Priceline—and we had this argument about virtual space, that you won't need office space. And I said that human beings are social animals, you need interaction, integration and people to communicate with, and you're never going to lose that. That's what Marissa Mayer found out with Yahoo, that having a virtual company doesn't really work; they still need the core and soul of the company.
You want to make the office inviting for people who want to be there socially. I can see it within my own office. If you go up to our 12th floor, where you look out on the north-side floor, all the people in the bullpen are all friends and they all communicate. We feel an energy there that's unique.
A critical part of our business is recognizing change…So if you want to be running a real estate firm that's advising people on what the new workplace is and how they should occupy their space, you need to get out of your skin a little bit and understand it's a changed world and technology is going to drive everything. So we're investing in technology.
Like what?
We bought a computer company, CFI—Computer Facilities Integration. We're now the largest independent third-party integrator of operations software in the world. Someone might say why is that real estate? We think that at the end of the day the combination of big data and information that we can provide for our clients, the combination of accessibility to that information for our clients and the portability of that information for our clients is going to be critical. Research is critical; disseminating the research, accessing the research, accumulating and articulating and synthesizing to bite-size pieces so that it's accessible and understandable is important. I have a bimonthly meeting on technology alone. I don't know many CEOs or real estate firms where the CEO meets [with tech] twice a month. I don't meet twice a month on operations. I could care less. I got a COO to do that.
How has the process gone with brokers learning the technology?
In any business, to a certain extent, it's survival of the fittest—so you put it out there, the opportunity. You can't force someone to be whom they're not. What you do is engage and encourage those who really embrace change, and give them the tools to change. There're those brokers who embrace the opportunity of all the things that are under the umbrella—like financing. We can provide information about tenant carbon credits. We can help if a client wanted to manage their foreign currency—we can do so many things for our real estate clients by virtue of being part of a more elaborate, sophisticated platform. There are those brokers who look at it as more like a buffet, and there're people who want to be served by a waiter. I used to have a thing on my desk: "Don't teach a pig how to fly. It's never going to fly and it's going to be pissed off that you tried to teach it to fly."