From Brooklyn to Berlin: David Belt Dishes on His International Ventures
---
---
Just after finishing a project with St. John's University in Rome and in the midst of starting his development company, Macro Sea, in 2009, David Belt went back to the Pennsylvania suburbs to visit his parents. He was driving around and found himself in a vast expanse of vacant shopping malls, which was not an uncommon sight so soon after the initial brunt of the downturn.
"I became sort of obsessed," Mr. Belt recalled while sitting in his Brooklyn office with Commercial Observer this September. "It's one thing to take a beautiful building in Rome and redo it, but my legacy—where I came from—is these shitty spaces. What could we do with strip malls? How do you repurpose this in some interesting way?"
And that was Macro Sea's first project. Mr. Belt spent the next few months traversing the U.S., looking for empty shopping malls to purchase and repurpose. He then turned his focus to the parking lots of the malls, and thought of creating a "country club," where people could rent a personal pool, have a cabana and a grill and swim with their family and friends. The personal pools, however, would be repurposed dumpsters, an idea a friend passed along to him.
Mr. Belt and his team at Macro Sea returned to Brooklyn and did their own test-run. At a nondescript industrial building in Brooklyn—which now houses Macro Sea's office—the dumpster-pool was born, parties were had, and soon enough, The New York Times wrote a story about the parties. But Mr. Belt was nervous. As a developer, he felt that he had no plausible deniability to not have a permit, and the parties—though the location was never released online—were getting a lot of attention. 
Summer ended, and Mr. Belt finally received a letter from the Department of Health.
He told CO about his visit to its office, where he was sat at a desk with a huge file that held all of the dumpster-pool press coverage from that summer, and was asked by the commissioner, "What do you have to say for yourself?"
"I didn't know what to say, and the commissioner said, 'Say thank you, because we could have sent you the letter at the beginning of the summer,' " Mr. Belt recalled while laughing. By the following summer, in 2010, the Bloomberg administration opened three of the dumpster pools along Park Avenue for three Saturdays in August.
It's not all about modifying massive trash receptacles for Mr. Belt and Macro Sea, though. In fact, the firm just finished G27 Global Institute, an international educational and housing project in Berlin with Council of International Educational Exchange this August, and now much of the team's time is devoted to completing New Lab—an 84,000-square-foot industrial space in the Brooklyn Navy Yard that is being turned into a design and prototyping space for creative tenants across the spectrum.
Running Macro Sea with his team of eight isn't Mr. Belt's only job. He still does some work through the advisory, development and project management firm he founded in 2002, DBI. While the two firms focus on development, the main difference is that DBI is for-hire, while Macro Sea is not. The difference between Macro Sea and a regular development company, he explained, is that a lot of the design is done in-house and the team is focused on the intent of building a space. (It also does everything from project management to furniture design for its chosen projects.) For instance, with New Lab, which will occupy Building 128 at the Navy Yard, Mr. Belt wanted to create a community for a particular type of tenant. The third difference, he said, is that "there are some people who build spreadsheets and the building is an outcome of a spreadsheet. I'm building buildings and I'm going to slap around the spreadsheet until it makes the building I want."
Mr. Belt co-founded New Lab with Scott Cohen, a New York-based artist and filmmaker. The team, which comprises Macro Sea and Mr. Cohen, started working on the project in 2011. New Lab has a long-term lease with the Navy Yard, and while the construction timeline is less than one-year, renovations only started this summer because the process has been relatively arduous.
"For New Lab, there's all kind of crazy money," he said. The firm used several layers of financing to fund the project—historic tax credits, grants from the city and state, EB-5 financing, roughly $500,000 raised through the crowdfunding platform Fundrise, as well as equity investments and some loans.
"That's crazy from a real estate perspective. That's nuts," he said. "I don't even own the building."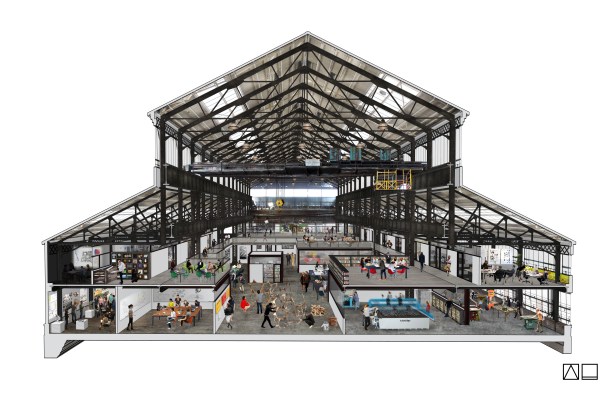 Once completed and fully occupied, New Lab will have just about 350 individuals working in the space, and each company will have dedicated studio spaces ranging from 500 to 7,500 square feet. The official call for membership to New Lab will open in 2016, but some of the tenants are already lined up.
"We have companies ranging from the guy who made the best nano-microscope in the world to another company called Honeybee Robotics that makes parts for the Mars rover," Mr. Belt noted.
While the tenant list is impressive, Mr. Belt's roots are far from scientific or glamorous. He grew up in suburban Pennsylvania and moved to San Francisco in 1989 at the age of 22.
"I was in a punk band. We were on a tour," he recalled. "When I got to San Francisco, it was the first time I left the East Coast. I couldn't believe you were allowed to live there. It's so nice."
So Mr. Belt made his way to California and started his work as a "laborer," raking in $6 to $7 an hour "digging rocks." Eventually, he made a slight career change into carpentry. After realizing that was not his calling, he moved onto project management. By the time he left San Francisco 10 years later, he felt he gained significant experience, having managed a roughly $1 billion project at the San Francisco International Airport. By the time he hit his early thirties, he felt like he had to spend some time in New York.
Mr. Belt spent just about three years working in New York with a partner until he founded DBI in 2002, where, among other things, he went on to do work with universities. James Pellow, president and chief executive officer of Council on International Educational Exchange, met Mr. Belt during that period of time. The two would team up together on numerous projects, most recently G27 in Berlin.
In the late 1990s, Mr. Pellow was working as senior vice president for administrative services at St. John's University, a private Catholic and Vincentian college in New York City, whose main campus is in Queens. The school was in the process of transforming itself from a commuter school and was building on-site housing for students. The school first called in Mr. Belt as a consultant when there were some construction issues and they went over-budget. It happened a second time, and soon enough, they brought Mr. Belt, through his company DBI, on board as a consultant. The school built a total of 15 buildings totaling nearly $700 million across all of its campuses—and not once did they overrun a budget or miss any deadlines because of Mr. Belt's guidance, Mr. Pellow said.
Helping St. John's expand its campus in Italy was how Mr. Belt got started doing development work internationally. "I told them I wanted to build their new campus in Rome, and I just bugged them until they let me," he said. Mr. Belt went on to help St. John's with their location in Paris, as well.
"He helped St. John's from a brick-and-mortar perspective become what it is today, a much stronger international university," Mr. Pellow said.
CIEE and Macro Sea coming together to work on G27 was a natural progression of Mr. Pellow and Mr. Belt's over 15-year relationship. CIEE, a nonprofit that emphasizes the importance of international exchange and education as a part of modern education, was looking to open another campus for students from different universities. Berlin was Mr. Pellow's top choice and Mr. Belt had already helped him create two campuses in Europe.
Mr. Belt looked at over 100 potential sites around the world, and just about 50 in Berlin, until he found an old factory in the city's Kreuzberg neighborhood. Macro Sea purchased the building in November 2013, and had to finagle the challenges of understanding a new development process in a different country, as well as managing a project from 4,000 miles away. Macro Sea, CIEE and the contractors in Germany had weekly calls, and if not Mr. Belt himself, one of his colleagues from Macro Sea would fly over to Berlin on a monthly basis.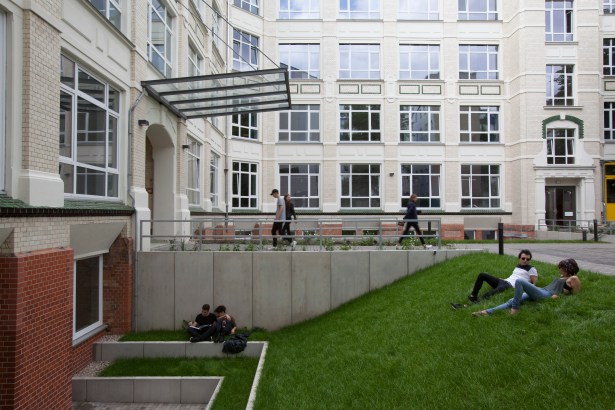 The way the G27 is structured, Macro Sea is the landlord and CIEE is the tenant, but the two companies worked closely together throughout the process. Macro Sea put in 60 percent of the equity into the project, CIEE put in 40 percent, and the partnership took out some traditional debt.
Beyond the literal nuts and bolts, the process of building G27 was design-led.
"When you have a regular student housing project, you have an architect who says here's what students need and buys beds and furniture from institutional services," he explained. "I hate that. We designed our own."
Mr. Belt and his team at Macro Sea built furniture models out of its Brooklyn studio, which were later made in different places in Europe and sent over to the G27 site. Furniture was sourced from Slovenia and Denmark. Mr. Belt and his colleague and design director at Macro Sea, Nicko Elliott, took a trip to south Germany to visit a man who collects furniture from flea markets all over Europe. The two bought "tons" of furniture there for the development.
Because the work is project-based—sometimes international—there are times when "there's a push, but on the other hand we like it," Mr. Elliot told CO. "We definitely work a lot, like a lot. But it feels like a lot less."
As far as the challenges of working abroad go, Mr. Belt said that naturally there are some learning curves and cultural differences, but that makes the process interesting.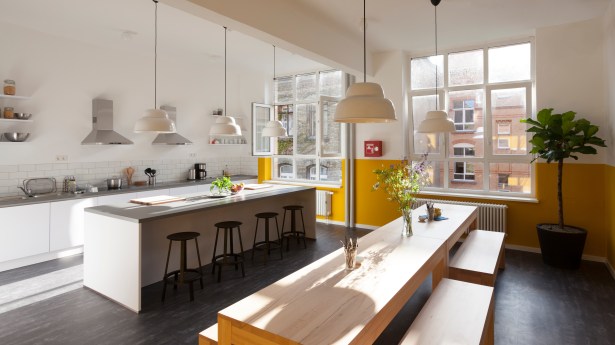 "In Rome, everyone was like no problem, no problem, but then it was a fucking problem. In Paris, everyone said impossible, impossible, but somehow it was possible, and in Germany it was sort of like they said it was maybe and it was really maybe and then we got it done," he joked.  (Mr. Elliott noted that his boss brings his sense of humor with him everywhere.)
Now, CIEE's most recent global institute is being used by students from over 40 universities and holds 200 beds, classrooms and communal spaces. In fact, Daniel Libeskind is teaching an architecture class there, Mr. Belt noted.
"In the process, not only does David add value to us, we help fuel the passion deep in his soul to do good things and projects that matter," Mr. Pellow said. While on the phone with CO, he recounted the story Mr. Belt told at G27's ribbon cutting: when St. John's campus opened in Rome, Mr. Belt met a student named Charles. Charles was from Queens, came from an underprivileged family, was the first person in his family to go to college and being in Rome that semester was really the first time he had left the borough.
"I want to work for guys like Charles," Mr. Belt said at the ceremony. Working at Macro Sea gives him the opportunity to do the projects he feels make a difference, and allows him to experiment with different ideas in different places, he told CO back in his Brooklyn office. That's why he took a step back from his first company, DBI, putting it in the hands of James Neu and Ofer Ohad.
While New Lab is nearing its completion date, the Macro Sea team is keeping busy. Mr. Belt recently spent some time in London meeting with investors and visited Barcelona to put in some bids on buildings, but nothing is concrete as far as the next project goes.
"There's a lot of honesty around experimentation and the unknown and trying new things," Mr. Elliott said. "A lot of people purport to have the answer or know better. That's bullshit. That's what I've learned from this job. We're all ambitious and we're all figuring this out together."