Under Construction: Top Floor and Penthouse of 45 West 34th Street
---
---
When 34th Street Commercial Properties—the LLC run by principals of EVO Real Estate Group—acquired a 49-year ground lease for 45 West 34th Street in 2012, the building was roughly 70 percent vacant.
The new manager of the building (Solil Management owns the land) spent about $15 million for renovations, which include a new lobby, elevators, windows and a boiler.
Now the 113,000-square-foot building has about a 14 percent vacancy rate, or around just 16,000 square feet available, most of which is concentrated on the top floor and the penthouse.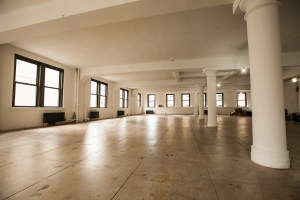 The 12th floor and the penthouse above at 45 West 34th Street, together comprising 12,785 square feet, were demolished earlier this year and are being revitalized on spec to attract a technology, advertising, media and information (TAMI) tenant.
"We felt that that was the most likely tenant for the space," Dana Moskowitz, the president of EVO Real Estate Group, told Commercial Observer. "What we have noticed in the market is when you have a terrace, skylights and entertainment spaces, those are the attributes that creative tenants are looking for."
Asking rent for the space, which is only available as a package for one tenant, is in the mid-$60s per square foot.
Before the $533,185 renovation of the space began in the summer, it was divided up with walls as the 9,000-square-foot 12th floor once housed a "mixed bag" of tenants, ranging from an accounting firm to an acupuncturist. Working with architecture firm Design Republic, Ms. Moskowitz and team knocked down the walls to make the space more of an open floor plate.
The building manager put in four skylights on the 12th floor, added new windows and polished the concrete floors. It also built a café with a wine refrigerator in the middle of the 12th floor, so employees could mingle and dine.
"The idea for the café was that rather than have a traditional pantry it could be another breakout area or a place to have a meeting," Ms. Moskowitz said. "It separates the two sides of the space so it's kind of a natural meeting place."
Brick walls in the penthouse that were covered up by sheetrock have been exposed and a pantry was added on that floor. And as an additional feature, the entire office space comes with a 1,500-square-foot outdoor terrace.
The 12th-floor renovation has been completed and the penthouse has some minor work remaining. Ms. Moskowitz said she is hoping to get a tenant in by early next year.