Stat of the Week: $65 Per Square Foot
---
---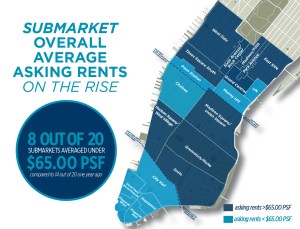 One year makes quite a difference, and that is especially the case for overall average asking rents for Manhattan's 20 submarkets. Last year, 14 of the 20 submarkets averaged below $65 per square foot for all classes of space, giving tenants many options throughout the city for cost-effective space. However, with overall Manhattan average asking rents up 8.8 percent year-over-year, only eight of the 20 submarkets have an average asking rent of $65 square foot or less.
Tenants looking for value space still have options throughout Manhattan, as four submarkets with overall average asking rents below $65 per square foot are located Downtown, three in Midtown and one in Midtown South. As asking rents are expected to continually rise, these averages may be short-lived. Despite four of the five Downtown markets averaging less than $65 per square foot, the City Hall, Insurance, Financial East and Financial West submarkets all combine for a 28 percent increase over the past year. The three Midtown submarkets, Murray Hill, Penn Station and United Nations, are close to reaching a $65-per-square-foot average and at $64.83 per square foot, Murray Hill could surpass that average this year. Similar to the Downtown submarkets, the three Midtown submarkets combined also had a significant increase of 19.1 percent year-over-year. Chelsea, at $58.27 per square foot, is the lone Midtown South submarket with an average asking rent below $65 per square foot. With Midtown South asking rents at historical highs, the Chelsea submarket average asking rent remains low due to lack of available quality supply, specifically for Class A and B buildings.
Consequently, there were six submarkets that surpassed the $65-per-square-foot threshold this year, three each in Midtown and Midtown South. The East Side, Times Square South and Grand Central submarkets all experienced significant jumps in asking rents, led by Time Square South's 26.6 percent increase. In Midtown South, the Soho, Madison/Union Square and Hudson Square/West Village submarkets were led by a 13.3 percent increase in Soho average asking rents.