Under Construction: Office Condos at Flushing Commons
---
---
Not all companies want to be based in Manhattan or Brooklyn—F&T Group is betting many are willing to take a chance on the city's largest Chinatown: Flushing, Queens.  
The developer and owner's mega-project under construction, called Flushing Commons—a 1.8-million-square-foot residential, retail and office complex in the northeast Queens neighborhood—is starting with construction of a glassy office condominium building at 38-18 Union Street at 39th Street. It's being developed with The Rockefeller Group and AECOM Capital.
But just because it's not in Manhattan doesn't mean it can't borrow the city's modern style. The 11-story office condo will be a Class A building and "it will be the first glass curtain wall, Manhattan-style, in Flushing," Michael Meyer, the president of F&T Group, told Commercial Observer.
The structure is slated for completion by November 2016. Marketing began quietly in mid-September for spaces in the building and 50 percent of the building is already spoken for, according to Helen Lee, an executive vice president with the developer.
Commercial condos in Flushing aren't a new concept, though. The neighborhood has a number of projects offering sales instead of rentals, because the Asian population that dominates the area prefers to buy, some experts say.
"Owning has always been important to the Asian demographic," Ms. Lee said. "When you purchase a condo, as opposed to renting, you are purchasing free and clear. The Asian mentality is they want to build equity, and real estate is a very popular asset class to do that. They prefer to do that over speculative trading."   
The office condo building will feature units ranging from 1,200 to 4,000 square feet. But if buyers want larger spaces, F&T Group can combine condos for bigger units. Prices range from $1.4 million to $4 million or about $1,000 per square foot. However, Ms. Lee said that they have signed a deal for as much as $1,100 per square foot.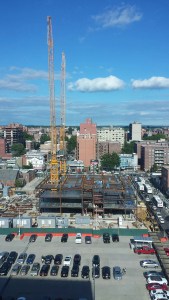 The 164,000-square-foot building will be LEED-certified. Two of its environmentally sustainable features include better insulated glass walls that reduce energy consumption and an energy-efficient water system. The office building will also have bike storage, a 24-hour staffed lobby and four high-speed elevators.
Parking won't be an issue for employees in the building, either. Flushing Commons is replacing a 1,100-vehicle municipal surface parking lot, and when the entire project is completed, there will be 1,600 underground municipal parking spaces.
The increased parking spaces were one of the requirements outlined in a request for proposals for the project in 2005 after the New York City Economic Development Corporation sold the land to the developers.
Office space in the building is mostly being marketing for medical offices and legal services. There has also been tremendous interest from the medical services industry for space in Flushing because of the growing demand from the Asian community.
"For some that are Asian, or their grandparents that need to see a doctor, there is a sense of familiarity with someone who can understand their language," Ms. Lee said.