The Plan: The Yard at 106 West 32nd Street
---
---
If you ask Richard Beyda and Morris Levy, the co-founders of The Yard, what their collection of buildings is all about, they bill it as coworking space for serious people.
"I see mature companies that are looking for more space and an atmosphere that's really geared toward working," Mr. Beyda said.
The Yard currently has six buildings—its latest being 106 West 32nd Street, within walking distance of Penn Station and Madison Square Garden. It is attempting to lure early stage businesses that value flexibility (memberships are month-to-month) and convenience."Korea Town and blocks west of Sixth Avenue are becoming a lot hipper than they used to be," Mr. Beyda said of the 32,000-square-foot space. "We're also in a transit hub, which makes it easy for people to get here."
So far, about 34 percent of the 350 desks available have been filled. Unlike other locations, The Yard at Herald Square has 23-foot ceilings, which provide room for split-level design and direct access to sunlight for all members, Mr. Beyda said.
With white phone booths, geometric art and an industrial backdrop, the co-founders want to keep a minimalistic vibe and a sense of privacy. Members who sign up for private office suites, which make up 90 percent of The Yard's revenue, are able to customize their space.
The costs involved in this project exceed $2 million, higher than any other facility, Mr. Levy said. He declined to provide the asking rent, only to indicate that most of The Yard's leases are for over 15 years. The Yard's pricing model reflects the rent, and in the case of the Herald Square location, it ranges from $400 for "open table memberships" to $8,000 for a 12-people office suite. "It's a really cool space and they made the whole signup process very simple," said Jay Weinberg who runs Prosperity Real Estate Partners and signed up for an office for $900 a month.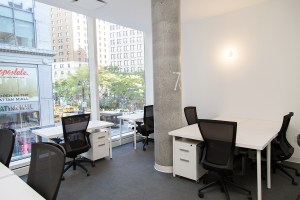 The other sites in The Yards' portfolio, like the one at Lincoln Square, have been successful in retaining a core group of users, like Raghav Sharma's GuideVine.
Mr. Sharma, whose GuideVine platform matches consumers with financial advisers, used to work from home before he moved into The Yard at 157 Columbus Avenue in July. He said The Yard has a more grown up feel thanks to an enclosed space that allows him and his team to focus– and then have fun.
Even though The Yard positions itself as a place to "get things done," this doesn't mean that fun is stripped away. The coworking space provides networking opportunities and perks based on the demographics of their membership and neighborhood, which range from food and wine events to coding workshops.
Peter Van Brunt, an account executive at San Francisco-based startup Tracckr, said The Yard has "built a sense of community and is "one of the few places that did it right." In the past year, Mr. Van Brunt has been renting a desk for $500 a month on the rooftop of The Yard on the Lower East Side, where a yoga session was hosted nearby.
Looking at 40 different spaces a month, the co-founders of The Yard are eyeing an expansion into other markets in the U.S.
"We have something coming up in Philadelphia in April next year," Mr. Levy said, highlighting a similar gentrification curve between the city and Williamsburg, where the co-founders first debuted in 2011.
"All of our expansion is going to fit the same mold of a comfortable experience in a cool neighborhood close to public transport and have lots of light," Mr. Beyda said. "It has to check 30 marks in order for us to jump in."