Stat of the Week: 18 out of 20
---
---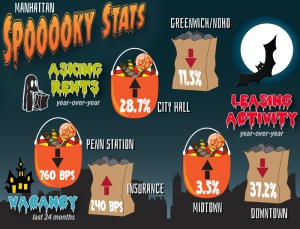 With Halloween this Saturday, it's only fitting to feature the first-ever spooky Stat of the Week. So hold onto your candy as we find out how well the Manhattan submarkets have been performing.
Cushman & Wakefield tracked 20 submarkets throughout Manhattan, and over the past 24 months, 13 of them have posted a decline in vacancy. The Penn Station submarket filled its trick-or-treat bag with the most candy: a 760-basis-point drop to 5.4 percent, the largest vacancy decline of the 20 submarkets. Tenants are avoiding the insurance submarket like it's a haunted house, as it posted the largest increase in vacancy, up 240 basis points to 9.9 percent. Of the seven submarkets that have a higher vacancy rate today than compared to two years ago, Midtown and Downtown each have three and one is in Midtown South.
Landlords' trick-or-treat bags are loaded with treats this Halloween, as 18 of the 20 submarkets had an increase in asking rents over the past 12 months. With overall asking rents up 7.2 percent throughout Manhattan, 13 of the submarkets had a rental increase above the market average. The City Hall submarket, which includes Tribeca, had the largest one-year increase, as asking rents are up 28.7 percent to $59.54 per square foot. Greenwich/Noho got a bunch of rocks placed in its trick-or-treat bag (sorry, Charlie Brown!), with average asking rents down 11.5 percent to $64.15 per square foot—due mostly to lease-up at 51 Astor Place and 770 Broadway.
Leasing activity this year is spooked, as it is down 10.3 percent from one year ago. Only eight of the submarkets had an increase in leasing activity, five of which were in Midtown. Midtown was also the only market with an increase in activity, up 3.5 percent, while Downtown had the largest decrease, down 37.2 percent.