Jordan Claffey Is the Face of RFR's New Retail Division
---
---
When Jordan Claffey was a kid, the Philadelphia suburb native would spend up to 12 hours at the golf course. He played with all different types of people, he said, and also caddied for other golfers.
So throughout his long days on the links, he said it became more natural to strike up a conversation with just about anybody and provide concise advice. He became a decent golfer, too; he says his handicap is currently a four.
Mr. Claffey's was on a path as a golf instructor, but it was taking the fun out of the game he had been playing since he was 13. So in 2005, he opted to put his clubs away professionally.
"I didn't know if I wanted to be in office or retail; I really didn't know the differences," Mr. Claffey, 35, told Commercial Observer while seated in a small conference room at Lever House—the building RFR recently went into default on, but still shines brightly as one of the jewels of the firm's real estate empire. "I just knew I wanted to wear a suit and carry a Blackberry and work in commercial real estate." (He doesn't have a Blackberry anymore.)
So Mr. Claffey has applied some of the fundamentals he picked up while putting golf balls into holes to putting tenants into retail spaces owned by RFR such as 285 Madison Avenue and 757 Third Avenue. In barely three years of working in the New York City market, he's become head of RFR's new retail division, banking on nearly 10 years of representing landlords in both Philadelphia and New York.
It's a part of the business that RFR Co-founder Aby Rosen told CO the company hasn't really focused on in the past. So in turn, Mr. Claffey's job is to fill the company's existing portfolio, find new opportunities similar to its recent purchase of the mixed-use 337 Lafayette Street in Noho and look at what sorts of retailers are hot right now.
"We were looking to bring on a dynamic, consummate leasing professional with a strong retail background to grow this part of our operations," Mr. Rosen said in an email via a spokesman. "Also, someone who is in the business of building great relationships. Jordan has the expertise and the commitment to ensure the RFR Retail vision is executed per our expectation—he lives retail and sees things through day in and day out."
Since RFR announced it had promoted Mr. Claffey to head the division this February after coming aboard in April 2014 as director of retail leasing, Mr. Claffey has brought RFR tenants ranging from monsters of retail like CVS and Sleepy's to the slightly more unique brands, such as Barry's Bootcamp, often looking for what can be an amenity to a building.
So far, RFR has achieved considerable success at 285 Madison Avenue.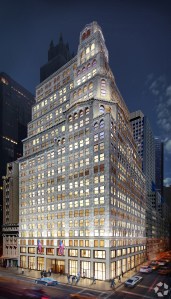 RFR paid almost $190 million for the dilapidated building in 2012, property records show. Before that, an advertising executive was fatally caught in an elevator, revealing the crippled infrastructure of the Art Deco building. RFR poured $65 million into the Midtown East structure, and has since been able to lease space to Greylock Capital Management, according to the company, and most recently Ziff Capital Partners, as CO previously reported.
"We acquired the building in 2012 and have since repositioned the property to provide for a more inspiring and healthy tenant experience, incorporating outdoor terrace space, fitness and art, collaboration space and great building management—this is exactly what RFR is all about," Mr. Rosen said. CBRE is the property manager, according to CoStar.
Mr. Claffey meanwhile has been able to find big-name tenants for the 21,075 square feet of retail space. As CO reported in June, he worked on a deal to bring The Benjamin Group into 9,020-square-foot, to open a yet-to-be-named restaurant across the basement, ground and mezzanine levels of the building.  
Sure, bringing in the owner of Midtown's Sea Fire Grill and Benjamin Steakhouse, which sits around the corner from 285 Madison Avenue at the Dylan Hotel, is a big step forward. But Mr. Claffey will be quick to tell you that signing London-based coffeehouse Taylor Street Baristas into 1,040 square feet at the building is just as crucial.
"I want you to highlight them like in a big way for this, seriously," he said. "They have a proven location in London. They have great coffee and they offer a great food product as well."
Banco Popular took 3,500 square feet for the office tower's corner retail space, as CO reported last month, with just about 5,400 square feet of retail remaining.
The likely tenant for that space is an apparel company, Mr. Claffey said. Think Lululemon Athletica, the high-end yoga wear retailer, for one, or custom-tailored online retailers. (It's one of his favorite kinds of tenants.)
What he's also found so far is that retail is trending toward fast-casual restaurants that offer fare a level up from fast food, but that is provided in almost the same service time. There are also the boutique gyms such as SoulCycle and military-style gym Barry's Bootcamp, the latter which RFR also signed to its 300 East 64th Street earlier this year.
Mr. Claffey's ascent in New York City real estate started less than three years ago when he decided to leave Brixmor in Philadelphia after more than six years and head to Thor Equities, where he worked on the retail leasing team under Sam Polese. Making the jump from Classes B and C tenants in the Philadelphia area to the rough-and-tumble New York City Class A market was "like getting a master's degree."
"I think you're dealing with sophisticated tenants and expensive rents, high rents, but the fundamentals remain the same," Mr. Claffey said. "So, if you're at Thor, it's a quick learning curve. They're in all the major markets."
Thor did not return requests for comment for this story.
After 17 months under Mr. Polese and company founder Joseph Sitt, Mr. Claffey went to work for RFR as vice president and director of retail leasing. Within 10 months the company announced it was launching its own division dedicated to retail opportunities with Mr. Claffey at the helm.   
"I'm sure he's demonstrated a lot of value to the partners of his company," said The Dartmouth Company's Fritz Kemerling, who represented Taylor Street Baristas with colleague Joe Mastromonaco, on Mr. Claffey's quick rise in New York City. "He's been in the industry. He's worked consecutively for very strong landlords. I think he genuinely cares about the tenants he's putting into these properties. He wants to create the right environment."
At a strategic level, Mr. Claffey said he has  switched up the marketing materials and the signage that RFR uses to become a bit more eye catching. RFR has become more Web focused in its approach, upgrading their website, under Mr. Claffey's leadership. Not to mention the retail team has also compiled a list of brokers and blasts out an email on properties each day. RFR for the first time last year had a booth at the New York ICSC convention, he added.
Also on Mr. Claffey and RFR's agenda are specific neighborhoods like Soho, Noho and the Bowery. In April, the landlord was able to lease out the entire office portion of 190 Bowery to a consortium of photographers and graphic artists. So Mr. Claffey is marketing the last piece of the graffitied puzzle: almost 6,000 square feet of retail space.
The company in June also paid $20.7 million for 337 Lafayette Street in Noho, according to property records, which has 9,765 square feet of retail and office space—RFR's second big retail buy recently in the area following the purchase of 11 Bond Street.
"We feel this location is in one of the hottest and stylish neighborhoods in Manhattan," Mr. Rosen said of 337 Lafayette Street.   
It forces one to ask how Mr. Claffey climbed to a top-ranking position in the Big Apple so quickly. Brokers who have done deals with him will tell you he gives a lot of thought to the tenants he puts into the building, as well as how he can best make the space work for them. When Taylor Street Baristas was looking to relocate, he understood the timeline and the stateside shift for the United Kingdom-based coffee house, Mr. Kemerling said. Throughout the process, he added, Mr. Claffey was clear and to the point about what it would take to make the deal go through.  
Mr. Claffey started attending classes at Barry's Bootcamp when he was trying to understand what the gym's needs would be before it eventually signed the 5,800-square-foot lease at 300 East 64th Street, said Neal Ohm, the gym's broker. (He takes classes there still.) Putting them in required figuring out how to get the big open gym space, which is 25 feet by 90 feet, on to the second floor and ensuring it would hold up the strain of the gym's aggressive workout sessions.
For Mr. Claffey, the best part of being a broker is finding out what tenant can work in the right space, scouting a deal, chasing it down and closing it. Mr. Claffey said he particularly enjoys tracking how real estate and neighborhoods change.
"I love the competition of filling: finding the tenant and filling the space," he said. "It's a challenging business, but it's a lot of fun. You have to be a student of the business, the industry and remain in touch with the trends and the changes, whether it be the neighborhoods, or the retailers and what-have-you."