Citi Bike Detractors Do Not Go Gently Into That Good Night
---
---
When Citi Bike rolled out two years ago, New Yorkers had mixed feelings about the blazing, blue bike share program about to fill the city's streets.
There were practical safety concerns and there were extreme allegations that an all-powerful bicycle lobby was pulling the city's puppet strings. The Wall Street Journal's editorial page in particular made it sound like a Maoist takeover by a city government run amok. The Journal's Dorothy Rabinowitz used the word "totalitarian" with a straight face in describing the program on video.
But the system has survived a bankruptcy, an acquisition and is currently in the midst of a rejuvenation. Most hot tempers have cooled toward the program, which currently has 6,000 bikes pedaling their way alongside vehicles mostly in Manhattan and western Brooklyn, with most of the critics more or less accepting it as part of the Big Apple's landscape.
Or so it would seem. Before the program takes a victory lap around Columbus Circle, there's still a contingency of dead-enders fighting the war. (Ms. Rabinowitz did not return Commercial Observer's calls or emails for this article.) These stalwarts are worried about the bikes and the 100-foot-plus racks that hold them. Take the heavily residential Upper West Side or Upper East Side where communities are about to get the bike stations, like it or not.
Last week, a state appeals court tossed a plea by The Plaza Hotel to rid a 147-foot bike rack that sits across the street from the landmarked building. The Plaza's argument: Citi had a glitzy advertisement right across the street from one of the most recognizable buildings in New York City, Steven Sladkus, the hotel's lawyer in the case, told CO.
Because the 108-year-old hotel is a city landmark, Mr. Sladkus said, there should have been an environmental impact survey by the city's Department of Transportation to examine whether the bike rack fit in.
"The city argued that a generic overview of New York City was appropriate, and literally what the city is arguing is they're taking a bird's eye view from Mars down to Manhattan," Mr. Sladkus said. "When you put it in front of a landmark there is an aesthetic impact. I respectfully disagree with the court."
So is the case for residents on the Upper East Side, where Mr. Sladkus also represents condominium and co-op boards concerned that these bike racks are going to take up valuable parking spaces in their area. The alternative suggestions have been to put the racks, which lock Citi Bikes in place through a magnet, on sidewalks. But that idea isn't jibing with Mr. Sladkus' clients either.
"For these residential apartment buildings, the concerns are if they're plunking the racks in front of the buildings [in] what we would call unreasoned places," he said.
Residents on the Upper East Side, as well as the Upper West Side, are concerned about the docking stations. James G. Clynes, the chair of Manhattan Community Board 8 running from East 59th Street to East 96th Street, said the community is working to find a middle ground, and cautioned that the racks weren't literally set in stone.
"We're slowly trying to please the bicycle enthusiasts as well as the residents who don't want this on their front stoop," Mr. Clynes said. "We should all calm down because these docking stations are not cemented into the streets or the sidewalks."
Across Central Park, Upper West Siders have voiced worries over bike racks going into heavily trafficked areas, around schools and playgrounds. Residents' problems with certain locations added up to a 27-page document posted by Manhattan Community Board 7. (The board chair did not return CO's request for comment.)
A number of residents were particularly concerned about the station headed for the southeast corner of West 67th Street and Riverside Boulevard near the Dwight Early Childhood Division. Parents and concerned citizens, who were not identified in the document, worried about strangers coming into the area to use the racks to either put away or take out bikes, along with potential congestion that could endanger children or block emergency vehicles.
"Riverside Boulevard is already marred with black cars double parked throughout the street," wrote one worried resident. "Please do not allow a bike station to make the street conditions more dangerous for our young children."
The station is still planned for that corner, according to a July 9 map of the stations slated for the Upper West Side.
'That's in our DNA—we get upset [but then] we have the shortest memories.'—Sam Schwartz
Moving a little north, community group Friends of Straus Park posted fliers last month warning residents of a potential station anywhere from West 106th to West 108th Streets. The group's beef lies with underlying concerns about bicycles whizzing by and endangering people, a member of the group told CO via an online message, and said that a nearby bike rack will add to existing congestion.
"No one polices these bike riders anywhere in the city, as I have been nearly mowed down twice just last week," said Joseph Arbo, via Facebook message. "My volunteer and I are already stressed to take the best care of this park as it is. If this is added as one more thing to keep from ruining the tranquility of this park, I dare say it could be the final straw to Friends of Straus Park's ability to care properly for this area."
Councilwoman Helen Rosenthal, whose district runs from West 54th Street to Cathedral Parkway, said her office has received dozens of complaints from West Siders who are concerned for their kids coming out of school as more bikers whiz by or jam the hulking metal cycles onto the racks.
Ms. Rosenthal, an avid biker herself (though not a Citi Bike member), brought those issues to Citi Bike and the DOT, and said she pointed out seven of the proposed 21 sites to officials, and usually got an explanation from both entities on why the alternative wouldn't work.
"Their answer was in other parts of the city, when they put them up near playgrounds, near elementary schools that they haven't seen any problems," Ms. Rosenthal said. "So we're going to bank on their experience."
City and Citi officials did, however, agree to go back and look at one troubled site on West 81st Street and Amsterdam Avenue where no alternative seems to be working. Ms. Rosenthal said they might have to eliminate that station all together. Borough President Gale Brewer said she, too, received complaints about that site.
"I now understand why neither of the other three corners works," Ms. Rosenthal said. "They definitely have good rationale, but perhaps that site totally is just not a good corner."
According to the DOT, they conducted extensive outreach during the planning process in upper Manhattan, which included numerous community meetings and reviewing the many letters and emails received. After evaluating the community feedback, five of the stations in upper Manhattan were moved from the draft plans.
There's no denying that Citi Bike has become a growing alternative to the traditional buses, subways or taxis.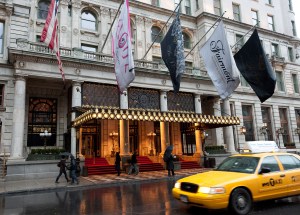 For longtime taxi drivers like Beresford Simmons, who's also an organizer for the New York Taxi Workers Alliance, it's been relatively manageable aside from a few initial parking problems as a result of the bike racks. Most Citi Bike riders generally respect the rules of the road from his vantage point. "It's New York City, so you have to work around it," he said. "We learned to work with it as professionals."
This is not entirely the case, however, for everyday drivers such as Mr. Sladkus, who in addition to fighting the bikes in court also battles them on the road, alleging riders are reckless and often don't wear helmets. (Citi Bike and the DOT have encouraged riders to wear helmets by offering discounted or free ones, but it is not a requirement.)
"I can't stand these bicycles," Mr. Sladkus said. "While I applaud this mode of public transportation, I still can't believe that helmets aren't required and I still cannot believe the rationale the city uses in placement of some of these racks."
But like them or not, there will soon be more of them.
Motivate, the entity that oversees Citi Bike owned by the Related Companies, is rolling out another 6,000 bikes and 375 docking stations over the next two years. The blue bikes are starting to reach areas such as Long Island City, which premiered last week, and the Bedford-Stuyvesant section of Brooklyn. (The bikes are also getting an upgrade, becoming more weather-resistant and a bit lighter.)
While Upper East and Upper West Siders might at first find the metal racks with Citi logos jarring on their streets, they'll eventually come around, said Sam Schwartz, a transportation engineer and former city traffic commissioner. When Mr. Schwartz spotted a bike station being installed at Macdougal Street in Soho about two years ago, he winced upon seeing the racks with the metal vestibules that took up a portion of the street.
Now, however, Mr. Schwartz said he considers them a part of New York City's streetscape as much as newspaper stands and bus terminals. Within a few years' time, Manhattanites north of 59th Street will likely be asking for more docks.
"When I first saw it, it looked pretty brutal," he said. "It seemed almost that it would be an eyesore. It's so much less [a problem] than I would have predicted two years ago. That's in our DNA—we get upset [but then] we have the shortest memories."
For all of Commercial Observer's coverage in the first-ever transit issue, click here.