Silvercup Opening Studio in Bronx
---
---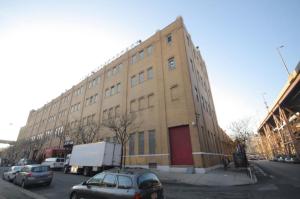 The Bronx is about to make its Hollywood debut.
Long Island City-based Silvercup Studios is opening its third studio, and its first outside of the western Queens neighborhood. The studio that brought you 30 Rock and When Harry Met Sally is now doing a $35 million renovation of 295 Locust Avenue in the Port Morris section of the Bronx. Reconstruction of the site is slated to finish in 2016.
The 115,000-square-foot building is going to be converted into four studios for films and TV shows. Silvercup is boasting that the studio will have 50-foot ceilings, which will allow for two-story sets. Located between East 139th and East 140th Streets, the studio will be about two blocks from the Bruckner Expressway and a short trip from the Robert F. Kennedy Bridge—linking it to Manhattan and Queens.
"The central location and nearby access to highways and public transportation, as well as the incredible soaring ceilings at this Locust Avenue location will surely be a draw for producers," said Stuart Suna, the president of Silvercup, in prepared remarks. "The height and size of these new sound stages will allow us to attract television and feature film work to New York that we have heretofore not been able to accommodate at our other facilities."
A prime location isn't the only thing Silvercup is benefiting from in this project, however. The studio has also received a New York State Film Tax Credit, which Silvercup said made this project happen.
Silvercup paid $15 million for the property, which currently has a one-story building, in April, property records show.
Altogether, this facility will give Silvercup roughly half a million square feet in the city. The base of the studio's operations has been at 42-22 22nd Street, a former bakery in Long Island City with its iconic sign overlooking the Ed Koch Queensboro Bridge. Its other studio is also in the neighborhood at 34-02 Starr Avenue between Van Dam Street and Borden Avenue.
The production studio and other companies have been increasingly drawn to the Bronx as prices tick up in other neighborhoods throughout the city, according to The Wall Street Journal, which broke the story about the new studio. At the start of this year, the average industrial square foot in LIC was almost $400 in a building that fetched more than $500,000, the Journal reported. That's more than double the $149 per square foot in the Bronx during the same time.
"This expansion will not only bring new jobs and economic development to our borough, it will also help us continue to rebrand our borough and showcase the transformative development we have seen over the past decade," said Bronx Borough President Ruben Diaz, Jr. in prepared remarks. "The Bronx and Silvercup Studios will be great partners, and I look forward to working with them on this expansion, and to make this project work for all Bronxites."