HFF's Geoffrey Goldstein Talks Leaving Banking for Brokering
---
---
Geoffrey Goldstein, a former vice president at Helaba, joined HFF in June as a director in the national brokerage firm's New York office. His primary focus in that role involves teaming up with new and old relationships to source construction financing—both debt and equity—for developments in the Greater New York market.
Mr. Goldstein, who started his career as an intern at Forest City Ratner out of Columbia Business School, told Commercial Observer about his experience working with large institutional, middle-market and local family sponsors on construction deals during his eight years with Helaba. In that time he originated more than $1 billion of commercial real estate loans as part of a four-person team. The New Jersey native cited HFF's combined sales, debt and equity placement abilities among the reasons he left the banking world to join the brokerage business.
Commercial Observer: Where are you from?
Mr. Goldstein: I grew up in New Providence, N.J., about 30 miles from the city. I moved to New York after college and currently reside in Prospect Heights, Brooklyn.
How did you get started in commercial real estate finance?
I was fortunate to land a great internship with Forest City Ratner during business school. At the time the firm was heavily involved with the development of Atlantic Yards and The New York Times Building. One of the senior finance guys advised me to start my career with a balance sheet lender to see deal flow and learn about construction lending. I took his advice and joined Helaba the following year to work under Rick Lavrich, a 30-year industry veteran. I thought I would spend a few years at Helaba, but it was a terrific place to work and learn the business, so I ended up working there for eight years.
You recently left your position as a vice president at Helaba to join HFF's New York office. What inspired you to make that move?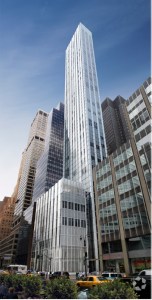 While I enjoyed my time at Helaba, I have always been interested in the brokerage industry because of its entrepreneurial nature and it seemed like the right time to make a transition while the market remains strong. I closed a few deals with HFF in their New York and D.C. offices, and was always highly impressed with their professionalism and the quality of their clients. A position became available to work closely with Mike Tepedino in the New York office and I jumped at the opportunity. The New York team at HFF has closed some huge deals lately, including a $556 million construction loan on 425 Park Avenue and a $360 million construction loan on 100 East 53rd Street.
In your new role you focus on debt and equity placements with a focus on construction lending. Is that due to the recent boom in construction finance?
I think that's right. I have a lot of experience originating and executing large, complicated construction loans and that obviously ties in nicely with the platform at HFF. Based on recent deals in the market, lender appetite for construction loans remains strong for well-capitalized sponsors with quality real estate. More lenders have come into the space, which has driven down pricing and recourse. Loans sized with moderate leverage around 65 percent loan-to-cost are getting priced in the low 2 percent range for top-tier sponsors building rentals.
What else does your new role entail?
The great thing about the firm is that it's very team oriented and offers an array of services to its clients. In addition to investment sales, equity and debt placement, HFF has a growing note sales team as well. For the first time in my career, I can leverage the firm's platform in order to offer my relationships many different products.
What kinds of clients have you kept long-term relationships with over the years? 
It really runs the gamut. I've worked with some of the largest institutional real estate firms, as well as middle-market developers and local New York families that have substantial net worth, but prefer to keep under the radar.
What are some of the more notable construction deals you have financed?
While at Helaba I helped finance the conversion of 200 Fifth Avenue in May 2008. We provided a very large senior loan to convert the former Toy Building into a modern office building anchored by Grey Advertising. Shortly after Lehman filed for bankruptcy in September, the mezzanine lender stopped funding halfway through the project. Fortunately, the sponsor demonstrated a huge commitment to the project by contributing more equity, as did the senior lenders. The building got completed, new leases were signed with Eataly and Tiffany, and the loan was fully repaid in 2011.
Last year, I financed a large construction loan for a deal called Apollo on H Street in Washington, D.C. The construction loan, which was brokered by HFF, will help finance the development of a mixed-use building containing 430 luxury apartments above a Whole Foods grocery store. The project is still under construction, but I think it will be a game changer for the H Street Corridor.
What kinds of trends are you seeing in the debt and equity markets as we enter the second half of 2015?
From a construction perspective, lenders are really pulling back on ultra-luxury condominium projects. Deals with sales projections above $3,500 per square foot are much more difficult to finance given the amount of projects already under construction and the difficulty in calculating demand for this segment of the market. Commercial banks are more focused on cash flowing term loans and construction loans for residential rental product and condo projects under $2,500 per square foot, which although still expensive, appeal to a greater demographic.