Dan Conlon and Elizabeth Bueno are Minding the Store for Two Trees
---
---
While the father-and-son Walentas duo at the helm of Two Trees Management Company is focused on the multi-year redevelopment of Williamsburg's Domino Sugar Factory into a 4-million-square-foot mixed-use project, somebody has to be paying attention to its already extant 1.7-million-square-foot office and retail portfolio.
We're talking, specifically, about Dan Conlon, Two Trees' managing director of the commercial operation, and Elizabeth Bueno, associate director of leasing, who have been faithfully minding the store.
In fact, they've been doing much more than minding the store.
While the bulk of Two Trees' space—like 1.3 million or 1.4 million square feet of it—is in the Dumbo section of Brooklyn, the firm has its first commercial project in Manhattan, an office building at 50 West 23rd Street in the Flatiron District. The Brooklyn-based developer purchased the 340,000-square-foot office building at 50 West 23rd Street for $129.5 million in November 2010 and then vacated 168,000 square feet to make way for a $25 million repositioning. The highlight, perhaps, will be the new 10,600-square-foot rooftop garden and outdoor workspace by High Line designer James Corner Field Operations.
The newest tenant at the West 23rd Street building is music-sharing service SoundCloud, which has taken 43,669 square feet. DataVision, an electronics retailer, signed a deal for a 5,523-square-foot flagship retail location at the building in June 2014. Brooklyn Roasting Company, which opened at the base in May, is in 3,000 square feet.
Those are just some of the deals the duo of Mr. Conlon and Ms. Bueno have facilitated.
"You don't need a huge team if you have staff who are dedicated, smart and passionate about their work and Dan and Liz have done an incredible job curating the creative and tech community in Dumbo and now in the Flatiron [District]," said Jed Walentas, who has been running the Brooklyn-based development firm for the last few years.
Other than the Manhattan property with its large floor plates, Two Trees specializes in providing space for small tenants. Roughly 90 percent of Two Trees' leases are smaller than 5,000 square feet and 65 percent of Two Trees' commercial tenants in Dumbo occupy less than 2,500 square feet.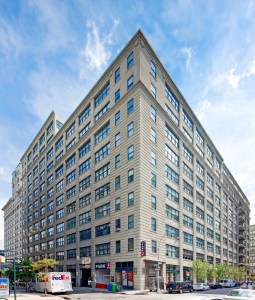 Big Spaceship, a Brooklyn-based digital creative agency occupying about 13,000 square feet at Two Trees' 45 Main Street, will be assuming 27,185 square feet of space at 55 Washington Street through a 10-year deal with an asking rent of $43 per square foot, the leasing team said.
Michael Lebowitz, the founder and chief executive officer of Big Spaceship, said the company "needed a new office that could accommodate our growth over the next few years. Luckily, we found a space that ticked that box without compromising on location. Dumbo has been our home for over 15 years and the digital community here is a big part of the company's DNA."
That's the pitch that Two Trees has been making—an ability to accommodate a modest-sized company as it gets bigger.
A tenant that has been able to grow and remain in a Two Trees building is mindbodygreen, a health and wellness media company. The company moved from 2,500 square feet at Two Trees' 20 Jay Street to 9,600 square feet at 45 Main Street. The asking rent was $42 or $43 per square foot, Ms. Bueno said, and the lease is for five years.
"Most of our tenants, new ones, come in and they'll try to take 1,500 square feet, and then the moderately successful ones, two or three years later, they say, 'I need 2,500 square feet,'" Mr. Conlon said. "So they're growing, not exponentially, but they're growing. The reason they're expanding speaks to the fact that they're succeeding. And in small business, it's hard to succeed. And most of ours do."
Of course, this approach has its limitations. This focus on small tenants means Two Trees cannot accommodate every firm's needs, like Etsy. (Which was in 55 Washington Street, leasing the space taken in part by Big Spaceship.) The online handmade marketplace is moving to the former Watchtower buildings, a Kushner Companies complex called Dumbo Heights. (Company head Jared Kushner is the publisher of Commercial Observer.)
"We couldn't accommodate them," Mr. Conlon said of Etsy. "They had 80,000 square feet, they needed 200. We don't have it." He added: "So we're kind of set up as good for a tenant with modest growth."
At 20 Jay Street, Two Trees has been able to provide branding and design company Red Antler with a 20,000-square-foot space, Ms. Bueno noted.
"It is a pretty big success story," she said. "They started in a 1,300-square-foot space at 45 Main Street, and they grew to a 5,200-square-foot space at 20 Jay. And then we got one of the floors back and they took 20,000 on the fourth floor at 20 Jay. So we have a couple of tenants that we've helped foster growth."
While established companies can take 10- or 20-year leases, the startups need the short-term deals, which Two Trees provides.
"We have over 400 spaces in Dumbo that have constant turnover," Mr. Conlon said. "A lease, on average, is only one to five years. So you are continuously negotiating and renegotiating the deals."
In addition to the 400 commercial spaces, Two Trees has about 200 storage and retail spaces.
"The creative class of people don't want 10 years [for a lease]," Mr. Conlon said. "They don't know if they're going to succeed. They don't know if they're going to grow."
To retain tenants who feel squeezed when facing rising rents, Two Trees gives a 10 percent discount on renewals. "They've owned the buildings for so long," Mr. Conlon said. "They bought them so cheaply, and they can afford…to do that. You've got a guy that goes in and buys a building today, he's going to pay top dollar, he's got a mortgage, he gets X rent. If the rents go up 8 or 10 percent, he's got to get it."
Other Two Trees perks include the Cultural Space Subsidy Program, which provides $12-per-foot rent in Dumbo to arts and culture tenants. Roughly 100,000 square feet of the Two Trees commercial space in the neighborhood is provided at below-market rents. In addition, the Sharpe-Walentas Studio Program awards rent-free artist studio space to 17 visual artists for yearlong residencies in Dumbo.
"They're giving $12 [per square foot] for a space that's worth, at minimum $40—so say [there's] a $30 difference [in the rent they could be getting]," Mr. Conlon said. "Take 1000,000 [square feet]—that's $3 million a year. Over 10 years, that's $30 million. It's very generous."
Jed Walentas said this discounted and free rent is "part philanthropy and part good business." He added: "In Dumbo and across the city, commercial rents are on the rise, and if we want to keep artists and cultural organizations in our neighborhoods, we have to create affordable places for them to locate."
The company owns and manages much of Dumbo with 12 buildings comprising more than 3 million square feet of commercial and residential space. All told, the company's holdings include more than 4 million square feet of built commercial, industrial and residential real estate throughout the United States.
"Their take on retail is the reason that Dumbo is the way it is," said Brooklyn-focused retail broker Geoffrey T. Bailey of SCG Retail. "Their focus on cool, interesting tenants that are going to create a fabric, so to speak, in the neighborhood is what made Dumbo what it is."
But this focus on cool tenants can make it difficult for some brokers.
"They are very picky about who they want," a Brooklyn retail broker said. "On the retail side, Jed has said it many times, they want 'interesting.' They don't necessarily care about the dollars. Their motivation is not necessarily the bottom line."
But this somewhat philanthropic commitment to the neighborhood is what makes the company appealing to tenants. (Other than P.S. Bookshop, an independent bookstore that's been in Dumbo for nearly a decade and is facing eviction at Two Trees' 76 Front Street for failing to keep up with its commercial real estate taxes, as has been reported.)
"Because they have such a big footprint here, they actually care," said Jason Wachob, the founder and chief executive officer of mindbodygreen.
The company was only at 20 Jay for a year before realizing it needed a larger space as soon as possible.
"They've worked with us as we've grown," Mr. Wachob said. "We moved into 2,500 square feet last year and we signed a five-year lease. We thought we'd be there for five years. We went from 10 people to 30. We moved into 10,000 square feet at 45 Main. This is within Two Trees so they gave us flexibility. We did a build. They helped us find the space."
Mr. Conlon and Ms. Bueno have connections to Brooklyn beyond their work at Two Trees.
Mr. Conlon, 60, came to Two Trees less than two years ago from the Brooklyn Navy Yard Development Corp., where he was its chief financial officer. He also grew up in the Windsor Terrace section of Kings County. Ms. Bueno, 31, started at Two Trees roughly seven years ago, initially handling legal paperwork, and she is a Bushwick resident. Today's Two Trees leasing team also includes a junior staff member and an attorney.
David and Jed Walentas attend the bimonthly meetings with the leasing team.
"It's more like David is the chairman and Jed's the president, that kind of thing," Mr. Conlon said.
Ms. Bueno added, "And it's nice. If we have a question, they sit next to us, they're right there. You can go and ask them anything, everything."
There are about 50 employees (plus Jed Walentas' Labrador Aggie) working at the property management firm's offices at 45 Main Street. About half of them are women. The firm employs a total of 200 people, including property managers and residential leasing.
"I say this with all sincerity in the world—meritocracy," Mr. Conlon said. "You don't get paid to be there, you get paid to perform. And if you performed and your job is done, you can disappear. They don't care where you are. The job's done is what counts. And I'm a great believer in accountability and meritocracy. And if you are accountable and you perform, you get rewarded."
On the horizon, Mr. Conlon and Ms. Bueno will be in charge of the office and retail space at the $2 billion Domino Sugar project, which should take up to eight years to complete. Two Trees is redeveloping the 11-acre shuttered sugar refinery site along the Williamsburg waterfront into a mixed-use community with five buildings and seven acres of park.
"It's 500,000 square feet of commercial, 100,000 square feet of retail," Mr. Conlon said. "That part of the project is probably four years out."
While they are not actively leasing the space, Mr. Conlon said, "It's in the back of my mind, but we're not really dealing with it."