Brooklyn Firm Lands Midtown South Office Condo for $950 PSF
---
---
Brooklyn prices have matured so much, now buyers from the outer borough can spend top dollar in Manhattan.
Real estate firm MJ Orbach Associates, which is based in Brooklyn, purchased an office condominium with 3,735 square feet in 70 West 36th Street between Sixth and Fifth Avenues near Herald Square for $3.55 million.
The sale for the 10th floor unit breaks down to $950 per square foot, which smashed the previous record of $877 per square foot in the Midtown South office building, according to Jeff Nissani of Marcus & Millichap, who handled the deal on behalf of the buyer and the seller—Peter Stern of sports marketing firm The Strategic Agency. The transaction closed on July 9, according to city records.
MJ Orbach made headlines recently with the purchase of the Kaufman Organization's 11-story office building at 27 West 24th Street for $92.5 million in February, as Commercial Observer previously reported.
The Brooklyn company is expected to move into its new condo soon in the 16-story building on 36th Street, where other units were selling recently for more than $700 per square foot.
Beside being located near transportation, the space was attractive because it's move-in ready with a custom build-out. Mr. Stern had designed the space with a bar for entertaining, a modern conference room and wrap around windows for views and natural light.
"A lot of people felt we were crazy for our pricing, but we had multiple deals. I knew that it was going to sell for a high number," Mr. Nissani told CO. "There are a  lot of buyers whose ideal situation is if they could move into a space and not have to do a build-out and just start working. That is the ideal scenario and people are willing to pay for that."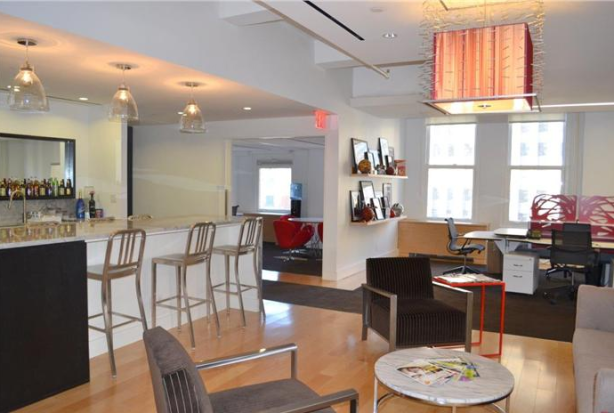 Mr. Stern purchased the condo in 2011 for nearly $2 million, CO reported at that time.  Mr. Nissani brokered a 1-year sublease to temporarily move The Strategic Agency's offices to a 3,200-square-foot space at 800 Third Avenue, between 49th and 50th Streets.
The sports marketing firm is looking for a new space to buy, Mr. Nissani said.