The Plan: Neoscape at 256 West 38th Street
---
---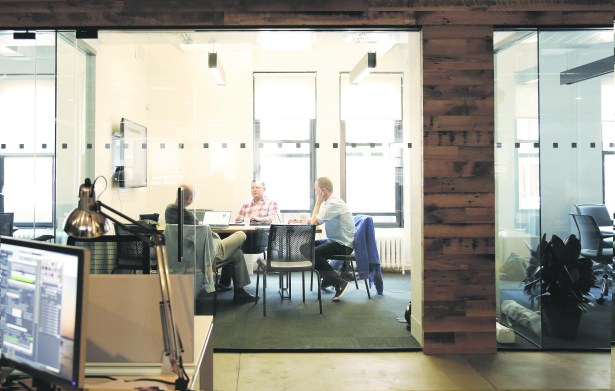 Real estate marketing agency Neoscape works alongside architects and developers to help them tell a story about a space. The company has collaborated with well-known real estate players, including Vornado Realty Trust, The Durst Organization, Extell Development Company and Tishman Speyer, to rebrand tired properties before being reintroduced to the market. Recently, the company used its expertise when designing its own office following a relocation to a 6,100-square-foot space at 256 West 38th Street between Seventh and Eighth Avenues, for which it signed a seven-year lease.
Ryan Cohen, the principal of Neoscape's New York City office, said that the firm appreciated its previous location at 18 East 17th Street near Union Square (the company's headquarters is in Boston). However, the small, 2,300-square-foot studio couldn't adequately accommodate the firm's growth. "There was no conference room," he said. "There was one single bathroom. It was getting a little bit uncomfortable."
Its new space, nearly triple the size of its old Union Square office, has three conference rooms, a full editing suite, an open pantry, beer on tap and a "championship-quality" Ping-Pong table, among other amenities. But perhaps what is most important to Neoscape is the open layout, which allows synergy between its roughly 20 employees based in New York.
"All the artists here work closely together," Mr. Cohen said. "It was important to keep them all in one area."
BR Design was responsible for the build-out.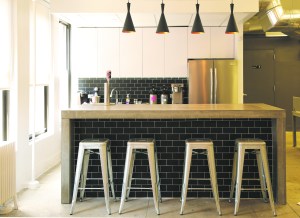 "Working with Neoscape, where several people have architecture backgrounds, led to a great collaborative effort," said Michael Rait, the president and founder of BR Design. "It made communication easier as we both spoke an 'architectural language.'"
Mr. Cohen said that Neoscape was looking for an aesthetic that was "sort of raw" to match the neighborhood. BR Design obliged, and used black steel-framed glass panels, reclaimed wood and concrete floors to create an industrial loft feel in the open space.
Mr. Cohen stressed that its new home in the Garment District is easily accessible.
"We're two blocks from the Port Authority [of New York & New Jersey] and three blocks from Penn Station," he said. "Our employees come from everywhere. It made sense to be centrally located."
The asking rent at the 118,200-square-foot West 38th Street property, owned by America Realty Capital, was $46 per square foot.