Jamestown Pioneer: Michael Phillips is Hungry for NYC Retail
---
---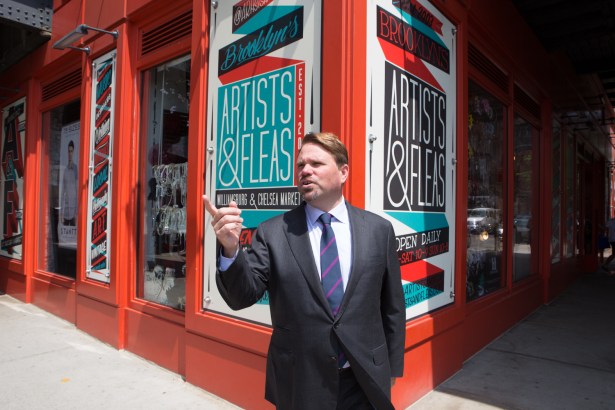 Making a lunch or even a breakfast date with Michael Phillips feels just shy of an exercise in futility. His schedule is jam-packed from morning until night (he is in the office by 7 a.m. and leaves "whenever it's time," he said) and appointments get rejiggered at the last moment. CO's planning of a lunch with Mr. Phillips, the president of Jamestown, started months ago and is finally (fingers crossed) resulting in a coffee date this week. (Update: coffee date was canceled before publication.)
We understand why he's a busy guy. He splits his time between Atlanta and New York. (And his hands are full with a six-year-old Jack Russell named Scout that he shares with his partner, Dominick Coyne, who's an interior designer.) Plus, he's got Jamestown—which has an $8.3 billion portfolio of mixed-use buildings—to fill his time.
In order to complete an interview for this week's issue, Mr. Philips, 46, squeezed this reporter in last Thursday for 30 minutes before attending Google's "Geek Street Fair," a one-day public event in the Meatpacking District. (Google is a tenant in Chelsea Market, which Jamestown owns via a fund.) He later emailed of the event that it was "very cool. It is innovation at its inception."
Mr. Phillips, who attended American University in London and grew up in Palo Alto, Calif., is the creative leader behind Chelsea Market "and is responsible for establishing the vision and execution strategy for Jamestown's real estate projects," his bio indicates. He told CO the firm's portfolio spans markets like New York City, Washington, D.C., Boston, Atlanta, Los Angeles, San Francisco, Bogotá, Columbia and Lima, Peru.
Jamestown's other New York City holdings include the Falchi Building, a five-story, 600,000-square-foot office building in Long Island City and The Milk Building, an eight-story, 325,000-square-foot office and retail property at 450 15th Street undergoing ground- and retail-level renovations. Also, Jamestown is co-investing $1 billion in Industry City, a 6-million-square-foot, 16-building manufacturing complex on the South Brooklyn waterfront. Jamestown owns Industry City with Belvedere Capital and Angelo Gordon, along with Cammeby's International and FBE Limited.
Commercial Observer: What's inspiring you, food-wise, in the Meatpacking District?
Mr. Phillips: I'm excited about Santina, the new restaurant under the High Line and their innovative spin on rice dishes prepared like pasta. I think it's ingenious. I think the whole world needs to know about it. I think you need to eat it. Also I think Barbuto is on fire right now. I would be totally inspired by a meal at Barbuto.
You've exported the Chelsea Market concept to the Falchi Building, right?
We're bringing something similar to Falchi, but I don't think it's the same. It's more of a Queens-focused food program. We have the Queens incubator kitchen with a bunch of startups doing product testing there, which I think is very interesting. There's bits of overlap. I think the original concept of manufacturing with small retail outposts is happening at Falchi. I think it's also happening at Industry City—really compelling.
How are these different from the food halls that are popping up around the city?
I think that's the differentiator—that you have food production and commissaries that are allowing innovation in the food space with a small retail outpost versus just a food hall. A retail food hall is fine. The fact that there's some sense of creation happening there—they're making a product, they're making something unique whether it's what Amy's Bread does or Fat Witch did or L'Arte del Gelato did, sort of best-in-class, independent makers of food—is really interesting.
Is that a concept you'll be taking to other retail projects?
We are. In Atlanta at Ponce City Market [a historic 10-story, 2.1-million-square-foot structure, which Jamestown is converting into a mixed-use development with office, retail and residences. Ponce City Market, formerly a Sears, Roebuck & Company distribution center, is the largest brick building in the Southeastern United States].
According to your website, you focus on conservative investments with proven performance. What makes a retail property a conservative investment at the moment?
I don't think you can talk about any one sector about whether it's conservative or has an element of risk. I think it's more about the individual fundamentals of the property itself—it could be location, could be the credit profile of the tenant mix, could be that it's attached to other product types. We focus on mixed-use with office and retail.
How are your outer-borough retail projects differently managed in terms of leasing or financing than those in Manhattan?
I don't think they're different. It's about local teams that have local knowledge and about serving the fundamentals of the neighborhood that you're in—what they're requirements are.
How has Chelsea Market dealt with all of the food court competition in New York City?
I don't think that's a good question. I think Chelsea Market has always been the Main Street of what we're calling Innovation Alley in this neighborhood. It services residents. It's part of an integrated culture of production, media, technology, office neighborhood and retail neighborhood. It's grown with the evolution of Meatpacking and West Chelsea.
In what ways?
In terms of business and sales and notoriety and customer base—a wide constituency from the local family shopping for food for their weekly shopping needs to people shopping for lunch from the offices around to tourists visiting the neighborhood and New York. It's an internationally known food hall. I think it's relevant in the top three food halls in America [along with] Pike Place Market in Seattle and Ferry Plaza Farmers Market in San Francisco. Those are the beachheads in the U.S. for food on the East and West Coasts. We're certainly well regarded in that space and well known.
Where do you eat in Chelsea Market?
I had a Tuck Shop meat pie for lunch—chicken pot pie with Brussels sprouts, cauliflower and potatoes, which I thought was quite rewarding. I think Mŏkbar is fantastic—I think Corkbuzz [Wine Bar], I think Cull & Pistol—
Where can you get the best coffee in Chelsea Market?
I think Ninth Street Espresso is fantastic.
Do you get your coffee there daily?
I do.
Do you eat for free in Chelsea Market?
I don't believe in free things. I don't think you ask your tenants for discounts if you ask them to pay you rent. I think our job is to drive traffic to our tenants and to promote them and to celebrate them and to be patrons of theirs.
How'd you get on the James Beard Foundation board of trustees?
I don't know. I've been in the food space for a long time. I've been involved with food chefs since my 20s.
You are making a $1 billion investment in Industry City. Is that a big gamble?
It's incremental over 10 or 12 years.
Are you a gambling man?
I don't believe in gambling.