Gem Institute Buys Additional Floor at Extell's Diamond District Tower
---
---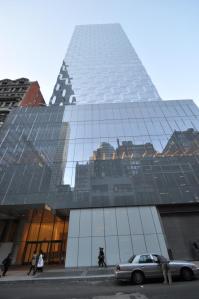 A gem-studying institute has added an additional floor to its current operations at Extell Development's International Gem Tower in the Diamond District, property records show.
The Gemological Institute of America paid $13 million for an office condominium on the ninth floor of 50 West 47th Street between Avenue of the Americas and Fifth Avenue. The association's website currently lists its foothold at the 36-story tower for educational, research and laboratory purposes.
A spokesman for the institute said it currently occupies the fourth and eighth floors of the 488,000-square-foot building. He declined to comment on the sale, and could not provide how many square footage the institute occupies.
Gary Barnett, the president and founder of Extell, did not immediately return a request for comment. The real estate tycoon, who cut his teeth in the diamond industry before moving into development, wrapped up construction on the Diamond District tower last year, as he told Commercial Observer last September.
Extell built the glassy tower particularly for firms working in the neighborhood's illustrious diamond industry. Such tenants in the International Gem Tower, according to its website, include Leo Schachter Diamonds, Guy Leeser Diamonds and Sterling Jewelers.
SL Green Realty last September shelled out $275 million for the 22nd through 34th floors of the building—coming out to about 319,000 square feet—as The Real Deal reported. The sale also included the building's retail space at the West 46th Street entrance, as well as its fitness center and garage.