UWS Private School Wages Legal Battle With Neighbors Over Renovation
---
---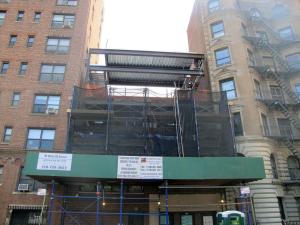 Columbia Grammar and Preparatory School has filed lawsuits to win access to three adjacent buildings in order to finish construction of a 16,000-square-foot middle school on top of its property at 36 West 93rd Street, according to three new New York Supreme Court lawsuits.
The school is suing the owners of 7 West 92nd Street, 35 West 92nd Street and 10 West 93rd Street for refusing to allow access to the properties despite repeated requests. Construction has been underway at the property, between Central Park West and Columbus Avenue, also known as 33 West 92nd Street, since Feb. 25 but was halted due to the lack of access on April 2, the suits claim.
The prestigious private school went through an extensive public review process, starting in 2012, including hearings by the city's Landmarks Preservation Commission and Board of Standard and Appeals, because it falls within the Upper West Side Historic District and didn't comply with various zoning requirements.
As the school said on its website in October 2014, following approvals from the city, "In addition to creating a self-contained middle school for fifth, sixth and seventh graders, the project will add a second floor to the cafeteria and increase classroom and lab space for grades eight to 12 in 4 West 93rd Street."
To establish a middle school, the oldest non-sectarian private school in the United State needs to enter the neighbors' buildings in order to "erect, maintain and deconstruct scaffolding, sidewalk bridges and rooftop protections…during the construction of new floor area on the third, fourth and fifth floors of petitioner's school, as well as the addition of new sixth and seventh floors to its existing school building…all of which is expected to be completed in or about September 2016," the legal papers indicate. They further note: "Columbia Grammar is one of the last public or private schools in New York City with grades pre-kindergarten through 12 that does not have a dedicated middle school."
The owners of the properties are listed as follows in the suits: 7 West 92nd Street Housing Development Fund Corporation owns 7 West 92nd Street; 35 W. 92nd Street Corp. owns 35 West 92nd Street; and 10 West 93 Street Housing Development Fund Corporation owns 10 West 93rd Street. Only one of four neighboring property owners allegedly gave consent to access. That was Stellar Management at 50 West 93rd Street, the legal documents indicate.
The school's attorney, Andrew K. Rafalaf of Davidoff Hutcher & Citron, didn't immediately respond to a request for comment. The school is on break for the summer and didn't get back to a reporter.