Anthony Malkin Talks About the Empire Building Business
---
---
Anthony E. Malkin, the chairman and chief executive officer of Empire State Realty Trust, oversees a New York real estate portfolio that has suddenly become quite relevant. ESRT owns nine Manhattan office properties which are attracting top-credit tenants drawn to these buildings' energy efficiency, accessibility to mass transit, on-site amenities and commitment to technology.
"I think that what we're seeing throughout the portfolio is a continued improvement in the market's perception of who we are," Mr. Malkin told Commercial Observer during a sit-down interview at his office at ESRT-owned 1 Grand Central Place. "We're going to outperform the market no matter what. If it goes downward, we're gonna outperform up. If it stays the same, we're going to outperform because we're seeing better and better tenants coming to look at us."
This interest extends to the Empire State Building, which Mr. Malkin described as formerly "the black hole" of the company's portfolio, and has since become its flagship (it also enjoyed high-profile visits in the past year from two of the world's most celebrated luminaries: Taylor Swift and Prince William).
Mr. Malkin can be brash, and was certainly in a rush when CO arrived at his office. ("Just take a look at the website, it's all there," he said when asked about his holdings outside of New York City. "Let's spend our time on stuff that you can't get off of publicly available information.") He was reluctant to divulge any personal details ("Let's just say I was born in New York and we'll leave it at that." Another chestnut: "I don't go into personal stuff.") And he describes his holdings grandiloquently. ("We tend to think of [the Empire State Building] as a masterwork of Art Deco.")
But, we have to admit, he has what to be grandiloquent about.
Commercial Observer: Can you tell us about your early years in the real estate business?
Anthony Malkin: My grandfather had passed away. My brother—who has achieved terrific success with his, I guess you'd call them outlet villages around Europe and now in Asia—had left working with my dad. Both [of those things] happened in December of 1988 [and January of 1989]. And so I was requested to come and help out, and so I agreed to do it for three years, which was meant to be during a transition period. I literally knew nothing about the real estate business.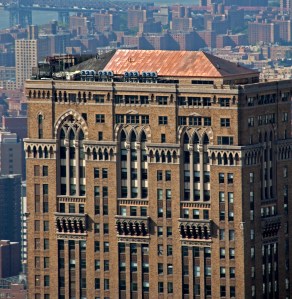 '89 through '92 was the worst real estate downturn ever. The federal government actually shut down banks. So I showed up thinking I was assisting my father the first three years, not thinking that I had joined up at the precipice of this ridiculous decline in the real estate industry. All asset categories. All locations. Everywhere. I finished my time in the winter of '92 and '93. I took some time off.
What did you do during your time off?
Oh, skied.
Where did you ski?
In the mountains [laughs]. With my wife and our two young kids. And I came back and my dad said, "Well, what about staying?" And I said, "It's interesting, but I'll stay on the condition that we diversify out of real estate. And also that we are no longer a family business." So those were the two requirements for me. There had to be a shift to a professionally run business [prior to this, the company had been called Wien & Malkin and had been a family business].
Have you been happy with how ESRT has been performing since it went public in October 2013?
I'm thrilled. First of all, we delivered to investors for what they voted overwhelmingly. That's the single most important thing.
Two, we had terrific investors from the get-go in the IPO, and they've made something like 40 percent just on stock appreciation without consideration of the dividends since the IPO. So from our perspective, we've delivered to our partners who joined us at the time of the IPO.
Third, as difficult as it was to go public, it was as difficult as it was to do a financing. We're accustomed to a very, very rigorous, ingrained perspective of how to allocate capital for a return, when you don't have a lot of capital. Now, as a REIT, we've maintained that discipline. The difference is that, instead of having 41 different master balance sheets and dozens of sub-balance sheets—because we had 41 master entities and dozens of sub-entities before—we have one unified balance sheet.
[Now] we have unlimited access to capital markets. We have extremely low leverage—we're one of the lowest-leveraged REITs in the market. We have terrific, embedded growth over the next four to five years of performance, from taking spaces and buildings and floors which are severely multi-tenanted and clearing them out, gutting them down to the studs, putting in new electric distribution, HVAC, sprinkler loop, etc., and then ending up with fantastic rent spreads as we lease to new tenants who really appreciate the things that we're doing.
Are these mostly TAMI [technology, advertising, media and information] tenants?
It's interesting. If you look at our TAMI population, though it's achieved a good degree of awareness in the press, it's only about 5 percent of our total tenancy. Don't forget, it's the whole portfolio [not just the Empire State Building]. When you look at who our TAMI tenants are—LinkedIn, Shutterstock, Ebay, OnDeck Capital, IPG, which counts, it's an advertising company—these are not startups. These companies are not seeking to prove a business model. They're not selling apps. These are real businesses with real balance sheets and real bottom lines.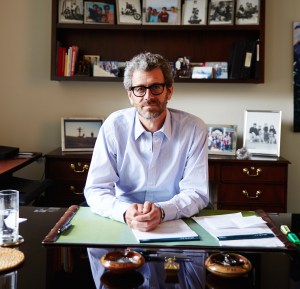 What are the asking rents at the Empire State Building?
Higher up in the building our asking rents start with a seven [$70s per square foot]. I don't think we've got an asking rent anywhere above the base of the building which doesn't begin with a six [$60s per square foot].
When did the Empire State Building change from being "the black hole" to the star of the portfolio?
First of all, I would say that the transformation is still taking place. Going back though, I think the transformation of the Empire State Building began when we unveiled the redone lobby and we unveiled the first floors, which were gutted. We had 752 individual suites. That lobby was under scaffolding for 18 months. It took about 13 months to build the building, and it took about 18 months to redo the lobby.
How is the Empire State Building going to remain competitive with so many other observation decks being built, whether at 1 World Trade Center or at Hudson Yards?
The Empire State Building hasn't been the tallest building in New York—aside from a brief, unfortunate period after the World Trade Center attack—for decades. And there are a myriad of taller buildings, not just in New York, but around the world. I don't think that height is the iconographic focus of the New York City skyline in people's minds.
We have a unique position in the middle of Midtown. When you think about visitors to New York, Midtown is the most efficient, effective day [of touring] they've got. Every visitor has to spend the night and eat food. How much can you do during a day? Tourists are incredibly efficient in what they do. The Empire State Building happens to be under 15 minutes on foot from Times Square and under 15 minutes on foot from Madison Square. You've got Macy's and Madison Square Garden to the west. You've got Broadway. You've got restaurants. You've got nightclubs. You've got this amazing panoply of offerings. The Empire State Building's open at 8 a.m in the morning to 2 a.m. in the morning. It's literally closed for six hours a day.
We're in the middle of Manhattan. You can see the Statue of Liberty. You can see the Brooklyn Bridge. You can see 1 World Trade Center. You can see Central Park. You see Newark Airport the same way as you see LaGuardia and you see JFK. You see everything to see in Manhattan. We have a view, which is a unique view, from a position and a vantage point which is irreplaceable.
What are some things that are happening now in your portfolio that aren't necessarily getting as much media coverage that you think are critical for our readers to know?
1400 Broadway is still 50 percent mid-priced ladies sportswear and dresses. Fifty percent. Yet at the same time, we've signed Interpublic Group and OnDeck Capital. We've signed everything from five floors of Kohl's department store [for its New York headquarters]. We've got Men's Warehouse—they've got their New York headquarters there. That's expanded to two full floors. We're doing rents there now starting in the high $50s [per square foot]. Actually, I think we signed a recent lease that started with a six. And 50 percent of the building still has to be transformed.
When you look at 1333 Broadway, the Urban Outfitters lease, which is the largest Urban Outfitters in their entire chain, it is a phenomenal retailer with no debt on its books. [The lease was for] 50,000 square feet. The entire upstairs has been redone. We actually had three passenger elevators, nine-inch step-up bathrooms, which were horrid, and five freight elevators in that building in the wings when we took that over. We added two more elevators in the lobby. We demolished the existing bathrooms and put in spectacular, gorgeous bathrooms. The upstairs is 100 percent leased.
Now on the retail, Shake Shack signed a lease at 36th and Broadway. Somebody wrote the headline: "Shake Shack Finally Comes to Herald Square." The transformation that we've created in that whole area, which is now referred to as "Times Square South," we started all that with 1359 Broadway, 1350 Broadway, 1400 Broadway, 1333 Broadway. We've got a great new restaurant that will be coming into 1359 Broadway. The pedestrian arcade coming down Broadway, you know Broadway now ends at Herald Square. That whole area is completely transformed at an immense value.
Why did you change the name of the Lincoln Building to 1 Grand Central Place?
The Lincoln Building is where everybody's dentist, travel agent, employment agency was. It wasn't relevant. And the fact of the matter is, everyone thought it had to do with Abraham Lincoln but it had to do with the Lincoln Savings Bank, or the Lincoln Storage Company, each of whom at one point was located on this site. We decided let's throw it out if that's what it's going take to get people rethinking. We thought 1 Grand Central Place was a strong location. Originally, if you recall, when Mobile Oil Company left 42nd Street to move to Virginia, this place was a pit. And not just here, but all the way through to Times Square. This whole area has completely transformed, and we thought it was necessary to kill that name. Now if you noticed, Abe is on display in the visitor area.
You have two grown sons. Are they going to join ESRT?
Oh gosh. I hope not! [laughs] This is meant to be a professionally run business.
It can still be a professionally run business with them at the company.
Let me put it a different way. We have activities which are very material outside of real estate. And I think real estate is a key component of the three legs of the business activities in which we as a family are involved. But I think it's a business which is best run by professionals with a passion, and I'm thrilled to have John Kessler join up as our new president and COO. Having had that position of having run everything for a very long time, I'm thrilled to have a partner. It will allow me to focus on new activities and new transactions and the balance sheet.
But my view is that I hope our kids do something new and one of them already is. One of them is out of school and is overseas working for a major multinational company. And he's having a fantastic experience. But let's be clear: If we meant for this to be Malkin Realty Trust we would have named it that. But there was a conscious decision to separate the public company going forward from a reliance on a belief that you needed a Malkin around to have it work.